Projects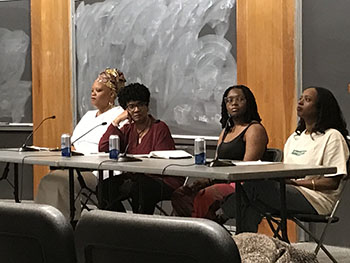 Plant Medicine and Black Women's Healing Traditions: A Roundtable
Watch: Plant Medicine and Black Women's Healing
This roundtable conversation centers Black women healers who cultivate intimate, embodied engagements with plant and fungal medicine in their community healing work. As legalized cannabis markets generate increasing wealth, and decriminalized psychedelic therapy offers new horizons of hope for many who suffer from PTSD, opiate and nicotine addictions, and other manifestations of intergenerational trauma, the dictates of healing justice require we make these emergent forms of radical healing accessible to those frontline communities most-in-need of compassionate care. 
Bridging emergent conversations in public health, critical race theory, public policy, environmental justice, and ancestral spirituality, the Black women healers presented on this roundtable draw upon African Diasporic sacred principles of ecology and herbalist pharmacopic traditions to foreground the curing wisdom of plants and fungi as a birthright of the Black community and a core relationship that sustains human health and wellness.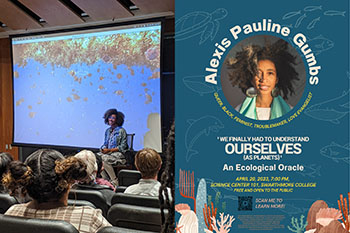 Visit by Dr. Alexis Pauline Gumbs
Watch: Dr. Alexis Pauline Gumbs's Talk
Alexis Pauline Gumbs is a poet, scholar, and activist based in Durham, NC, and identifies as a "Queer Black Feminist Love Evangelist and an aspirational cousin to all life on earth."  She is/they are the author of several books, including, most recently, Undrowned: Black Feminist Lessons from Marine Mammals (Chico, CA: AK Press, 2020), which won the 2022 Whiting Award in Nonfiction. Undrowned is an exploration of the possibilities of social and ecological change and kin-making drawing on the subversive and transformative guidance of marine mammals. As she argues, "our aquatic cousins are queer, fierce, protective of each other, complex, shaped by conflict, and struggling to survive the extractive and militarized conditions our human species has imposed on the ocean." Gumbs' writing, speaking, and advocacy employ a lively and engaging mix of poetic sensibility and ecologically-informed observation to examine what we can learn from marine mammals, our air-breathing relatives who remain "undrowned" while living under water in the oceans and rivers across the planet. The bio-social interconnections, life lessons, and metaphorical imaginings drawing on Black feminist theory, marine biology, and Afro-diasporic forms of resistance and "sustainability" are literally breath-taking. From the relationship between the endangered North Atlantic Right Whale and Gumbs' Indigenous Shinnecock and enslaved African ancestors to the ways whales' and dolphins' capacities of echolocation can alter our understandings of "vision" and the possibilities of visionary action in the world, Undrowned treats readers to a masterful use of metaphor and nature-based models in the service of social and environmental justice.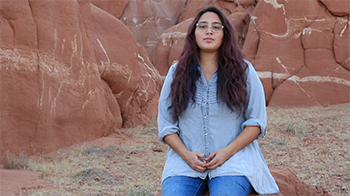 Public Screening and Discussion of "Powerlands"
"Powerlands" is a new, award-winning documentary produced by Ivey Camille Many Beads Tso (Navajo, Dine) on Indigenous women's environmental justice/climate justice activism.  Manybeads Tso travels around the world focusing on Indigenous women's anti-colonial and EJ activism in the US (Black Mesa, Navajo reservation), in Columbia, and in the Philippines. This event closed with a discussion with the filmmaker.
Spin-offs of Serenity Soular: The Good Energy Collaborative (Chester) and the Electric Generation (Philadelphia)
Building on the successes of Serenity Soular and collaborating with old and new partners, we launched two new community solar projects:  The Good Energy Collaborative in Chester (a collaboration between the EJCR program and CRCQL) and the Electric Generation in Philadelphia (a collaboration between the EJCR program and Eddie's House in North Philly).
These projects are focused on partnerships with Chester and North Philadelphia organizations to educate local residents about the benefits of solar technology and solar training opportunities leading to healthy, sustainable and career-path green jobs.
Spring Solar Social Spectacular –– The spring event reached a wider audience and included activities such as a solar panel demonstration, a workshop on building a solar toy car, learning about environmental justice leaders and issues in Chester through a coloring activity, and education about green jobs opportunities in solar energy and sustainability fields.
Solar Jobs Workshop at STEM Academy
Chester Youth Activity Fair –– The fall event, hosted at the MJ Freed Building in Chester, included activities for children, youth, and their families included understanding solar energy and building solar lamps, learning about the history of environmental justice in Chester, understanding the connections between environmental racism and gun violence, and imagining Chester's sustainable future.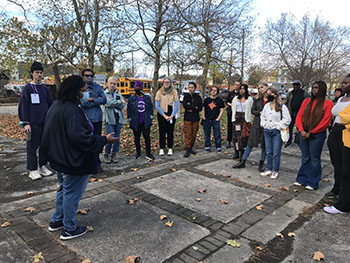 EJ Tour of Chester and Student Zero Waste Conference Panel
Watch: Building Community Power: Why People Should Get Involved with Zulene Mayfield, C4 (Campus Coalition Concerning Chester)
Co-organized an Environmental Justice Tour of Chester, PA with CRCQL and PLAN (Post Landfill Action Network) for Annual Conference on Students for Zero Waste.  After the tour, we led a panel discussion on "Building Community Power: Why People Should Get Involved" (with Zulene Mayfield, Major Eason '23, and Giovanna Di Chiro).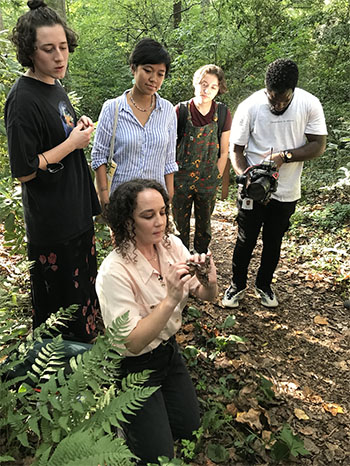 "Queer Mycology Forest Walk and Dinner" with Dr. Patricia Kaishian
To explore the intersectionality of environmental justice issues, we invited Dr. Patricia Kaishian, Assistant Professor in the Biology Department at Bard College. Kaishian teaches courses including Fungal Diversity & Climate Change and Queer Ecology. Kaishian holds a Ph.D. in Forest Pathology & Mycology from SUNY College of Environmental Science & Forestry. Her research focuses on taxonomy and the discovery of new species of macro and micro fungi and on exploring the uses of certain species of fungi as potential indicators of ecosystem health. In addition to the more traditional scientific research, Dr. Kaishian's work is deeply interdisciplinary. Her writing crosses the realms of feminist bioscience, environmental justice, ecofeminism, and queer theory, and she looks at how the field of mycology and other scientific disciplines are situated in and informed by our social, political belief systems and cultural lenses. Participants on the Queer Mycology Forest walk read her article, The science underground: mycology as a queer discipline. (Patricia Kaishian and Hasmik Djoulakian, "The Science Underground: Mycology as a Queer Discipline," Catalyst: Feminism, Theory, Technoscience, Vol 6. No.2 (2020). You can find other incredibly interesting, interdisciplinary writing linking environmental justice and forest conservation on her website, including a very recent essay called "A Tangled Web: Redwoods, Colonialism, Eugenics, and Climate Change."
Student co-organizers of the event, Yeh Seo Jung '23 and Ray Craig '24 produced a Zine exploring some of the issues linking environmental justice, queer ecology, and social change. Yeh Seo Jung and Ray Craig (2023) "Queer Ecologies: A Final Syllabus/Zine Product of Our Independent Study," Crossings: Swarthmore Undergraduate Feminist Research Journal: 1 (1), 53-80.
Looking Back, Moving Forward: Law, Policy & Environmental Justice Conference
April 22-23, 2022
Looking Back, Moving Forward was a 2-day virtual conference critically examining the past, present, and potential future roles of the law and legal strategies to advance environmental justice (EJ) policy and action. The conference took as its starting point the 30-year struggle by the renowned EJ group CRCQL (Chester Residents Concerned for Quality Living) to shut down the nation's largest waste incinerator in Chester, PA. Drawing on the lessons learned from CRCQL's ongoing organizing against environmental racism, our panelists expanded the conversation to explore new and exciting approaches to EJ law and policy-making being used by grassroots EJ movements more broadly.
The conference's three exciting panels brought together EJ activists, attorneys, and scholars to reflect on the ways that communities, organizations, and thought-leaders are exploring creative and visionary strategies for moving EJ policy and action forward. Some of the topics we delved into include multi-racial and cross-class coalition-building, community, solidarity and just transition lawyering, and recent steps such as the formation of the White House Environmental Justice Advisory Council and the Justice40 initiative to include the voices, perspectives, and expertise of environmental justice communities in the federal policy-making process.
For complete information on panels, speakers and topics as well as to register visit our webinar page.
This conference was co-organized by Giovanna Di Chiro (Swarthmore College), Zulene Mayfield (CRCQL) and Christopher Mele (University of Buffalo). It was co-sponsored by the Environmental Justice & Community Resilience Program of the Lang Center for Civic & Social Responsibility, the Environmental Studies Program, and the Office of Sustainability at Swarthmore College as well as the Baldy Center for Law & Policy and Digital Scholarship Studio& Network at the University at Buffalo.