Project Pericles Fund of Swarthmore College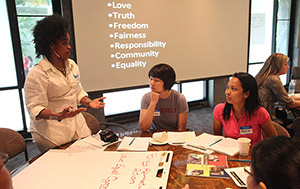 Eugene M. Lang '38 and the Board of Managers of Swarthmore College created the Swarthmore Project Pericles Fund (PPF) in 2005. The Fund supports groups of Swarthmore students who propose and implement social and civic action projects whose scope and sustainability will advance solutions for the issues in question and also promote recognition of students' motivation and capability to address such major issues effectively. Any team of two or more currently enrolled students may apply for grants of up to $25,000 to fund projects that are visionary in scope and groundbreaking in practice. Projects may have a regional, national, or international focus. Students whose formal proposals are accepted and receive Project Pericles Fund grants are designated Periclean Scholars.
Review Periclean Scholar selection criteria here.
View past PPF grant recipients.
Note: This project grant is not in service of Swarthmore College and does not create an employment relationship between the student(s) and the College.
Connecting Campus, Curriculum, & Communities
Based upon the Lang Center's commitment to engaged scholarship and ethical intelligence, students who are interested in applying for a grant from the Project Pericles Fund must have taken coursework that is directly relevant to understanding their issue area, unpacking the social problem, and/or designing project elements. In some cases, the project could be developed in the context of the class with the faculty member instructing the course serving as an adviser to the students as the project proposal emerges and comes to fruition. Alternately, another faculty member—preferably one whose scholarship and expertise is germane to the project at hand—can serve as a project advisor. Students who are named Periclean Scholars and receive grant funding need group members to commit to taking relevant courses throughout the lifetime of the grant.
Applying for the Project Pericles Fund 
Step 1: Project Concept Document (Due by October 15) 
Teams of students who are interested in applying for Pericles funding should submit a project concept document following these guidelines:
PROJECT TITLE
ABSTRACT: A successful abstract will tell us what the issue or problem is, and note where it occurs (1 sentence); it tells us about the specific constituencies who are directly impacted by this issue or problem (1 sentence); it will describe how the project addresses the problem or issue described above (1 sentence); and it will tell us what your solution is, what change(s) or outcome(s) you anticipate seeing as a result of your project (and for whom) (1 -2 sentences). (5 sentences total). 
VISION & SCOPE: The vision and scope of a project to foster systems/structure change or otherwise create social impact.
TEAM: Introduce members of the student team (names, major/minor, class years, student ID numbers) and the capacity of the students to enact a project, as evidenced by related experience and study. Refer to non-student team members, if known and applicable.
DESIGN: Processes and methods by which the project could be implemented.
STAKEHOLDERS: Who are the stakeholders and how will they be engaged in the project design, implementation, and/or evaluation of the project? Provide evidence of stakeholder support.
DEMAND: Is there demand for a project like this? How do you know?
FEASIBILITY: Feasibility of the project design, if known.
SOCIAL IMPACT: Anticipated impact of the project in terms of measurable outcomes in the near and long term.
Step 2: Concept Pitch (Scheduled by October 31)
Teams who submitted a project concept document may be invited to "pitch" their project (in person or virtual). The pitch is a 3- to 5-minute opportunity to convey essential things about your project idea or "concept." Pitches should conclude with an "ask" of the audience—for seed funding; for advice, participation, or other support; for permission to submit an application for full funding, etc. The audience for your pitch could include members of the Lang Center advisory board, faculty, staff, community members, and so on. After the pitch, anticipate questions. Once the team departs, those assembled at the pitch will decide together whether to respond favorably to the "ask."
Student groups who engage in the concept pitch may receive seed funding for further research, and ultimately find that their project idea is not feasible. In that case, teams are under no obligation to enact a full-scale project. If seed funding is unused, however, it should be repaid to the College.
Student groups who receive permission to submit an application for full funding (up to $25,000 over multiple years) should do so no later than December 31. The selection committee will evaluate the application, and if need be, interview and deliberate between January and February. Groups will be alerted of their application status by March 1, if not sooner.
Step 3: Submit an Application (no later than December 31)
Teams can view the application here. Questions? Seeking advice? Please reach out to Jen Magee (jmagee1@swarthmore.edu).
PPF Grantee (2021-2024)
C4: Chester Road Collaborative
Chester Road Collaborative (CRC) seeks to facilitate environmental justice and more with the help of our partners, Chester Residents Concerned for Quality Living (CRCQL).  Please contact Major Eason '23 (jeason1@swarthmore.edu) or Kayla Miller '24 (kmiller7@swarthmore.edu) if you would like to join.
PPF Contact
Senior Associate Director, Lang Center 
jmagee1@swarthmore.edu
610-328-7320
Lang Center 204
Profile