Lang Visiting Professorship for Issues of Social Change
Endowed by Eugene M. Lang '38, the Lang Visiting Professorship brings to Swarthmore outstanding social scientists, political leaders, and social activists whose careers demonstrate sustained engagement with major issues of social justice, civil liberties, human rights, and democracy. Along with the sponsoring academic department, the Lang Visiting Professorship is co-hosted by the Lang Center for Civic and Social Responsibility.
Current Lang Visiting Professor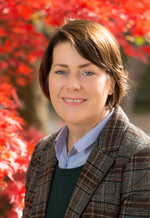 Denise Crossan, a professor of social entrepreneurship, will continue to serve as the Lang Visiting Professor for Issues of Social Change in 2016-2017. Prof. Crossan's courses include:
PEAC 039: Social Entrepreneurship for Social Change (1 Credit)
By integrating social innovation solutions with revenue-generating practices, social entrepreneurs and their ventures open compelling, sustainable and impactful avenues to social change. In this Course, students will work directly with our Partners, CultureWorks and CultureTrust in Philadelphia, to learn about the pioneering individuals and novel ways that social entrepreneurship responds to social needs that are not adequately served by the market or by the state through case analysis of social change work (locally, nationally, and globally).  Students will work in intensive classes throughout the semester (over 6 weeks) and independently outside of class in the remaining weeks supported by one-on-one online and/or in-person tutorial sessions with the instructor (1 hour per week) and class advisors.  Class limited to 15 students.  1 credit. Mon. & Wed, 6:00-9:00 p.m. (selected weeks), Lang Center, Room 112.
PEAC 049: Be the Change: Social Entrepreneurship in Principle and Practice (1 Credit)
Amidst market implosions, human conflict, environmental crises, and on-going demise of the welfare state, the need for new, durable organizational forms, committed to social change, is clear. Social entrepreneurship offer a unique model for creative conflict transformation and community problem solving. Using business practices, social enterprises seek to redress social and environmental concerns while generating revenue. Students will learn about the manifestation of social entrepreneurship principles and practice in non-profit, for-profit, and hybrid organizations. Then students will draft plans for their own social enterprise, thereby garnering a deeper understanding of social enterprise as organizational forms, while also embarking on a journey to explore their own potential as social entrepreneurs.