Lang Opportunity Scholarship Program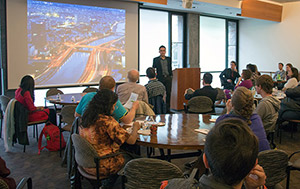 The Lang Opportunity Scholarship (LOS) Program each year selects members of Swarthmore's sophomore class as Lang Scholars. Selection criteria include distinguished academic and co-curricular achievement, leadership qualities, and demonstrated commitment to civic and social responsibility. This program offers a diverse range of benefits including a $10,000 grant, a designated adviser, and networking opportunities to support the development of a project that creates a needed social resource in the U.S. or abroad. The program was conceived and endowed by Eugene M. Lang '38.
Note: The Lang Opportunity Scholarship is not in service of Swarthmore College and does not create an employment relationship between the student(s) and the College.
Sophomores in good standing are welcome to apply. There is a two step application process. 
1. By NOON (Eastern) on October 1, 2021: Submit an LOS Program Expression of Interest Form. [View PDF of form here]
2. By NOON (Eastern) on November 1, 2021: Submit a LOS Program Application. [View PDF of form here]
3. A subset of applicants may be invited to interview(s).
Current Lang Scholars and their projects
To access the LOS database, you will need to contact jmagee1@swarthmore.edu for the user ID and password.
LOS Class of 2024
It is with great pleasure that we introduce you to the new Lang Opportunity Scholarship (LOS) Class of 2024 (left to right): Khaliun Enkhbayar, Connor Barrett, Jean Luc Ishimwe, and Ariza Nanji.
LOS Class of 2023
As the newest recipients of the Eugene M. Lang Opportunity Scholarship (LOS), four Swarthmore sophomores will strive with partners towards systems change with an array of projects.
"The Lang Scholar Class of 2023 is an inspiring cohort who exemplify engaged scholarship," says Jennifer Magee, senior associate director for the Lang Center for Civic and Social Responsibility, who advises the scholars. "With the mentoring and resources available through the Lang Center, Lang Scholars gain the knowledge, connections, and skills needed to craft effective and innovative solutions to complex social challenges."
"These Lang Opportunity Scholars inspire us because their engaged scholarship projects are local without being parochial--they're embedded in specific communities around the globe yet with broad applicability to many other situations," adds Ben Berger, executive director of the Lang Center and associate professor of political science.
"They've also done impressive work given the pandemic's limitations. Throughout the COVID-19 period the Lang Center has been working to adapt engaged scholarship methods to the realities of remote learning, and this LOS cohort is helping to lead the way."
Lang Opportunity Scholarship Program Contact
Jennifer Magee
Senior Associate Director, Lang Center for Civic and Social Responsibility
Lang Center for Civic and Social Responsibility
Tristan Alston '22
Project Title: The Berkshire Equity Research Collaborative (BERC)
Location: Massachusetts
Eduardo Burgos '22
Project Title: Migrant Worker Community Healing
Location: Wyoming
Mission: Building community and self-confidence with Wyoming migrant workers through art and stories. 
Shay Downey '22
Luke Neureiter '22
Project Title: Delco Dashboard
Location: Delaware County, Pennsylvania
Jolleen Opula '22
Project title: Runnovate
Location: Kenya
Creating online work opportunities for the youth
Chunyang Wang '22
Project Title: FreeArt Education
Location: China
Mission: Make art education accessible to all children
Hussain Zaidi '22
Project Title: Doctors Informing Devolution
Location: Pakistan