Lang Opportunity Scholarship Program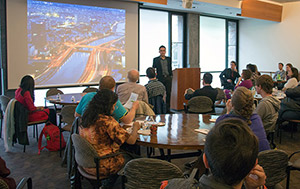 The Lang Opportunity Scholarship (LOS) Program each year selects members of Swarthmore's sophomore class as Lang Scholars. Selection criteria include distinguished academic and co-curricular achievement, leadership qualities, and demonstrated commitment to civic and social responsibility. This program offers a diverse range of benefits including a $10,000 grant, a designated adviser, and networking opportunities to support the development of a project that creates a needed social resource in the U.S. or abroad. The program was conceived and endowed by Eugene M. Lang '38. 
Sophomores in good standing are welcome to apply. There is a two step application process. 
1. Submit a Letter of Interest following these guidelines. Invite a faculty member to submit a recommendation following the advice found here. Also, applicants must complete this short Google form.
2. Submit a LOS Program Application following these guidelines.
Current Lang Scholars and their projects
Click here to learn more about past LOS Projects
Lang Opportunity Scholarship Program Contact
Jennifer Magee
Senior Associate Director, Lang Center for Civic and Social Responsibility
Lang Center for Civic and Social Responsibility