Lang Opportunity Scholarship Program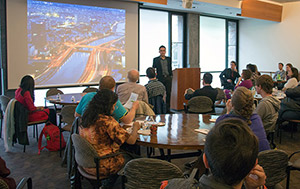 The Lang Opportunity Scholarship (LOS) Program each year selects members of Swarthmore's sophomore class as Lang Scholars. Selection criteria include distinguished academic and co-curricular achievement, leadership qualities, and demonstrated commitment to civic and social responsibility. This program offers a diverse range of benefits including a $10,000 grant, a designated adviser, and networking opportunities to support the development of a project that creates a needed social resource in the U.S. or abroad. The program was conceived and endowed by Eugene M. Lang '38.
Note: The Lang Opportunity Scholarship is not in service of Swarthmore College and does not create an employment relationship between the student(s) and the College.
Sophomores in good standing are welcome to apply. There is a two step application process. 
By NOON (Eastern) on October 1: Submit an LOS Program Expression of Interest Form. [View PDF of form here]
By NOON (Eastern) on November 1: Submit a LOS Program Application. [View PDF of form here]
A subset of applicants may be invited to interview(s).
Current Lang Scholars and their projects
To access the LOS database, you will need to contact jmagee1@swarthmore.edu for the user ID and password.
LOS Class of 2025
It is with great pleasure that we introduce you to the new Lang Opportunity Scholarship (LOS) Class of 2025 (clockwise from top left) Olivia Han '25, Katherine Kihiczak '25, Feven Shonga '25, Lina Verghese '25, Helena Werneck '25, and Aqua Withers Carello '25.
Read more about them here.
Lang Opportunity Scholarship Program Contact
Jennifer Magee
Director of Program Development, Implementation & Assessment
Lang Center for Civic and Social Responsibility
Daniel Balauro '23
Project Title: Island Climate Action Network (iCAN)
Abstract: The Island Climate Action Network (iCAN), an American Samoa-based initiative, will aim to strengthen the role of US-Affiliated Pacific Islands (USAPI) in federal environmental affairs. Over the course of the Summer - Fall 2022, iCAN will develop a environmental policy-making program to encourage young Pacific leaders to act as social change agents in their communities and develop a set of recommendations that will aim to amend and advocate for the passage of the Insular Climate Change Act.  
Aleina Dume '23
Project Title: FLI to Graduation
Abstract: The American education system is not designed to effectively support first-generation and/or low-income (FLI) students during their transition to college which has negative consequences for students' wellbeing, college graduation, and career readiness. There are about 4.5 million students enrolled in college, nearly one in every four, who identify as both first-generation and low-income in the United States (Engle and Tinto). After six years however, only 11% graduate with their Bachelor's degree compared to 55% of non-FLI students (Engle and Tinto). FLI to Graduation aims to fill the gaps between college access and success organizations, high school college prep, and college transition or orientation programs offered by colleges directly. 
Mwangangi Kalii '23
Project Title: Mbele Milele Development Project
Abstract: In Kenya's Kitui County, about 126,000 residents are food insecure and need urgent humanitarian support to avoid starvation. This food insecurity and underdevelopment has hit school-going children and the elderly the hardest, since they cannot migrate to other regions of Kenya in search of greener pastures. With input from the local town governments of Kasaala & Kavete, the Jitegemee Group, and the Kavete Women's Group I intend to help build and test a sustainable model of food supply using regenerative agricultural techniques, as well as keep a repository of viable solutions for food production in regions with a similar climate. 
Philippe Kame '23
Project Title: Culture Lens
Abstract: Today, Cameroonians know little of their precolonial history and customs. The raids and violence that accompanied colonization led to the destruction of countless African artifacts, while others were sent to Europe as trophies. This cultural genocide has led to a mass cultural alienation of the youth today. I believe it is important to find novel ways through which the Cameroonian youth can uncover its history; Culture Lens sets to work with existing cultural institutions in the country to introduce a relevant and modern way through which the individuals can research the history of Cameroon, through the arts and craft produced before the colonial period.  
Chunyang Wang '23
Project Title: KaleidoScope | 万花筒·瞳计划
Mission: Make art education accessible to all children