Past Events
FROM NICHE TO MAINSTREAM: THE CROSSOVER SUCCESS OF GAY MANGA ICON GENGOROH TAGAME
Guest Lecture by Anne Ishii, Executive Director, Asian Arts Initiative, Philadelphia
Wednesday, March 27, 2019, 4:15-5:45 PM 
Scheuer Room, Kohlberg Hall
In this talk, translator and publisher Anne Ishii will talk about her work with gay mangaka Gengoroh Tagame, from their first forays into importing gay adult material from Japan to America, to creating unique Anglophone editions of Young Adult work like the Eisner-award winning "My Brother's Husband." In understanding how this translation work has changed over the years, we can also understand the crossover appeal of niche to mainstream books that can be enjoyed across different readerships.
The 2019 Genevieve Lee '96 Memorial Lecture in Asian American Studies
"Cooking for One and Gustatory Gaze"
Presented By Dr. Anita Mannur
February 11, 2019 4:30 PM to 6:00 PM
Scheuer Room, Kohlberg Hall
Dr. Mannur offers a reading of what it means to eat alone. Why is there such a social stigma against being a solo diner? How has Asian American cultural production been prodding us to think more about the social freight of being a solo diner? Dr. Mannur juxtaposes Bodies in Motion, a diasporic romance novel by the Sri Lankan American writer, Mary Ann Mohanraj with an art exhibit titled "Eating Alone in New York" by the artist Miho Aikawa. She focuses on the figure of the individual because we so often imagine dining and sociality to be about conviviality that is often exclusively about forms of kinship structured around normative structures like the couple or the family. To focus on the figure of the single is to center on the figure of the queer eater and to dislodge the notion that to eat alone is to embody the abject or to be misanthropic or a failed subject. Foregrounding forms of solitary eating is this presentation's way of asking us to decenter normative couplings that so often structure how eating is imagined.
CAN THE TWO KOREAS COME TOGETHER AND CHANGE THE WORLD?
Thursday, November 15, 2018
4:15 PM, Kohlberg 115
A Talk by John Feffer, Director of Foreign Policy In Focus, Institute for Policy Studies (Washington, DC). 
Sponsored by Asian Studies, Peace and Conflict Studies, the Department of History, and HAN 

RUMORS, STRIKES, AND INDUSTRIAL DEBRIS IN MUMBAI, INDIA
Monday, October 29, 2018
4:30 PM, Science Center 101
A lecture by Dr. Maura Finklestein Assistant Professor in Sociology and Anthropology at Muhlenberg College.
Asian Studies Annual Fall Tea and Welcome Reception
Friday, September 14, 2018
Kohlberg Hall 115, 12:30-1:30
The Annual Asian Studies Fall Tea and Welcome Reception is an opportunity for returning and interested Asian Studies Students to gather and celebrate the start of a new school year. Catered by Viman Thai.
The 2018 Genevieve Lee '96 Memorial Lecture in Asian American Studies
"Women of Color Creating Change: Taiko, FandangObon, and Asian American Arts Activism"
Dr. Deborah Wong, University of California Riverside
Monday, April 02, 2018   4:30-7:00 PM
Scheuer Room, Kohlberg Hall
How do some Asian American women use the arts to create change? How do they work for, with, and beyond their own communities? Wong explores two case studies from her current work in the public sphere. One is a group of women – cis, queer, straight, trans, mostly but not entirely Asian American, mostly but not entirely based in North America – who want to address gendered values within the taiko community. The other is FandangObon, an ongoing Asian American/Chicanx collaboration between the legendary Japanese American activist Nobuko Miyamoto and the East LA band Quetzal, who have found a vibrant connection between the contemporary son jarocho movement and the post-internment efflorescence of Japanese American summer festival dance.
The praxis of encounter and group collaboration is the heart of both efforts. Wong reflects on those details to consider the power of interethnic collaboration that is explicitly theorized, using ideas from feminism, decolonial theory, and community organizing. Who is 'at home' and who is a guest in the living room? What are the politics of aggrieved communities choosing to work together? How and why does music and dance create such powerful means for connection?
Deborah Wong is an ethnomusicologist and Professor of Music at the University of California, Riverside. She specializes in the musics of Asian America and Thailand and has written two books, Speak It Louder: Asian Americans Making Music and Sounding the Center: History and Aesthetics in Thai Buddhist Ritual. Her third book, Louder and Faster: Pain, Taiko, and the Body Politic in California, is currently under review. She is a past President of the Society for Ethnomusicology. She is a series editor for Wesleyan University Press's Music/Culture series and a research team member for the International Institute for Critical Studies in Improvisation (IICSI). Very active in public sector work at the national, state, and local levels, she is the Chair of the Advisory Council for the Smithsonian Institution's Center for Folklife and Cultural Heritage. She is currently involved in two public sector projects: she is the project manager for the Great Leap Online Archive (for the well-known Asian American non-profit arts organization in Los Angeles founded and directed by Nobuko Miyamoto), and is deeply involved with a loose North American collective called Women and Taiko, working to create structural change in the taiko community.
Sponsored by Asian Studies and the Department of Music & Dance.
Asian Studies Annual Tea and Welcome Reception
Wednesday, February 7,2018, 4:00-6:00 PM
Kohlberg Hall 115
The Annual Asian Studies Tea and Welcome Reception is an opportunity for returning and interested Asian Studies Students to gather and celebrate. Catered by Boba Tiki.
Tibetan Sand Mandala
Monday, September 6, 2010 - Saturday, September 11, 2010 10:00 AM - 4:30 PM
Losang Samten, noted Tibetan mandala artist, will be making a sand mandala at Swarthmore. Mandalas are a traditional Tibetan art form using colored powders to create intricate but ephemeral sacred images. After completion on Saturday, the mandala will be ritually destroyed in a public ceremony.
Tibetan Buddhism and the Art of Sand Mandalas
Thursday, September 9, 2010 4:30 PM - 7:00 PM
Science Center 101 - Chang Hou Hall
From September 6-10, 2010, the Venerable Losang Samten, renowned Tibetan scholar and former Buddhist monk, will be on campus creating a sand mandala in McCabe Library. Mandalas or "sand paintings" are an ancient, traditional Tibetan art form and sacred practice intended to uplift and benefit not only every person who sees it, but also to bless the environment. It is referred to as "mandala of colored powders."
All are invited to visit Samten at McCabe Library and view the progress of his "Wheel of Life: mandala. On Saturday, September 11 at 11:30 a.m., the public is invited to a ceremony followed by a procession to Crum Creek during which the mandala will be ritually destroyed since its very impermanence is an important part of the teaching it embodies.
The public is invited to Losang Samten's lecture on September 9 at 4:30 in Science Center 101 about his art form. His presentation will begin with a short viedo about the "Wheel of Life," the particular mandala design he is creating in McCabe this week. Samten will speak about mandalas and their role in Tibetan Buddhism, with time for questions and discussion.
A reception in Samten's honor will take place immediately following the lecture in the Science Center Lobby.
Born in Tibet, Samten's education includes studies at the Tibetan Institute of Performing Arts and the Namgyal Monastery where he received the equivalent of a Ph.D. in Buddhist Philosophy, Sutra, and Tantra. Samten is the spiritual director of the Chenrezig Tibetan Buddhist Center of Philadelphia and travels extensively sharing his knowledge of Buddhist philosophy and meditation, and his skill in Tibetan ritual arts.
Sand Mandala Dismantling Ceremony
Saturday, September 11, 2010 11:30 AM - 12:00 AM
McCabe Library - McCabe Computer Lab
After its completion, a Tibetan sand mandala is ritually destroyed, the sand swept away and released into a body of moving water. Join the artist Losang Samten at the ceremony in McCabe, then walk down to the Crum Creek to release the powder as a reminder of the impermanence of all things.
Round-Table Discussion with Makoto Watanabe '61
Friday, September 17, 2010 1:15 PM - 2:00 PM
Science Center 161
The public is invited to a round-table discussion with Swarthmore Alum Makoto Watanabe '61.  Mr. Watanabe will speak about his exciting career followed by questions and answers.  Don't miss this unique opportunity for an alum's perspective on international diplomacy and the role of the Japanese royal family.

As a diplomat for Japan, Mr. Watanabe served in Washington, Tokyo, Geneva, Manila, and  Amman, Jordan, where he was ambassador. He  was director–general of Japan's Middle Eastern and African Affairs Bureau, and he served as vice president of the Japan International Cooperation Agency, which is responsible for foreign aid.  In 1995, he left the Foreign Ministry and joined the Imperial Household as Grand  Master of the Ceremonies, a role that places him as chief of protocol and foreign relations advisor to the Emperor of Japan. Mr. Watanabe became Emperor Akihito's Grand Chamberlain in November 1996, a position he held until 2007.
Memorial Gathering for Joan Friedman
Friday, October 1, 2010 12:30 PM - 2:00 PM
Friends Meeting House, Whittier Room
A memorial gathering and celebration of Joan Friedman's spirited life and her lasting presence at the college will take place on Friday, October 1, 2010 at 12:30 p.m. in the Swarthmore Friends Meetinghouse.

Joan, a lecturer in Spanish, taught all levels of Spanish language courses and also studied the Jewish experience in Latin America. Joan began teaching at Swarthmore in 1987.

Contributions in Joan's memory may be made to the Joan Friedman Memorial Fund or to the Swarthmore Borough Public Library
A Tango-Style Tribute to Joan Friedman
Friday, October 1, 2010 4:00 PM - 5:30 PM
Lang Music Building - Lang Concert Hall
On Friday, October 1, 2010, Swarthmore College will pay a special tribute to Joan Friedman, beloved instructor and member of the Modern Languages and Literatures Department and the Latin American Studies Program, who passed away suddenly on June 14, 2010.

The program will begin with a lively Tango Concert and Dance Recital by the Eduardo Tami Quartet from Argentina at 4:00 p.m. in the Lang Concert Hall. All who knew and loved Joan agree that she would love to be remembered with lively Latin American music, dancing and festivities.

The program will conclude with a small reception in the Lang Concert Hall upper lobby.
Grants, Field Study & Other Opportunities in China
Monday, October 4, 2010 4:15 PM - 5:30 PM
Kohlberg 302
This is an informational meeting to discuss grants, field study and other opportunities in China.
Freeman Summer Research Foundation
Friday, October 22, 2010 4:30 PM - 5:30 PM
Kohlberg 318
Discussion meeting for the Freeman Foundation Student-Faculty Fellows Program for Collaborative Research in Asia
Acupuncture: The Beauty of Traditional Chinese Medicine
Thursday, October 28, 2010 4:30 PM - 6:00 PM
Kohlberg 115
Traditional Chinese Medicine (TCM) is an exception among ancient arts and that is it still being used widely in the modern societies of both East and West. Acupuncture, a part of TCM, is well accepted in the United States as an alternative therapy for the management of pain and other conditions. It took almost thirty years for medical researchers in the States to demonstrate that acupuncture really works and TCM herbal therapy may need more time to become equally popular at the present pace of development.
How did "acupuncture fever" start in New York? What is the fundamental difference between TCM and Western medicine? Is TCM an art, bioscience, or culture?
In the talk entitled "The Beauty of Traditional Chinese Medicine", Dr. Yong Ming Li will try to answer these burning questions.
Refreshments begin at 4:15.
Graduate Study in China
Thursday, November 4, 2010 4:30 PM - 5:30 PM
Kohlberg 318
Come learn about the Hopkins-Nanjing Center on 11/4 at 4:30pm in Kohlberg 318.The Hopkins-Nanjing Center is the only graduate program of its kind - a collaborative effort jointly administered by the John Hopkins University and Nanjing University. Students take international relations, economics, law and Chinese studies courses taught by Chinese professors in Chinese, mastering and transforming their Chinese language skills into an academically and professionally applicable asset. 1-year Certificate and 2-year Master's programs offered.
Study Abroad in Japan Info Session
Monday, November 8, 2010 4:15 PM - 5:15 PM
Kohlberg 228
Summer and Academic Year Programs info session.Students interested in studying in Japan for a semester or academic year are cordially invited to attend this meeting, speak with members of the Japanese Language section and former study abroad participants and enjoy some light refreshments.Prior Japanese language study is not a requirement for admission to all recommended programs.
Law and Society in Late Imperial China: A View through Judicial Cases
Thursday, November 18, 2010 4:30 PM - 6:30 PM
Kohlberg, Scheuer Room
Professor Pierre-Étienne Will
Collège de France
"Law and Society in Late Imperial China: A View through Judicial Cases"
Based on a selection of cases, this talk will illustrate the many ways the narratives embedded in judgments and testimonies provide a unique access to the everyday life of ordinary Chinese as well as their dealings with the government.
A talk by Pierre-Étienne Will: "Disseminating the Knowledge of Professionals"
Friday, November 19, 2010 4:30 PM - 6:30 PM
Trotter 303
"Disseminating the Knowledge of Professionals: A study of published judicial casebooks and anthologies from the Ming and Qing"
This talk will describe with examples the various formats in which judicial cases were recorded in published (or publishable) form and analyze the sort of professional information they were supposed to convey to all those involved in the administration of justice.
Nonviolent Peaceforce
Thursday, January 27, 2011 7:30 PM - 9:00 PM
Lang Center for Civic and Social Responsibility - Lang Center, Keith Room
Representatives and volunteers from Nonviolent Peaceforce will conduct an information session on Thursday, January 27, 2011 at 7:30 p.m. providing students with an opportunity to learn about their organization. Short videos will be viewed and talks by local Nonviolent Peaceforce supporters will detail their involvement and experiences.

Nonviolent Peaceforce is an unarmed, professional civilian peacekeeping organization that works in conflict zones worldwide. Current projects are in Sri Lanka, the Philippines, and the Sudan. The organization's mission is to build a large-scale, trained, international, civilian nonviolent peaceforce. Trained volunteers are sent to conflict areas to prevent death and destruction, and well as protect human rights, thus creating space for local groups to enter into dialogue and seek peaceful resolution to local conflicts.

For more information, visit their website at: www.nonviolentpeaceforce.org
A History of One's Own: Asian America in the Global Age
Monday, February 28, 2011 4:30 PM - 6:00 PM
Science Center 199 - Cunniff Hall
On Monday, February 28, 2011, Asian Studies will present the annual Genevieve Ching-wen Lee '96 Memorial Lecture for 2011.

Asian Americans have often been stereotyped either as perpetual foreigners or as a passive model minority while their social activism in the struggle for civil rights and for social justice in America has been obscured. This lecture will discuss the diverse voices of Asian America, the ways in which new global migration changed the landscape of Asian America, and Asian Pacific American political and social activism today.

Sucheta Mazumdar, Historian, Duke University, teaches a wide range of courses from Chinese antiquity to the modern period as well as comparative Asian history and Asian American history. Mazumdar received the 2009 Blue Ribbon Diversity Award from Duke University for recognition of service, promotion of diversity and cross-cultural communications, and developing Asian American Curricula and Programs at Duke.

Mazumdar is the author of Sugar and Society in China: Peasants, Technology, and the World Market (Harvard University Asia Center, 1998),
Antinomies of Modernity, Essays on Race, Orient and Nation (Duke University Press, 2003), Making Waves: Writings By and About Asian American Women (Beacon Press, 1989). Her forthcoming work in progress is titled Global Connections: Women in the Making of the Modern World (Norton Press).
Causes and Consequences of America's War on Immigrants
Wednesday, March 2, 2011 4:30 PM - 6:00 PM
Science Center 199 - Cunniff Hall
"The Mexico-US border has never been out of control. In 50 years, the number of Mexicans entering the United States each year has changed very little. What changed was where migrants entered and what they did after getting into the United States, and these changes stemmed entirely from shifts in U.S. immigration and border policies, which restricted avenues for legal entry and then unleashed a wave of repression against undocumented migrants, first along the border and later within the United States. These actions backfired, reducing the rate of return migration to Mexico and transforming what had been a seasonal movement of male workers going to three states into a settled population of families living in 50 states to produce an unauthorized population unprecedented in size."

Douglas Massey is the Henry G. Bryant professor of Sociology and Public Affairs at Princeton University. Since 2006, Massey has served as president of the American Academic of Political and Social Science, and is a past president of the American Sociological Association and the Population Association of America. While Massey's research deals with international migration, race and housing, discrimination, education, urban poverty, and stratification, he is particularly regarded as one of the foremost experts on labor migration in the United States.

Since 1987, Massey has presided over the Mexican Migration Project, producing empirical data on the social processes surrounding this movement from sending to receiving communities and the policies that seek to control it. Massey's most recent book, co-authored with Magaly Sánchez, was published in 2010 by the Russell Sage Foundation and is titled Brokered Boundaries: Creating Immigrant Identity in Anti-Immigrant Times.

This lecture is free and open to the public and is funded by the Mellon Tri-Co Faculty Seminar on Immigration and Farm Labor with support from Latin American Studies.
 
SAO Presents: Rich Tu, Illustrator
Friday, March 18, 2011 4:00 PM - 7:00 PM
Rich Tu is an acclaimed illustrator and designer based in New York. His work has been featured in several publications such as the New Yorker, the New York Times, Business, and SLAM Magazine.
This Friday at 4:00 PM in Science Center 199, Rich Tu will give a lecture and collaborative, instructive workshop.This is a great chance to meet an award-winning and seasoned artist, learn his tricks of the trade, and his thoughts on the industry. The workshop will also give participants the chance to create a giant collaborative piece with Rich Tu.
Pizza and dinner will be served.
Using Law to Rule the Country 依法治國?: Legal and Other Responses to Threats of Social Unrest in China
Thursday, April 14, 2011 7:00 PM - 9:00 PM
Science Center 199 - Cunniff Hall
Dr. Jacques deLisle, distinguished China scholar and Professor of Law at University of Pennsylvania, will be speaking at Swarthmore on China's responses to threats of social unrest.Dr. deLisle is director of the Center for East Asian Studies at Penn and director of the Asia Program at the Foreign Policy Research Institute. He has served frequently as an expert witness on issues of P.R.C. law and government policies and is a consultant, lecturer and advisor to legal reform, development and education programs, primarily in China.His research and teaching focus on contemporary Chinese law and politics, including: legal reform and its relationship to economic reform and political change in China, the international status of Taiwan and cross-Strait relations, China's engagement with the international order, legal and political issues in Hong Kong's reversion to Chinese rule and post-reversion Hong Kong, and aspects of U.S.-China relations.This talk should be of particular interest to those who are eager to learn more about Chinese politics and legal reforms. As environmental justice and health issues will be a major part of the talk as well, those interested in environmental issues in China will also find this talk to be informative.Hosted by the Swarthmore Chinese Society, this speaker event is co-sponsored by Forum for Free Speech, Department of Asian Studies, Department of Environmental Studies, and Department of Political Science.Pizza and snacks will be served at 6:30pm in Science Center 199 before the actual event.
Gamelan Semara Santi
Sunday, April 17, 2011 3:00 PM - 5:00 PM
Outdoor Areas - Scott Amphitheater
Gamelan Semara Santi
is the Philadelphia area's only Gamelan (Indonesian percussion orchestra) devoted entirely to performance of traditional compositions from Bali, Indonesia. The Gamelan consists of 25 musicians playing bronze-keyed xylophones, suspended gongs, bamboo flutes, and drums. All of our performances include both music and dance, as is typical in Bali.
Rain Location: Lang Concert Hall
Does Swarthmore Need Ethnic Studies?
Saturday, April 23, 2011 4:15 PM - 6:00 PM
Science Center 101 - Chang Hou Hall
Dr. Gary Okihiro, founder and director of the Center for the Study of Ethnicity and Race at Columbia University, will talk about why Swarthmore needs ethnic studies on Monday, April 25 at 4:15 p.m. in Science Center 101. Refreshments provided.
Gary Y. Okihiro is a professor of international and public affairs. His books include Common Ground: Reimagining American History (2001); A Social History of the Bakwena and Peoples of the Kalahari of Southern Africa, 19th Century (2000); Margins and Mainstreams: Asians in American History and Culture (1994); and Cane Fires: The Anti-Japanese Movement in Hawaii, 1865-1945 (1991). 
Does Swarthmore Need Ethnic Studies?
Monday, April 25, 2011 4:15 PM - 6:00 PM
Science Center 101 - Chang Hou Hall
Dr. Gary Okihiro, founder and director of Columbia University's Center for the Study of Ethnicity and Race, will discuss the benefits of Ethnic Studies on Monday, April 25 at 4:15 p.m. in Science Center 101.  
Okihiro, professor of international and public affairs at Columbia, received the Lifetime Achievement Award from the American Studies Association and is a past president of the Association for Asian American Studies. His publications include Impounded: Dorothea Lange and the Censored Images of Japanese American Internment (2006), The Columbia Guide to Asian American History (Columbia 2001), and Common Ground: Reimagining American History (Princeton 2001).
Refreshments will be served following the talk. 
The Silk Road Mummies: Ancient Secrets and New Findings
Tuesday, September 6, 2011 4:30 PM - 6:00 PM
Kohlberg, Scheuer Room
Victor H. Mair, Professor of Chinese Language and Literature, University of Pennsylvania, will give a talk on his exciting fieldwork in the Tarim Basin in China. 
Since the 1990s, Mair has been the leading Western scholar and spokesman concerning the ancient mummies found in the Tarim Basin of Xinjiang, China.  He is the co-author of The Tarim Mummies: Ancient China and the Mystery of the Earliest Peoples From the West (2000, with J. P. Mallory), and was the curator for the exhibition "Secrets of the Silk Road," held at the University of Pennsylvania Museum earlier this year.
This lecture is co-sponsored by the History Department and the Asian Studies Program in conjunction with the course "The Silk Road: China, Central Asia, India, and Iran," to be taught by Professors Lillian Li and Stephen Dale this fall.
Unnatural Selection: Sex Selection and Asia's 160 Millon 'Missing' Females
Thursday, October 6, 2011 4:30 PM - 6:00 PM
Science Center 101 - Chang Hou Hall
Sex selection is often explained as the product of cultural traditions and practices leading couples to favor sons, and the fertility pressure placed on them by measures such as the one-child policy. But the full story of why more boys are born than girls is much more complex.
In the past three decades, fetal sex determination technologies (ultrasound and amniocentesis) have spread across Asia and parts of Eastern Europe yielding widespread sex-selective abortion and - because parents largely select for sons - a gaping imbalance in the sexes.  In 2005, the number of females missing from Asia's population was estimated at 160 million.  Significantly skewed sex ratios at birth have also been observed in Albania, Azerbaijan, Georgia, and Armenia.  As the male generation with diminished hopes of finding wives matures, the sex ratio imbalance is giving way to dramatic consequences, including the buying of brides from poorer regions and countries, an increase in sex trafficking, and rising social instability.
Mara Hvistendahl is a Beijing-based correspondent for Science Magazine and the author of Unnatural Selection: Choosing Boys Over Girls, and the Consequences of a World Full of Men (Public Affairs, 2011).   Hvistendahl's award-winning writing has been published in Harper's, Scientific American, Popular Science, The Financial Times, and Foreign Policy. She has appeared as a commentator on NPR, MSNBC, and the BBC.  Hvistendahl holds degrees from Swarthmore (2002) and Columbia University's School of Journalism, and is a former professor of journalism at Fudan University in Shanghai.   
"Not One Less" Movie Night
Thursday, October 6, 2011 7:00 PM - 9:00 PM
Science Center 101 - Chang Hou Hall
Screening of the film Not One Less that features a 13-year old girl trying to find her missing student. Pizza and drinks provided! Hosted by Teach for China. Co-sponsored by the Chinese department, SAO, IC/BCC. Funded by the Education department.
Fellowship Opportunity in China
Monday, October 24, 2011 7:00 PM - 8:00 PM
Kohlberg 302
Do you want to... take some time off after graduation?... make a real difference in a community?... close the urban-rural education gap?... improve your Chinese?Teach for China, an international non-profit organization that partners with Teach for America, offers a competitive 2-year teaching fellowship in rural China for graduates. Anthony Nguyen, Manager of US Recruiting and University Relations, will be coming to give a presentation and talk with interested students.
If you can't make the info session but would like to speak with him, shoot him an email at
anthony.nguyen@tfchina.org
. Otherwise, feel free to email Yin (yguan1) with any questions about eligibility, application deadlines and procedures, or whatever else you'd like to know. :) Hope to see you there!
JET Program Information Session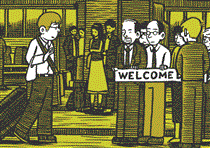 Wednesday, October 26, 2011 4:30 PM - 6:00 PM
Kohlberg 226
Not sure what to do after graduation? Why not consider teaching English in Japan? The JET Program brings thousands of graduates — most with no experience in Japanese or language teaching — to give native-speaker instruction to students at all levels in towns and cities throughout the Japanese archipelago. Come hear why the JET Program might be right for you!
How Ma Zhiyuan Found His Way Onto a Yuan Dynasty Tomb Wall
Thursday, October 27, 2011 4:30 PM - 6:00 PM
Kohlberg, Scheuer Room
In 1309, Wu Qing and Jing Shi were buried in a tomb in Xing County in western Shaxi Provience. While neither of these two people are important in Chinese history, the paintings on their tomb walls are more splendid than almost any others that survive from the Yuan period.  In addition, Ma Zhiyan's (1250-1321) famous poem, Qiusi (Autumn Thoughts) is found written on the tomb walls.  
This talk by Nancy Steinhardt, professor of East Asian Art and Curator of Chinese Art, University of Pennsylvania, will begin with this tomb and then go on to other Yuan tombs in Shanxi, Hebei, and Inner Mongolia to investigate and try to understand the Chinese view of the afterlife in the early 14th century under Mongolian rule.
Demonstrating Culture and Politics in Global Urban Space: The Case of Hong Kong
Thursday, November 3, 2011 4:30 PM - 6:00 PM
Kohlberg 226
Dr. Helen Siu, Professor of Anthropology at Yale University, will speak about social and political upheavals in the last decade concerning the multi-ethnic population (including local residents and immigrants) of Hong Kong. 
How has the "One Country, Two Systems" formula worked in Hong Kong when it repositions itself in a changing global order and a rapidly marketing China? Tracing the numerous social and political upheavals during the post-1997 decade,  Dr. Siu will discuss the structural tensions and complex emotions involving multi-ethnic workers, old and new immigrants, and local born residents who have made Hong Kong their home, and their livelihoods are deeply affected by the volatile political and economic forces in the region.
Dr. Siu, is a former Chair of the Council on East Asian Studies. Her teaching interests are political and historical anthropology, urban and global culture change. Since the 1970s, she has conducted fieldwork in South China, exploring the nature of the socialist state, the refashioning of identities through rituals, festivals, and commerce. Lately, she explores the rural-urban divide in China, cross-border dynamics in Hong Kong, historical and contemporary Asian connections.  
Sponsored by Friends of Taiwan Swarthmore (FOTS) and Asian Studies
Cultural Citizenship: Rights of Belonging in Multicultural Societies
Wednesday, February 8, 2012 4:30 PM - 6:00 PM
Science Center 181
Renato Rosaldo, Social Sciences Professor and Director of Latino Studies at New York University, will provide the Swarthmore community with his thoughts, research and findings on cultural citizenship and the rights of belonging in multicultural societies on February 20, 2012.
Rosaldo is the Lucie Stern Professor of Social Sciences at NYU and has studied sociocultural anthropology, history, society in Southeast Asia, U.S. Latinos, and Latin America.  Rosaldo is also a poet and has performed poetry readings at the Bowery Poetry Club in New York and the University of California's Creative Writing Program.
This lecture is free and open to the public.
"Will Myanmar/Burma drown in a tidal wave of aid?" by Lex Rieffel, senior fellow at Brookings
Monday, February 20, 2012 7:30 PM - 12:00 AM
Trotter 203
Myanmar/Burma is approaching the first anniversary of a transition to democratic rule that produced some astonishing breakthroughs in the past six months. In particular, Aung San Suu Kyi's party, which was denied its landslide victory in the 1990 elections, has been allowed to re-register and Aung San Suu Kyi will be a candidate for a seat in the legislature in a by-election to be held on April 1. These developments have already prompted hundreds of politicians, diplomats, aid experts, NGO leaders, reporters, and business executives to descend on Myanmar to get first class seats on the bandwagon. This tidal wave of interest is far from peaking, if the political trend remains positive. One risk of this response is that insufficient attention is being paid to the economic policy reforms required to generate improvements in the standard of living and validate the political transition. Lex Rieffel will highlight the main features of Myanmar's political and economic landscape today and elaborate on the risks to a successful transition, including the unintended consequences of too much aid.
The talk will be followed by an informal discussion with students interested in doing international development work.
Lex Rieffel is a non resident Senior Fellow at Brookings and Foreign Advisor for the Union of Myanmar Federation of Chambers of Commerce and Industry. He is an expert on Southeast Asia, sovereign debt restructuring, international financial institutions, U.S. foreign assistance strategy and international volunteer service. He is a former U.S. Treasury economist and senior executive at the Institute of International Finance.
Healing Through the Emotions: The Confucian Therapy System of Wang Fengyi
Friday, March 16, 2012 4:30 PM - 6:30 PM
Kohlberg, Scheuer Room
Laurie Regan, Swarthmore alumni, class of 1979,  and Dean of Classical Chinese Medicine at the National College of Natural Medicine in Portland, Oregon, will be on campus Thursday, March 15 and Friday, March 12, 2012. 
On Thursday, March 15, Dr. Regan and Swarthmore Alumni Megan Choy, class of 2002, a student in the Master's Program at NCNM, will conduct an information table on the National College of Natural Medicine from 11:00 a.m. to 2:00 p.m. in Sharples Dining Hall. Students are invited to stop by and chat, and receive information about NCNM.
On Friday, March 16, Dr. Regan will present a lecture entitled "Healing Through the Emotions: The Confucian Therapy System of Wang Fengyi (1864-1937)" at 4:30 p.m. in Scheuer Room.
Following the lecture, Megan Choy will provide information about the four degree programs offered at NCNM.  Choy received her BA in Psychobiology from Swarthmore in 2002 and will graduate with her Naturopathic Doctorate, Masters in Science in Oriental Medicine, and Master's in Science in Integrative Medicine Research in June 2013.
Dr. Regan's own journey in natural medicine began with a desire to find larger truths behind the quantitative science she pursued while earning a Doctorate in Neurobiology from Harvard University.  She worked on the curriculum review committee at Harvard, but in the end said she "just felt that straight science wasn't full enough, it didn't give a complete picture of what was important."
In her role as dean, Dr. Regan plans to facilitate the further enhancement of the Chinese medicine curriculum with the goal of establishing a doctoral degree program. NCNM currently offers the Master of Science in Oriental Medicine and Master of Acupuncture degrees. 
Beyond Black, White and Polka Dot: Asian Americans and the Struggle for Justice
Thursday, April 19, 2012 4:30 PM - 6:00 PM
Science Center 101 - Chang Hou Hall
How many times have you heard the phrase, "I don't care if you're black, white, purple, green or polka dot . .?" Asian Americans find themselves perpetually, and often absurdly, placed next to purple or polka dot in a litany of colors as if our race were an irrelevant detail in a colorblind world. What role does Asian America hold today in creating communities that work to build broader understanding of justice issues?

Helen Gym shares the passionate, complicated and ever evolving efforts of one organization, Asian Americans United in Philadelphia's Chinatown, through two decades of struggle around transforming public education and neighborhood development. Through these campaigns, we seek to understand how Asian America's unique experiences enhance our understanding of race and community dynamics, and advance the work of social justice.
Gym is a board member of Asian Americans United.  She was named the 2007 Citizen of the Year by The Philadelphia Inquirer.
This talk is in honor of Genevieve Ching-Wen Lee '96, and  is free and open to the public.
Unfolding Perspectives on Chinese History and Asian Studies: A Celebration of Prof. Lillian Li
Friday, April 20, 2012 3:30 PM - 5:00 PM
Kohlberg, Scheuer Room
A two-day symposium celebrating Professor Lillian Li's contributions and dedication to  Swarthmore College will begin on Friday, April 20 at 3:30 p.m. in Scheuer Room, Kohlberg Hall, with a welcome address by President Rebecca Chopp, which will be followed by a keynote lecture by Prof. Pamela Crossley '77 entitled "Tradition and Transformation: Chinese History from Trotter Hall."  Following the lecture, a reception will take place in the Kohlberg Commons.   The lecture and reception are open to the public.
Lillian Li arrived at Swarthmore in 1974 and has taught courses on Chinese and Japanese history, as well as courses on women's history, Orientalism, and the history of Beijing and Shanghai.  Professor Li's history courses are also a part of the Asian Studies Program, of which she is a founding member.
Li is the author of China's Silk Trade: Traditional Industry in the Modern World, 1842-1937 (1981), and Fighting Famine in North China: State, Market, and Environmental Decline, 1690s-1990s (2007), co-editor of Chinese History in Economic Perspective (1991), and co-author of Beijing: From Imperial Capital to Olympic City (2008). She has held various dost-doctoral grants and appointments, including the Institute for Advanced Study at Princeton, and a Fulbright-Hays Fellowship for research in China. (2010). 
Keynote speaker, Pamela Crossley, received her PhD. from Yale in 1983 and studied under Prof. Li during her undergraduate years at Swarthmore. Crossley is a specialist on the Qing empire, and also researches and writes on Central and Inner Asian history, the history of horsemanship in Eurasia before the modern period, and global history. Her most recent book is The Wobbling Pivot: China Since 1800, An Interpretive History.
GPASC 7th Annual Undergraduate Conference
Saturday, April 28, 2012 8:00 AM - 4:30 PM
Kohlberg 226, Kohlberg
Songs of the Saints: Hindu Devotion in Indian Folk and Classical Music
Thursday, November 8, 2012 4:30 PM - 6:00 PM
Lang Concert Hall, Lang Music Building
A Lecture/ Demonstration on Carnatic Music and Hindu Devotion by S. Sowmya and musicians

Sowmya, one of the most accomplished contemporary Indian classical vocal artists of her generation, brings a strong background in the theory of Indian music to her performance of Carnatic music. She has drawn from the research experiences of her teacher Dr. S. Ramanathan, known for his seminal work on Ancient Tamil and folk Music Traditions, and has presented guided appreciation sessions on Tamil and folk music to help bridge the gap between research and performing, with the ultimate goal of bringing the richness of these traditional, sometimes rather recondite, musical forms out to a wide audience. Her lecture/ performance at Swarthmore will explore the pans or musical modes in early South Indian music, from their origins in folk songs played by bards and wandering minstrels to their transformation, though medieval devotional songs of Hindu saint-poets, the songs of devadasis or temple dancers, and the courtly performance mode of 16th-18th-century South India, into what is known today as Carnatic Music. S. Sowmya will be accompanied by Embar Kannan on the violin, Neyveli Narayanan on the mridangam, and K.V.Gopalakrishnan on the kanjira.Co-sponsored by Śruti: The Indian Music and Dance Society of Philadelphia, along with Asian Studies, The Department of Music and Dance, DESHI, and the Department of Religion at Swarthmore."Sounds of India: Influences and integration of folk melodies in Carnatic music" is also supported by PEW center for Arts and Heritage through the Philadelphia Music Project.
Poetry Reading with Dilruba Ahmed, Laynie Browne, & Woon-Ping Chin
Thursday, November 15, 2012 7:30 PM - 12:00 AM
Kohlberg, Scheuer Room, Kohlberg
Poetry Reading with Dilruba Ahmed, Laynie Browne, & Woon-Ping Chin2/15/12, 7:30 PM, Swarthmore CollegeKohlberg Hall ~ Scheuer RoomSponsored by the English Department FREEDilruba Ahmed's debut book, Dhaka Dust (Graywolf, 2011) won the Bakeless Literary Prize for poetry awarded by the Bread Loaf Writers' Conference. Her poetry has appeared in Blackbird, Cream City Review, New England Review, New Orleans Review, and Indivisible: Contemporary South Asian American Poetry. Ahmed holds BPhil and MAT degrees from the University of Pittsburgh and an MFA from Warren Wilson College. She teaches in Chatham University's Low-Residency MFA Program. Web site:
www.dilrubaahmed.comLaynie
Browne is the author of nine collections of poetry and one novel. Her most recent publications include Roseate, Points of Gold (Dusie, 2011), The Desires of Letters (Counterpath, 2010), and The Scented Fox (Wave, 2007), which was selected for the National Poetry Series award. She is co-editor of I'll Drown My Book: Conceptual Writing by Women (Les Figues, 2012). Web site:
www.wavepoetry.com/products/laynie-browne.Woon-Ping
Chin (Chin Woon Ping) is the author of two books of poetry, In My Mother's Dream and The Naturalization of Camellia Song. Her memoir, Hakka Soul, was jointly published by the National University of Singapore and the University of Hawaii Presses (2008). Her writing has been published in the Norton anthology of Language for a New Century, the Harper Collins anthologies of Literature and Asian American Literature, & Writing, The City and You, Playful Phoenix, A Sense of Exile, Monologues by Women of Color, Westerly Looks to Asia and On a Bed of Rice. She lives in Vermont, teaches at Dartmouth College and is currently Visiting Professor in the Department of English Literature at Swarthmore College. Web site:
www.dartmouth.edu/~english/faculty/chin.html
The Global History of Genocide
Monday, November 26, 2012 4:30 PM - 6:30 PM
Kohlberg, Scheuer Room
Swarthmore's newly formed student group, Southeast Asian Studies Association (SEASA), has organized a lecture entitled "The Global History of Genocide" by Prof. Ben Kiernan on November 26, 2012.
The lecture will give an overview of "genocides," beginning in ancient times and continuing to the 21st Century, with a substantial focus on the Holocaust, Cambodia and East Timor. Kiernan will present a number of commonly recurring themes in a range of historical cases of genocide that make possible advance detection of future cases, and he would illustrate new technology for tracking genocide in real time.
Kiernan is a Professor of History, Professor of International and Area Studies, Director, Genocide Studies Program and Chair, Council on Southeast Asia Studies at Yale University.

He is the author of Blood and Soil: A World History of Genocide and Extermination from Sparta to Darfur (2007), which won the 2008 gold medal for the best book in History awarded by the Independent Publishers association, and the U.S. German Studies Association's 2009 Sybil Halpern Milton Memorial Book Prize for the best book published in 2007-2008 dealing with Nazi Germany and the Holocaust in its broadest context, covering the fields of history, political science, and other social sciences, literature, art, and photography.

Kiernan is also the author of Genocide and Resistance in Southeast Asia: Documentation, Denial and Justice in Cambodia and East Timor (2007); How Pol Pot Came to Power: Colonialism, Nationalism, and Communism in Cambodia, 1930-1975 (2004); Cambodia: The Eastern Zone Massacres (1986); The Pol Pot Regime: Race, Power and Genocide in Cambodia under the Khmer Rouge, 1975-1979 (1996); and Le Génocide au Cambodge, 1975-1979: Race, idéologie, et pouvoir (1998).
Japanese Movie Night
Friday, February 8, 2013 9:00 PM - 10:30 PM
Kohlberg 302
Jiro Dreams of Sushi (2012)Japanese section of Modern Languages and Literatures presents "Jiro Dreams of Sushi" at 9pm, KOHL 302.

Here is some review from rotten tomatoes:Jiro Dreams of Sushi is the story of 85 year-old Jiro Ono, considered by many to be the world's greatest sushi chef. He is the proprietor of Sukiyabashi Jiro, a 10-seat, sushi-only restaurant inauspiciously located in a Tokyo subway station. Despite its humble appearances, it is the first restaurant of its kind to be awarded a prestigious 3 star Michelin review, and sushi lovers from around the globe make repeated pilgrimage, calling months in advance and shelling out top dollar for a coveted seat at Jiro's sushi bar. At the heart of this story is Jiro's relationship with his eldest son Yoshikazu, the worthy heir to Jiro's legacy, who is unable to live up to his full potential in his father's shadow. -- (C) Magnolia
Japanese Movie Night
Friday, February 15, 2013 9:00 PM - 11:00 PM
Kohlberg 302
Japanese section hosts "Love Letter" (1995) on this Valentine's week! Japanese with English subtitles. 2 hr. long. Light and tasty refreshments are provided.

Review from rotten tomatoes:Director Shunji Iwai, who has gained wild popularity in his native Japan, creates this gorgeously rendered tale of love, remembrance, and loss. Though her fiancé Itsuki Fujii died in a mountain climbing accident over two years ago, Hiroko Watanabe (Miho Nakayama) is unable to move on. After a ceremony marking Itsuki's death, Hiroko pays an emotional visit to his mother. There she discovers his boyhood address in an old high school yearbook, and, on a whim, she writes a letter addressed to her old lover. Needless to say, she is more than a little surprised when she actually gets a response from Itsuki Fujii. This Itsuki Fujii, however, is a young woman (also played by Nakayama) working at a library and suffering through a particularly tenacious cold in the snowy expanses of Hokkaido. She also endured three years of classroom taunts at having the same name as her male classmate as junior high student-the same male Itsuki Fujii that Hiroko eventually fell for.

Though the female Fujii initially worries that she has somehow been targeted by a lunatic, she and Hiroko begins to develop an odd sort of correspondence. The two begin to piece together their respective memories about the male Itsuki, revealing a love lost and a love rediscovered. Though Miho Nakayama gives a nuanced performance as the film's two lead characters, pop star Ranran Suzuki almost walks away with the film in her hilarious cameo as Sanae Oikawa, the deeply weird teenaged rival suitor to the male Fujii's attention. Iwai's deft touch fashions a narrative that could have been jumbled and maudlin into an elegant work, that, like Wong Kar-wai's brilliant Chungking Express (1994), artfully fuses humor with melancholy. ~ Jonathan Crow, Rovi
Buddhism and Social Activism in Today's Japan
Tuesday, March 19, 2013 4:15 PM - 5:45 PM
Kohlberg 116
"Buddhism and Social Activism in Today 's Japan": A Talk by Akinori Takase, Research Associate, Jodo shu Research Institute, and Buddhist Priest, Jodo-shu (Pure Land) DenominationJapanese Buddhist priest Akinori Takase will discuss his research on religion and social activism, in particular Buddhist efforts to aid the homeless in Japan, as well as his own experiences as a priest committed to social engagement.Refreshments will be served.Sponsored by the Japanese Section of the Department of Modern Languages and Literatures, Asian Studies, The Department of Religion, and The Lang Center for Civic & Social Responsibility
Because You're Brown, Honey Gurl
Tuesday, March 26, 2013 7:00 PM - 8:00 PM
Kohlberg, Scheuer Room
Join us for a spoken word performance with queer South Asian spoken word artists & activists Alok Vaid-Menon and Janani Balasubramanian. The poets explore how queer people of color can distinguish ways of desiring, thinking, feeling, relating, and creating within the mainstream queer community. And renegotiate ways of loving bodies of color.Through their voices, and our voices, this event seeks to be more than just an evening of poetry and discussion. Instead, it is a moment of solidarity, and call for community. Decolonize//queer//repeat.Alok Vaid-Menon is a South Asian artivist who has performed & organized with queer movements around the world. They are committed to building radical queer movements and bodies that resist white supremacy and imperialism and like making art that thinks about these, and other what ifs. You can read some of their work at
http://returnthegayze.tumblr.com/
and
http://queerlibido.tumblr.com/.Janani
is a South Asian electron spinning around the Bay Area making art and scholarship. They like thinking about the apocalypse, decolonizing the food system, and making space for quantum queers everywhere. You can read some of their poetry at
http://queerdarkenergy.sqsp.com/
. They're also assistant editor over at
http://blackgirldangerous.org/.For
more information, see their website:
http://darkmatterrage.wix.com/darkmatter
Author Talk: Yan Lianke "The Independence of the Author Under China's Literary System"
Tuesday, April 9, 2013 4:30 PM - 5:30 PM
McCabe Library
Please join us for a talk by Chinese writer YAN Lianke author of "Serve the People", "Lenin's Kisses" and "Dream of Ding Village". The title of the talk is "The Independence of the Author Under China's Literary System"Tuesday, April 94:30PMMcCabe Library, Popular Reading RoomLight refreshments will be served.
Accumulating the Primitive: Filipino American Art in and out of the Imperial Museum
Thursday, April 25, 2013 4:00 PM - 5:00 PM
Science Center 101 - Chang Hou Hall
The 2013 Genevieve Ching-wen Lee '96 Memorial Lecture will take place on Thursday, April 25, 2013 and will be followed by a reception.  This year's guest lecturer will be Sarita See, Associate Professor of Asian American Studies at the University of California, Davis.

Drawing from research for her current book-length project Essays against Accumulation, Professor See juxtaposes the accumulative economy of the imperial American museum and its collections on the Philippines with the anti-accumulative economy of contemporary Filipino American art. By identifying an alternative mode of the archive, Professor See demonstrates that scholars and community activists can and must learn from the modes and procedures of the arts, which are a means to the alternative production and organization of knowledge.

Prof. See is the author of The Decolonized Eye: Filipino American Art and Performance (University of Minnesota Press, 2009).