Email This Page
The Amazing Swarthmore Network
And 10 Ways to Plug Yourself In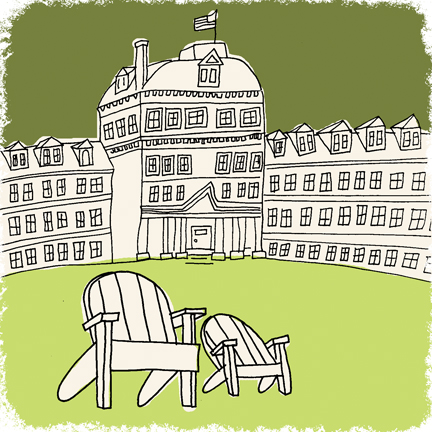 THE COLLEGE'S HEART MAY BE ON CAMPUS, BUT ITS NETWORK REACHES EVERYWHERE.
"In traveling around the world meeting alumni," says President Rebecca Chopp, "I've come to think about them as part of a worldwide Swarthmore network. Its heart may be located on campus, but its reach is everywhere. Swarthmore is as real for alumni in Hong Kong and San Francisco, in New York and New Delhi, in Rwanda and Rio de Janeiro, as it is for those in Swarthmore, Pa."
The strategic plan that is being discussed at the College this fall aims to make this Swarthmore network more visible, more engaged, more connected—and then to use it to foster significantly more engagement between alumni everywhere and people at the College. "I'd love to see alumni think of Swarthmore as a kind of home base—a place to come back to, a place to connect with, a place to engage," Chopp says. "I'd love to see them use their experiences and knowledge to give us ideas and suggestions about how we can best equip our students with the critical intellectual tools they'll need to thrive in tomorrow's world."
Traditionally, alumni have contributed their ideas and expertise by joining the Alumni Council or the Board of Managers. These remain important avenues of connection—as do the numerous Swarthmore Connection groups in cities around the world. So do the more than 800 alumni interviewers who serve the Admissions Office each year. But there are many other ways for Swarthmore alumni to engage with each other and, importantly, with the College.
As envisioned in the plan, fostering this kind of engagement requires three things: First is connecting alumni to what's going on at the College today—through this magazine and other communications, via the Web and social networking; and by inviting alumni to campus not just for reunions or themed events but to play a greater part in the education of undergraduates.
Second is strengthening the College's far-flung alumni networks, facilitating them both in real time and virtually. "Being in the same room is great, but it's becoming possible to share the same kind of experiences over the Internet," Chopp says.
The third level is engagement with students, taking advantage of the strong interest that alumni have in students and their shared experience of Swarthmore. "This is one of the real opportunities we have as a liberal arts college," Chopp says. "Alumni are eager to answer questions, to mentor, and to share common projects with students and younger alumni. We need to do whatever we can to make that an ongoing part of the student experience at Swarthmore. We quite intentionally don't offer professional-school training like a large university. But what we truly have to offer our students is even better—we have our alumni.
"I have not had a single conversation in which more than two or three alumni are in the room that hasn't been an amazing experience—an intense seminar on whatever topic comes up," Chopp says. "And I know this happens whether I am there or not. Whenever alumni get together, no matter what the purpose, they enjoy getting connected to one another."
—J.L.
The List: 10 Ways to Get Plugged In
1. Be True to Your Class
2. Hit the Books
3. Help a Student
4. Get Down to Business
5. Go Online
6. Identify
7. Feed Old Passions
8. Keep Up the Good Works
9. Be Generous
10. Go Far Away