Email This Page
The Wine Guy
John Fischer '81 delights clientele with perfect combinations of food and drink—and teaches his students to do the same.
As the wine guy—"not sommelier, because that's French"—at the internationally acclaimed Culinary Institute of America (CIA) in Hyde Park, N.Y., John Fischer '81 is used to hearing enthusiastic and grateful comments from clients who visit any of the institute's five restaurants. But even he was surprised when a female diner jumped up from her table in the elegant, award-winning Escoffier Room—the CIA's French restaurant—and hugged him. She'd just finished her meal of duck confit with a sauce incorporating walnuts and currants, accompanied by a Belgian-style Maudite brown ale from a Montreal brewery that Fischer had recommended.
"She was not inebriated—just besotted with that combination of food and drink," says Fischer, adding, "It's important for me to try to get wine and food together in front of people in a way that they can experience both the way they should be experienced."
Author of three books on table service, bistros and brasseries, and cheese, Fischer insists that he entered the food business quite by accident. His route to the CIA was circuitous, and, although he didn't realize it at the time, he actually found his direction as a Swarthmore undergraduate. He jokes that his only marketable skill on graduating from the College was the bartending he'd learned while working at events organized by the Office of Alumni Relations or by his fraternity Phi Psi. A psychology major also came in handy. "After all, bartending is counseling and medicating, but using bar stools instead of a couch," he jokes.
After Swarthmore, in the course of a number of what he believed at the time to be stop-gap jobs—"while I looked for a so-called real job, possibly in business"—Fischer learned butchering and clam and oyster shucking, continued to tend bar, and also served as a waiter. Realizing that he enjoyed this work, he began to envision a "real job" in the field of restaurant management.
In 1986, he enrolled in a two-year Associate in Occupational Studies in the Culinary Arts degree program at the CIA—which he refers to as "the mother ship of American food and cooking"—to learn to cook. "Everyone there thought I was nuts to spend two years and a lot of money if I didn't want to be a professional cook, but I knew that, for me, this experience would unlock the black box of the kitchen, which I thought of as a miraculous place where pieces of paper went in and food came out. It was here that I learned what went on in between," he says.
A field externship at Le Bernardin—a Zagat, Michelin, and New York Times top pick—at the end of his first year and networking during his second year ensured that he had no problem finding work after graduation. He advanced quickly to become wine-and-beverage director or front-of-house manager in several high-class New York City restaurants and wine bars.
"Being a wine guy in New York City is still one of the favorite parts of my career—being in the wine industry in what is arguably the greatest wine city in the world," he says.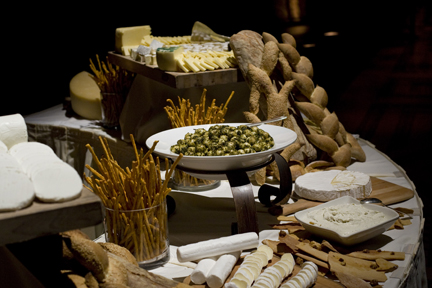 Fischer returned to the CIA in 2000 as an instructor/lecturer. Since then, he has spent time at Camp David, training staff in wine and service. In 2005, he completed an M.S. in education. Now an associate professor of hospitality and service management, he teaches advanced wine and beverage courses and a freshman experience course. For seven years, he was the "maître d'" instructor in the Escoffier restaurant that—like all CIA eateries—also serves as a classroom for students pursuing a culinary arts degree.
"Beverage management is becoming very popular among our graduates as a career choice," Fischer says. "It's an almost perfect hybrid of front- and back-of-house tasks. I love it, because you're involved in both sides of the restaurant. You're dealing with product and flavor and taste, you're also in charge of purchasing and maintaining inventory—and you're on the floor talking to guests, selling wines, and making cocktails. Being the guide, allowing them to enjoy the experience at a greater level than they ever would have without your help is very satisfying—especially when they get up from the table and hug you."