Email This Page
Good Food, Good Earth—Good Ideas
The local food movement has taken off around the country. But not many are taking "local" as far as Mark Guenther Kimball's Essex Farm.
STEERING CAREFULLY UP THE RUTTED DRIVEWAY, I look to the house for signs of life. It's just past the dinner hour, a rare moment of pause on a farm in midsummer. The North Country air is cool as I step from the car, and the view is east. Under the blue wash of Vermont's distant mountains, Essex Farm's 500 acres spread out lush and green.
Before I can turn around, Mark Guenther Kimball '94 is bounding out to greet me, no room for doubt in his rapid stride. He is 38 but looks younger, a rangy six-foot-four, grizzled with three days' beard. "Your timing is perfect," he says brightly, leading me into the house. Not two minutes later, I'm sitting down to the meal he's placed before me. It's a simple supper, chicken and greens and a neighbor's bread, but the freshness of the food, its plain goodness here in the farmhouse kitchen, is almost shocking after the long trip. As I sit and savor the unexpected bounty, Mark attempts to bring me up to speed.
It was a wet spring. The wettest ever. Crazy wet, in fact, with flooding so high the bathing beaches on nearby Lake Champlain are still underwater and the ferry to Vermont shut down for a month. The vegetables are weeks behind—"you may have noticed coming in"—and the corn and wheat are a total loss. But things are mostly righted now. A stretch of sunny weather has boosted crops and buoyed spirits, and Essex Farm is gearing up for a big weekend of haying. If the weather holds out, they hope to bring in 3,000 bales.
The eating over, Mark proffers bread and fresh-churned butter for my motel breakfast—and he's on his feet, headed for the barn.
"I have to do my evening rounds."

I had recognized that barn from the jacket of Kristin Kimball's fine 2010 memoir The Dirty Life, which chronicles how she and Mark met and fell in love and survived their first eventful year together here in upstate New York. Though it makes much of her sudden transformation from trendy Manhattan journalist to Carhartt-wearing farm wife ("From City Girl to Hog Butcher" is the way All Things Considered put it), the book is also a vivid portrait of the deep joys and constant rigors of a particular, and venerable, type of farming.
In the book, Kristin describes Essex Farm as "either antique or very modern depending on who you ask." Or where you look: Though the farmyard is littered with rusting old plows and iron-wheeled cultivators, the pasture beyond the barn hosts a large array of solar panels. The latter provide all the farm's electricity. The former are for hitching up to horses, who supply most of the rest of the horsepower.
Sparked by concerns for nutrition, food quality, economics, and the environment, the local food movement has taken off around this country. "Locally sourced" and "locally grown" are all the rage at restaurants. The number of farmers' markets has tripled in 15 years. Community-supported agriculture organizations, or CSAs, in which members purchase a share in a farm's production, now number more than 4,000 nationwide, according to the USDA.
Not many are taking "local" this far, however. Using organic methods for soil improvement and pest control, relying mostly on horses instead of tractors, the Kimballs aspire to nothing less than a whole-diet model of agricultural production. They raise everything, that is, from pastured beef to sunflowers—not just for their family, as their great-grandparents might have done, but for a whole community. Members pay one price annually, around $3,000 per adult, and each week they take whatever and as much as they can eat of "beef, chicken, pork, eggs, maple syrup, grains, flours, dried beans, herbs, fruits, and 40 different vegetables," as Kristin lists it. "Our goal is to provide everything they need to have a healthy and satisfying diet, year-round."
There are no typical days on a diversified farm. What's typical is running headlong into the next crisis—and if you're lucky somehow solving it. That's one of the things Mark Kimball (he took Kristin's surname when they married) loves most about farming. "The more I can get my hands on something, figure it out, the more excited I am," he says. This morning that means puzzling out the west barn electrical panel to replace a faulty breaker.
It isn't that far from the way he was raised. As a boy, Mark explains: "I lived on a homestead with my parents, who had left New York City. They dropped everything and moved to the country. What I'm doing is sort of an extension of that."
He has apparently always been remarkably self-possessed, driven, and sure of himself. Arriving at Swarthmore as a teenager, he remembers: "I became disillusioned very quickly with the cost of education. It wasn't just Swarthmore—among the liberal arts colleges, Swarthmore is incredible, great—but I saw people still playing with drugs and sex, paying that kind of money—and it seemed really crazy to me. Almost immediately I thought about dropping out." Supportive deans and a semester working in economically blighted Chester convinced him to stay. By senior year he was class co-president.
"Ironically," Mark reflects, "Swarthmore's ability to spend large amounts of money is one of the foundations of my entrepreneurial zeal. There were opportunities there to use resources without a lot of oversight other than 'Spend it well,'" he explains. "So, for instance, I helped a friend start a bike repair shop. I could see the power of what money can do, and that you could make mistakes and still survive. That economics is fascinating to me."
His path into agriculture became clear during junior year via former biology professor Mark Jacobs. "He was so old school," Mark remembers. "I loved the way he taught. For his crop plants class, he arranged these weekend field trips to innovative farms and places like Linvilla Orchards and the Rodale Institute. And I thought, 'This is amazing. Hard physical work and cool science!' And that was it."
Senior year, Kimball bicycled across the country, stopping to work at farms along the way, reporting on each experience. He wrote a thesis: "A nitrogen primer for curious farmers." After graduating, he pursued apprenticeships, traveled to Venezuela and India, learning all he could about different ways of farming. When it was time, an opportunity arose in central Pennsylvania, and he found himself running a CSA. Before long, however, his frustration with the standard model led him to think bigger.
"Don't get me wrong," he says. "I love the CSA model. I think it's absolutely awesome that people are doing anything at all to be more conscious about what they eat—I absolutely love that. But why stop with vegetables? What about meat and eggs and grain? Nobody gets all their calories from a CSA."
The idea of a fixed share also irked him. "Your share comes in a box, you get what the farm is producing, period. But you don't eat 12 more beets just because the farmer grew more beets that year," he says. "If it's really about the food, it shouldn't be that way." Instead, "We wanted to do what Kristin calls eating like a farmer: 'Let's go out and grab what we want.' So we set it up like a supermarket, where you take what you want. We get to see what people take, and we can adjust what we're growing. It's a self-correcting system."
He stops working at the circuit box, flips a switch. There's a rattling noise overhead—it's the sound of the conveyor that will carry bales of hay the length of the barn for stacking. He smiles. "That should save us 50 hours this weekend."
It was Kim Tait, owner of Tait Farm Foods in Centre Hall, Pa., who gave Mark his early chance. Tait's is a third-generation family farm that includes, in addition to the thriving CSA Mark started, an on-farm processing plant that produces more than 50 organic specialty foods, and a retail store that supports more than 100 regional food producers and artisans. Kim Tait's recent appearance before the U.S. Senate Committee on Agriculture is a mark of how far the local food movement has come, and how far it has to go.
In hearings preliminary to the drafting of the 2012 Farm Bill, Tait told the Senate committee how her farm had benefited from provisions in the 2008 bill, including a program to defray the costs of organic certification and another that increased spending for organic research. These concessions, embedded for the first time in the legislative document that guides the nation's food policy, have heartened some supporters of local agriculture, as has Agriculture Secretary Tom Vilsack's voiced commitment to promote local and regional food systems and farm-to-school nutrition programs. In all, however, support for local producers amounts to just a tiny fraction of the total bill, which continues massive subsidies to large-scale grain producers. Even so, in the run-up to the 2012 version, there has been considerable backlash from supporters of conventional agriculture.
By the most generous estimates, "local foods" make up only two to three percent of total U.S. food production, according to Brian Snyder, executive director of the Pennsylvania Association for Sustainable Agriculture (PASA). But, "We're big enough now to be seen as competition," Snyder says. With more than 7,000 members from 40 states and seven countries, PASA, based in rural Millheim, Pa., is one of the largest and most influential local food organizations in the country. Founded in 1990, its original educational mission has grown increasingly to include advocacy. "There's more and more pressure from our members to engage in policy," Snyder says, "making sure the people who write the laws understand how they're impacting small farmers."
Some of the issues Snyder works on are region-specific: fertilizer run-off into the Chesapeake Bay and the increasing impact of Marcellus shale drilling on Pennsylvania's rural communities. Others are broader in scope. But the single issue that has occupied most of his time over the past two years is one of the hottest battlegrounds in today's agriculture: food safety. Increasingly frequent, large-scale food contamination incidents—such as a recent nationwide recall of 36 million pounds of ground turkey—have spurred tighter federal regulations aimed at protecting consumers. Unfortunately, Snyder notes, these heightened restrictions disproportionately impact small growers.
"There's an assumption—in industry, in government, and among the general public—that the path to safer food is to bring it all into one place, treat it, and send it back out," he told a recent interviewer. "The fact that the assumption doesn't change, even though contamination keeps happening, is scary." A safer food system, Snyder contends, would take advantage of the diversification and sense of personal responsibility inherent in local and regional operations. "Small farmers can make bad decisions too," he says, "but when that happens, statistically, the damage is minimal and the cause is quickly clear. On balance, you're going to get a cleaner product that's not as widely distributed and whose origins are easier to trace."
Weekday lunch on Essex farm. The smoky tang of frying beef mingles with the lush fragrances of tarragon and basil. By ones and twos they show up at the open-air pavilion, strolling on foot or ditching bicycles—the dozen or so young farmers who make up Mark and Kristin's current team.
Their backgrounds are varied and impressive. Chad, the horseman, studied forestry at nearby Paul Smith's College and last worked at horse-drawn logging in Virginia. Courtney, the butcher, came to Essex after finishing welding school. ("It was either this or join the pipefitter's union," she says.) Racey, in charge of chickens, spends two months a year in Africa on development projects for the World Bank. Asa, the vegetable foreman, is also a stone mason; and Nathan, who runs the dairy, is a seismic engineer. Then there are the short-timers: Mo, a Harvard Ph.D. student in music theory; and Matthew, who teaches high-school in inner-city Chicago. The latter are here just for the summer, but most of the others hope to move on someday to farms of their own.
The local-foods movement has galvanized a whole new generation of back-to-the-landers, a vital influx in a country where the average age of a farmer is 57. But the obstacles to starting out are substantial, and access to affordable land is chief among them. Organizations like PASA are beginning to help, with innovative pilot ventures like a land-lease program, says Kristin Leitzel Hoy '07: "The idea is to connect aspiring farmers to landowners who want to see their land farmed."
Hoy's duties at PASA include managing the organization's showcase event, the annual "Farming for the Future" conference, which draws some 2,000 attendees from around the country. She grew up on a farm five miles from PASA headquarters. "I've always had this sense of being connected to my food, that the lamb chop on your plate was the sheep that bowled you over that morning," she says. "At Swarthmore, I developed a greater awareness of the societal importance of reconnecting to our food supply." When she returned home to central Pennsylvania after graduating—"because connection to place is very important to me," she says—"it was really wonderful to find this organization so close by."
In addition to her work for PASA, Hoy is a regional coordinator for "Buy Fresh, Buy Local," a statewide program aimed at linking local producers with consumers.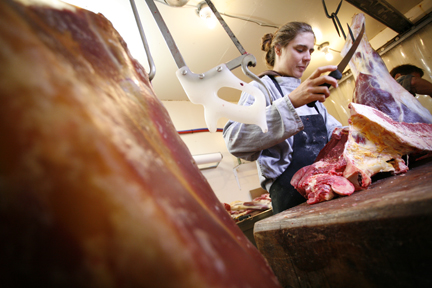 One of her program partners is Martha Hoffman '07, who is also in Millheim, on her own local-foods adventure. "Kristin brought me up here for a visit, and I fell in love with this valley," Hoffman explains. "The sense of community and mutual support made me want to give something back." In February, she opened a coffeehouse on Main Street, serving food mostly from local providers. Learning on the fly, she has already built up a network of farmers and customers—and an affinity for barter. "It's been great to see people who have lived here all their lives recognizing the resources that are right around them," she says.
Keefe Keeley '06 is also part of the broader movement. Keeley was born and raised in the Driftless region of southwest Wisconsin, long an organic hotbed. During his senior year at Swarthmore, he was awarded a Watson fellowship to study international agriculture. Returning home, he started a small orchard on his family's land.
Now he works with friends who are running a CSA and also runs a technical assistance program for small farmers for the state of Wisconsin. In the fall, he'll start a graduate program in agro-ecology in Madison—close enough, he says, that he can still tend his trees. "It's important to me to be a part of a community that's living close to the land."
Essex is certainly an organic farm, from the composted manure and cover crops to the labor-intensive weed control. But like a growing number of farms in the local food movement, it is not USDA Certified Organic. "That's primarily because of the paperwork and fees involved," Mark says. "I'm glad [certification] exists, but it's a federal bureaucracy. It's very hard to do diversified farming that way." Instead, he and Kristin, like others, rely on building relationships with their members. "That's the nice thing about direct marketing," Kristin says. "We can show people everything we're doing and answer their questions directly."
Certified or not, the essential commitment is to good food, the best they can produce. Mark and Kristin are both avid and accomplished cooks; their mutual love of eating well, and the desire to share that love, underlies Essex Farm as much as anything else does. Mark was mastering Julia Child in middle school; Kristin prepares sumptuous feasts for the weekly team dinner and has written for Food & Wine magazine. Yet if some criticize the local food movement as elitist, the province of "foodies" alone, to Mark that's a source of frustration. "I would love to find a local food distribution system that doesn't just market to true believers," he says. "I'd love to see a good cheeseburger made with local ingredients."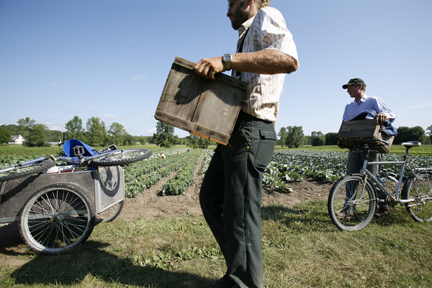 "Good food should not be out of reach," agrees PASA's Snyder. "It should not be a luxury. And often it is." To Snyder, that's largely a matter of misplaced priorities, seen in both the increasing regulatory burden placed on small producers and the continuing subsidies for commodity grains. "Take a look at the new USDA nutritional guidelines," he says. "Shouldn't we be subsidizing crops the USDA says people should eat?"
At its best, it would seem, the return to older ways of farming—and eating—is a way not of separating but of re-connecting to food, to the Earth, and to one another. At Essex Farm, at least, that return is not sober-sided or doctrinaire, but a conscious choice. This much becomes clear in the reasons Kristin gives for relying on horsepower instead of diesel. It isn't a matter of efficiency, although horses are "scalable" and don't get stuck in the mud. It isn't even so much environmental friendliness, although horses harvest their own fuel. "The best reason to use horses," Kristin says, "is if you like horses."
Mark, for his part, may eschew email and even computers generally ("I try to stay away from screens," he says), but, "There's nothing inherent about modern ways that I don't support," he once told the environmental writer Bill McKibben. "I'm trying to find out ways to increase the quality of my life, and I think, by extension, the lives of those around me."
Friday. Distribution day. The weekend's haying has started, and out in the far field, a gang of six, led by Mark, works steadily at baling, stacking, and bringing in the loaded wagons. At the barn, 20-year-old Joe, a summer hand from Baltimore, has been slinging the 60-pound bales onto the conveyor all afternoon, and his neck and arms and reddened face are spackled with dust and sweat. "You ought to try this work for a day," he says, stifling an impish grin.
Meanwhile, at the pavilion, Racey is hustling to finish the weekly set up. Crates full of oversized vegetables crowd the rows of wooden tables. The freezer is stocked with freshly killed chickens. Luscious red raspberries, just coming in this week, take their place front and center as the members begin to arrive.
Kristin Kimball works at a table in the shade, washing eggs, and a steady stream of members wander back to see her, to chat. One would like a book signed for his sister. Another asks about a barter—family portraits for food? Several offer to come and help with the haying, and each offer is gratefully accepted.
The first-year sign-up for Essex Farm's bounty was seven hardy families. Now in their eighth season, Mark and Kristin are feeding 10 times that—170 people. It's still early in the rebirth of this once dormant landscape, but already it's a remarkable achievement. "I was shocked we could come into an area this small with an idea as radical as this farm was and have it succeed," Kristin says. "The community has been behind us from the start." More recently, the success of The Dirty Life has bumped up membership substantially—and also drawn flocks of visitors. Promoting the book, she admits, takes her away from the farm—and the Kimballs' two young children—somewhat more than she would like.
Growth means change, and the prospect has her a little wary. "The demand has been strong," she acknowledges. "But I enjoy it when it's small. The excitement for me comes from getting better at what we do, rather than bigger. Mark, though…he's a classic entrepreneur. He loves something new, which right now means expansion."
Indeed, "I could see it growing infinitely," Mark had told me the day before. "We could feed 800 people on this land, in terms of calories." He's working on plans for a new distribution center, including a bakery. "That will solve some of the larger farm problems," he says confidently. "But this is an issue we're wrestling with, and we definitely need to resolve it in a way that's comfortable for both of us."
---
Freelance writer David Pacchioli's most recent contribution to the
Bulletin
was "Rock and an Old Place: A Family Farm Rich in History Faces the Relentless March of Natural Gas Drilling" (Oct. 2010). He lives in the mountains of central Pennsylvania.