8. Help a Student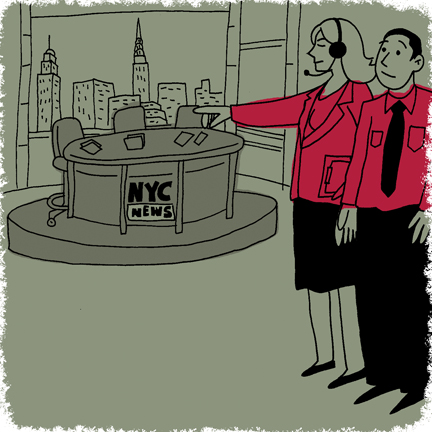 SOMETIMES IT'S WHO YOU KNOW
Swarthmore's Extern Program yields more than just a work experience. Thanks to an externship placement, Marty Spanninger '76, now a producer, writer, and director for broadcast news and documentaries, palled up with the late actor Christopher Reeve.
As a theater major (offered at the time as a concentration in the Department of English Literature) in 1973, Spanninger had signed up for the program—only a year old at the time—in the hope of meeting actual working actors.
Spanninger externed with Ike Schambelan '61, then a director at the Equity Library Theater on the Upper West Side. While distributing script pages to actors auditioning for one of Schambelan's productions, she ended up chatting with Reeve, a Cornell graduate who was anxious to supplement his soap opera role with serious theater.
Years later, Spanninger, who went on to be a TV news producer, ran into Reeve—by then a celebrity—while working for ABC-TV on a special about AIDS. It was after he'd played Superman.
In recent years, Spanninger, currently executive producer for the Futuro Media Group, which produces Latino USA for NPR and news and documentary segments for PBS and BBC, has served as a frequent extern host to students interested in broadcasting, but one of her favorite experiences happened when she was helping place Swarthmore externs in other positions in New York City.
"One young woman, Amanda Brown-Inz '06, was interested in writing and theater—a perfect match for New York Times theater critic Ben Brantley '77. But he wasn't signed up as an extern host."
Spanninger called him anyway, and he readily offered to talk shop with Brown-Inz over lunch. Although Brown-Inz decided eventually to go to China and learn Chinese, she has remained in touch with both Brantley and Spanninger. "Amanda is from Brooklyn, so the three of us have had dinner when she's been in town," says Spanninger, who also remains friends with Schambelan.
"These kinds of connections could happen all over the place, if people just took a minute to think about it and get engaged and make a phone call," she says.
—C.B.D.
MEET YOUR MATCH…
• In its first year (1972), the Extern Program matched about a dozen student externs with hosts in New York City, Boston, and the DC/Baltimore area. In 2011, 184 students were matched with a possible 217 externship opportunities offered by hosts in New York City, Philadelphia, Boston, DC/Baltimore area, and San Francisco. To host, write to careerservices@swarthmore.edu.