9. Be Generous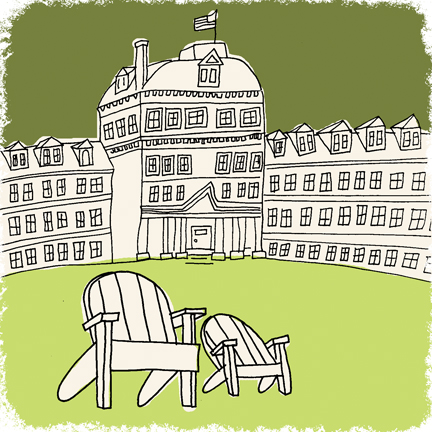 STEVE LLOYD'S THREE "Cs"
Stephen Lloyd '57 says he "kinda hooks his life into" three things: his church, his community, and his college. He calls them "The Three Cs."
Lloyd, who turns 76 this month, is a retired vice president for a public-management–consulting firm. With his wife, Elizabeth, an ordained Episcopal deacon, he's involved with the church. He serves his Park Forest, Ill., community as chair of the Board of Fire and Police Commissioners and plays violin in the local community orchestra.
And Lloyd has remained connected to Swarthmore through service on the Alumni Council and as class agent for the '57ers and chair of his class's 50th reunion fundraising, for which he spearheaded a record effort that enabled his class to set up a scholarship named for the late Associate Provost Emeritus and Associate Dean of the College Gilmore Stott. A regular and generous donor to the Annual Fund, Lloyd's support of the College includes a scholarship established by Lloyd and his family—including daughter Anne Lloyd '87— to honor his mother, May Brown Lloyd '27.
Ask Lloyd why he gives so generously to Swarthmore and he talks enthusiastically about his many ties to the College. His mother grew up in the Ville, so, when the time came, she "just walked up the hill to the College," he says. Almost three decades later, so did he, although from further afield, from his father's hometown, Joliet, Ill., where Lloyd's parents settled after May Brown graduated and they married.
"I had a lot going for me: I was a legacy, a musician, and an athlete," he says, admitting that, as a member of the football, basketball, and baseball teams as well as a violinist in the College Orchestra and a member of Kappa Sigma fraternity, he had trouble maintaining good grades that first year. Dropping football and basketball helped. "I stuck it out, progressed in my studies, and graduated—and I lettered in baseball," he says, chuckling.
Lloyd also continued to play in the orchestra and has fond memories of Stott, a fine violist, who hosted small musical gatherings in his home. "Gil Stott was one of the highlights of my Swarthmore experience," he says. "It's not that I've modeled my life after him, but he was definitely one of the people who helped me along in life."
"So why do I give? It's the whole experience—the professors, friends, music, athletics. I'm nowhere close to being a millionaire, but giving to the College—as it is with my other two "Cs"—is a labor of love."
—C.B.D.
HONOR A FRIEND…
• Carolyn Champ, director of the Philip Evans Scholarship Foundation, and Beverley Nalven, program officer, serve not only as advisers to Evans Scholars but also further interaction among them by publishing a triannual newsletter of alumni activities as well as organizing an Outward Bound excursion for incoming first-year scholars; trips to New York City and Washington, D.C.; welcome-back, holiday, and farewell-to-seniors parties; and several study breaks throughout the year. Jerome Kohlberg '48 initiated the Evans Scholars Program in 1986 to honor his College friend and roommate.
• The campus McCabe Scholars Society organizes various campus social events, including the McCabe Lecture and an annual dinner that brings past and current scholars together. Thomas McCabe '15 endowed the McCabe Achievement Awards in 1952.