4. Go Online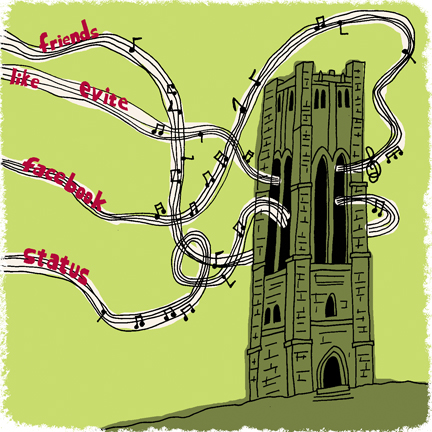 A NETWORK OF NOTE
When Deborah How '89 joined the Alumni Council last year, she wanted a specific project. A professional pianist and teacher in Los Angeles who coaches "competitive piano," How knows how important it is to have a wide network of professional connections in the music world, so she used her personal Facebook page to start a network of Swarthmore musicians—her friends posting to their friends and their friends … you get the picture—all with an eye toward mounting a campus concert featuring student and alumni performers playing works by Swarthmore composers.
It worked. In November 2010, a remarkable event was born: the Student and Alumni Composers Concert. Nearly 30 students and alumni participated—most in person and others via recordings and videos. You can see the resulting performances at the concert website. This event was followed by a faculty-student composers concert in spring 2011.
How says that the networking she's done has led to other Swarthmore music connections as well. She used the Internet service eVite to organize an alumni group to attend a concert featuring the West Coast premiere of Borromean Rings, a chamber work by James Matheson '92, performed by members of the Los Angeles Philharmonic at Walt Disney Concert Hall. The evening concluded with a meet-up and reception with the composer in the greenroom after the concert. "With eVite, you can see who else is coming, and that's a big draw—both to attend a great concert and to see your friends and meet new people."
This fall, How was at it again. The second annual Student and Alumni Composers Concert was held on Oct. 29 in Lang Concert Hall.
—J.L.
FIND A FRIEND…
• A Facebook group was created for the Class of 1997 by Duleesha Kulasooriya and Kim Killeen last spring when they volunteered to gather news for '97 class secretaries—and new mothers—Wendy Cadge and Lisa Ginsburg Tazartes. "We received an overwhelming response—nearly 100 lengthy posts in all," says Kulasooriya. So many responses, in fact, that, when compiled, the Class Notes copy was two times longer than the Bulletin could accommodate in one issue. At least 25 alumni classes have Facebook pages.