1. Be True to Your Class
Party On, 1983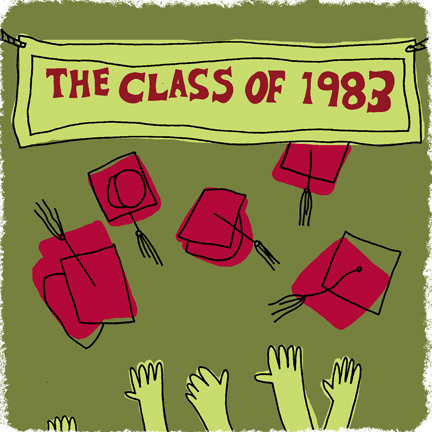 This year, as most '83ers turn 50, many have added a new shared experience to their cache of Swarthmore memories. Beginning with a 50th birthday party in the Washington, D.C., area, groups of classmates have been celebrating the half-century mark.
Regina Hanlon Barletta proposed the first 50th birthday celebration and, from her home in Pennsylvania, sent out invitations, tracked RSVPs, and arrived in Maryland, says Debra Felix '83, with an "awesome" cake for the celebration. Meanwhile, Sabina Beg, Anna Reedy Rain, and Felix pulled together food, housing, entertainment, and places to gather during the July 4th weekend. Seventeen classmates arrived from Maryland, Massachusetts, New York, Ohio, Pennsylvania, Virginia, and Wisconsin for the three-day party—some with spouses and children.
In Boston, another group of '83ers have held a summer party for years. This year, the July party hosted by Don Twomey; his partner, Michael Davison; and their sons Seth, 11, and Luke, 10, was also a celebration of 50th birthdays. A summer party is "a joyous tradition that seems to have more meaning as time goes on," says Twomey. "With these friends, we talk about our real lives, our real joys, and our real sufferings," he adds. "That's what I love about the Swarthmore that stays with me."
In September, Sue Kost of Delaware, Suellen Heath Riffkin of Utah, Lisa Yahna Shortell of Georgia, and Ellen Singer of Great Britain—four '83 classmates who lived with or near each other all four years during college—hosted a birthday weekend at the Jersey Shore for more than 15 classmates. "We shared a floor in Worth our senior year," says Riffkin. "Since then, several of us have seen each other but we've not all been together at once," which is why the four women treated themselves to two days together before the rest of their classmates arrived.
Felix has always said that her classmates are the nicest group of people she's ever known. "The class has a really nice culture about it," says Felix. "We get along well, care about each other, and have a lot of memorable shared experiences. Our class motto is 'Anywhere else, it would have been sun,' because we arrived [as freshmen] and left as new grads in the rain. But we won the award for percentage of the class giving to the Annual Fund for the first 10 years after we graduated."
—S.C.B.
MORE CLASS ACTS…
• Even with the growing popularity of social media, Class Notes—the oldest resource for connecting classmates—are still the most read section of the Bulletin. When the Bulletin arrives in mailboxes, alumni can be sure that along with all the other features and College news, they can immerse themselves in news about classmates.
• Last spring, Class of '85 secretaries Tim Kinnel and Maria Tikoff Vargas posted a "desperate plea" on the College's password-protected Online Community (OLC) for news to fill their next Class Notes column. Sixty '85ers replied in one week, more news than Kinnel and Vargas typically receive in six months and providing enough copy to fill their next column as well. On the OLC, alumni and students can connect and network with fellow Swarthmoreans, create a profile, read and submit Class Notes, post resumes, keep up with friends, and make new ones. Of the 57 classes that have set up discussion groups on the OLC, 30 have more than 200 subscribers—and the 1961 and 1971 discussion groups tally more than 250 postings each. To explore Swarthmore's Online Community, log onto olc.swarthmore.edu.