10. Go Far Away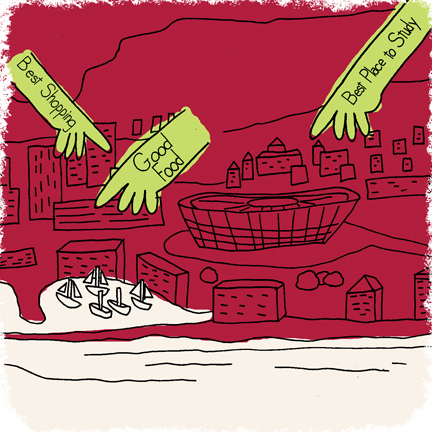 AND SWARTHMORE'S THERE TOO!
Rebekah Yang '12 and Sophia Pan '09 met for the first time when they were engineering students—Yang, a freshman, and Pan, a senior—and members of the Swarthmore Christian Fellowship. Two years later, Yang was deciding on a study-abroad program and contacted Pan when she remembered that the recent graduate had spent a semester abroad in South Africa. And, in fact, Pan was back in Cape Town pursuing a master's degree in civil engineering at the University of Cape Town (UCT).
"My connection with Sophia was very valuable in adapting to the country and the program," says Yang. "Her insight and experience helped me decide to study abroad in South Africa."
In spring 2011, Yang began a semester in Cape Town with a distinct advantage because Pan shared her experience of living communally with the other program participants, gave her advice about where to shop for groceries, explained how the public transportation system worked, and suggested which civil engineering classes to take. As a Chinese American, Yang was also concerned about security issues. "I had heard that previous study-abroad students of similar ethnicities initially felt uncomfortable in Cape Town due to certain cultural perceptions," says Yang. "Learning about Sophia's experiences was a great help in preparing to deal with these issues." During her semester abroad, Yang shared several meals with Pan—braais (barbecues) at her communal home and an Easter lunch at Pan's apartment.
The Off-Campus Study Office helped Yang when she was applying for the program and a study visa and provided her with "a plethora of contact information and support before she departed" for South Africa.
When Pan returned to Cape Town for graduate school, she contacted several alumni who offered advice; she found their contact information through Rosa Bernard, assistant director for off-campus study, as well as through the online alumni directory.
"Swarthmore alumni and students share a special educational experience, which I think incites a level of loyalty and creates a bond between them," says Pan. "When I have reached out to other alumni, they are almost always more than happy to offer their advice or assistance." —S.C.B.
INTERNATIONAL FLAVOR…
• Named for the form required for a student visa, The I-20 Club establishes a bond among international students from their first day on campus with programs such as iSibs, which links each first-year student with an upperclassman for direct student-to-student support, and weekly dinners in a small room in Sharples Dining Hall. The club also encourages camaraderie with monthly programs such as trips to buy winter coats and pot luck dinners to which each international student invites a faculty member.
• The first International Alumni Student Gathering: Employment in the United States for International Students welcomed recent international graduates back to campus last January to share their experiences finding employment in the United States. The program helps international students maximize their work options following graduation and explains hiring complexities, U.S. Citizen and Immigration Services regulations, visa strategies, and the timeline for obtaining Optional Practical Training.