Data, Facts & Stats
It is our belief that prospective students and their families benefit from being fully informed in the college search and selection process. To that end, we provide the following links to detailed information about the numbers that form the foundation on which our vibrant community is built.
Life After Swarthmore: Facts and Statistics
Our students engage in amazing ways on campus during their time here, and they are supported in taking their knowledge into the world to accomplish great things. View post-graduate statistics for more information on Career Services.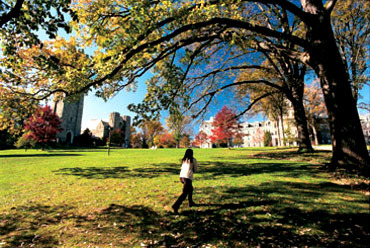 University and College Accountability Network
Swarthmore College participates in the University and College Accountability Network (U-CAN) information-sharing site sponsored by the National Association of Independent Colleges and Universities (NAICU). This site, launched in 2007, is designed to give prospective students and their families concise, Web-based, consumer-friendly information about individual colleges and universities.
Information about admissions, enrollment, academics, student demographics, graduation rates, faculty, class size, tuition and fee trends, price of attendance, financial aid, campus housing, student life and campus safety are available on our two-page campus profile.
The Common Data Set
Swarthmore College has committed to make public all data we share with college guides and other publications. The Common Data Set is a collection of facts, figures and statistics we share with these publishers and organizations.
The Common Data Set calls on institutions to provide answers to a predetermined set of questions, using standard definitions. It covers topics including student enrollment and retention, admissions, financial aid, academic offerings and policies, student life, annual expenses, instructional faculty, and class size. Swarthmore College Common Data Set 2011-12 [pdf]
Annual Security Report
The Swarthmore College Department of Public Safety is responsible for the overall security of Swarthmore's campus and is the first contact and first responder for all campus emergencies. Its charge is to protect persons and property, preserve the peace, deter crime, apprehend criminal offenders, recover lost and stolen property, perform services as required, enforce appropriate College regulations, and maintain a sense of community security and confidence in the department. A copy of the College's Annual Security Report --describing safety programs and policies, as well as crime statistics -- is maintained by the Department of Public Safety.
The Commonwealth of Pennsylvania enacted the College and University Security Act in 1988 (Clery Act) and the Higher Education Opportunity Act was enacted in 2008. These laws require all institutions of higher education within the Commonwealth to provide students, employees, and prospective members of the community with information pertaining to, but not limited to, crime statistics for the three previous calendar years of reported crime on campus or areas reasonably contiguous, security measures, fire statistics, fire safety measures, policies relating to missing persons, and penalties for drug use. This information is available in the College's Annual Security Report.