Opportunities
Internships
The ES program awards the James H. Scheuer Environmental Internship each year to the winning applicant whose proposal embraces environmental concerns.
The program also regularly nominates students for the Morris K. Udall Environmental Scholarship Competition. Several Swarthmore Environmental Studies students have been successful in this national competition in recent years.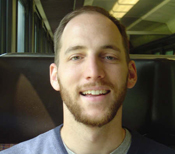 "My career has relied extensively on linking disciplines and being a liaison or diplomat between professional communities. I credit my education at Swarthmore with preparing me to thrive in this role. The environmental studies program introduced me to the integrated nature of work on environmental topics."
Jonathan Makler '98
Portland, Ore.
Senior Transportation Planner
Graduate Programs in Environmental Studies
UC Berkeley, Environmental Science, Policy, and Management
Columbia University, School of International and Public Affairs, Master of Public Administration in Environmental Science and Policy
Columbia University, Master of Arts Program in Climate and Society
College of Charleston, Master of Science in Environmental Studies
Duke University, Nicholas School of the Environment
MIT, Center for Global Change Science
New Jersey Institute of Technology,  MS in Environmental Science
NYU Steinhardt School of Culture, Education and Human Development, Environmental Conservation Education program
University of New Hampshire, MA in Environmental Education
Penn State, Civil and Environmental Engineering, Environmental Pollution Control, Human Dimensions of Natural Resources and the Environment
Princeton University, Environmental Institute
Oxford University, Environmental Change Institute
Plattsburgh State University (SUNY), Center for Earth and Environmental Science
University of Delaware, Center for Energy and Environmental Policy
University of Idaho, Graduate programs in Environmental Science
University of Illinois, Natural Resources and Environmental Sciences - Graduate Studies
UC Santa Barbara, Donald Bren School of Environmental Science & Management
University of Pennsylvania, Master of Environmental Studies program
University of Rhode Island, Graduate programs in Marine Affairs
University of Southern California, Department of Civil and Environmental Engineering graduate programs
University of Wisconsin at Madison, Nelson Institute for Environmental Studies
Yale University, School of Forestry and Environmental Studies and Environmental Engineering program.
Nova Southeastern University Oceanographic Center, Master's program in Marine Environmental Science
Vanderbilt University, Center for Environmental Management
a comprehensive listing of graduate programs in Environmental Management/Science/Studies (and other subjects) worldwide