Rhythm n Motion
Rhythm n Motion dance company is a community of passionate dancers whose souls are in tune with the rhythms of the African Diaspora. Their aim is to increase campus awareness of contemporary genres of dance such as hip-hop, jazz, and dancehall.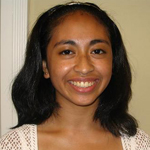 Carmella Ollero '09
Psychology and dance
Arlington, Va.
"After welcoming our newest members, we start out the beginning of the year with a big group meeting asking why did everyone join the group and what they hope to learn from being a part of RnM. Many people are excited to dance new styles, become better dancers and performers, and have an outlet of artistic expression that lets out the stress from every day. But everyone agrees that a sense of family and community is most important. We spend so much time together rehearsing, performing and having fun that we come to form many friendships within the group. And our friendships extend beyond the dance studio and the stage."
"Performing with Rhythm n Motion is an unforgettable experience. The whole community comes out to our performances and cheers us on. We work hard to put on a varied and entertaining concert and we appreciate the energy that the crowd gives us. Performing is not the only great thing about RnM. It also provides an opportunity to form a strong network of students who work hard, love to dance and choreograph, and are supportive of each other."