Dorm Life
Living in the dorms is a huge part of the Swarthmore experience. 95% of students live in college housing each semester. Swat's 16 dorms range in size (from a cozy 8-person house to a lively 200-person dorm). All dorms house a diverse mix of students of different class years. Most first-years and sophomores live with roommates. During junior and senior years, most students live in single rooms.
Resident Assistants (RAs) live in every dorm. RAs counsel residents, foster dynamic dorm communities by hosting social events, ranging from small gatherings to large-scale BBQs, dorm formals and inter-dorm competitions.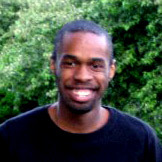 Matthew Armstead '08
marmste1@swarthmore.edu
"I love being an RA," says Matthew Armstead '08, a theater major from Poughkeepsie, NY.  "It's challenging in different ways, fun in others, and constantly a source of self-evaluation and learning how I as an individual work on a team. I have personal relationships with all of the residents on my hall, different from my relationship with my floor as a whole. For me, it's all about learning how to talk to different people and discovering how you're equipped to do that. You learn how you work with conflict. As for what's rewarding or gratifying, there are tons of little and big moments every day. That's the only way I can explain it."