By Carol Brévart-Demm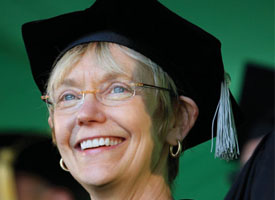 SWARTHMORE COLLEGE MADE HISTORY THIS YEAR.
On May 8, a blustery spring day, the College inaugurated its 14th president. With 13 having gone before since 1865, this new president might have seemed to be just one among many. But this time, strong winds of change were blowing—literally, judging from the way the trees in the amphitheater were swaying in time to the wind's celebratory song. On this day, after two Edwards, two Williams, and one each of Charles, Joseph, Frank, John, Courtney, Robert, Dorrie, David, and Alfred, Swarthmore College added the name Rebecca to its list of College presidents.
Yes—as chair of the Board Barbara Mather said in her welcome speech—Swarthmore's 14th president, Rebecca Chopp, "happens to be a woman."
DURING THE INAUGURAL CELEBRATION with the theme "Hope in an Age of Clamor: Leadership, Liberal Arts, and the Common Good," hundreds of visitors and members of the campus community were treated to two days of cultural and intellectual events. The evening before the installation ceremony, crowds flocked to the Lang Performing Arts Center's Pearson-Hall Theatre to watch "A Celebration of Community."