Email This Page
Theater Department stages Fefu and Her Friends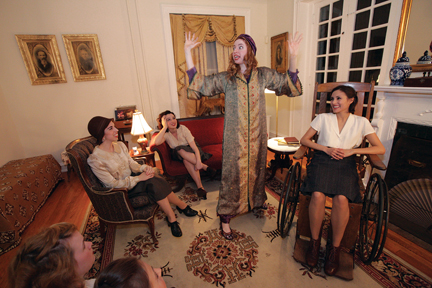 The Department of Theater and Senior Company 2012 chose an unusual yet appropriate mise-en-scène for their production of playwright Maria Irene Forbes' Obie Award–winning Fefu and Her Friends about a group of eight old college friends who get together to rehearse a theater education project but simultaneously reveal their various fears, unhappiness, idealism as well as affection and humor. The play ends with the death of one of the characters.
The students staged the play off campus, in a Swarthmore home whose interior was in keeping with the 1930s, the time in which the play is set. The audience, small due to space constraints, moved from room to room as the action progressed.
Student actresses (the cast was all-female, except for Fefu's husband, who remains invisible and silent throughout the action) included Ryane Disken Cahill '12, Michelle Fennell '12, Lori Barkin '12, Katie Goldman '14, Maddie Charne '14, Elliana Bisgaard-Church '13, Hannah Kosman '14, and Jessica Cannizzaro '12.
Assistant Professor of Theater Laila Swanson was responsible for sets and costumes, and the faculty adviser for the production was Assistant Professor of Theater Elizabeth Stevens.