Email This Page
Farewell to an advocate for women's athletics—"Pete" Hess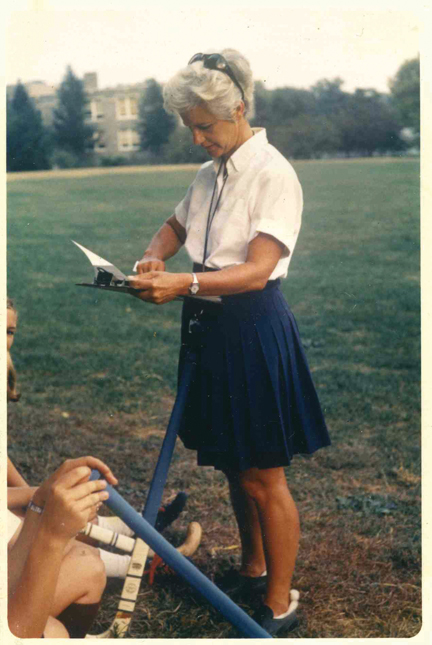 Professor Emerita of Physical Education Eleanor Kay "Pete" Hess, died on Dec. 14 at age 87. A fierce advocate for women's athletics at a time when women were not provided the same opportunities as men in collegiate sports, Hess changed the lives of countless female student-athletes at Swarthmore during her 33 years as a coach and
administrator.
As a coach, Hess guided four different sports at Swarthmore: field hockey, women's lacrosse, badminton, and tennis. She coached the field hockey team from 1957 to 1984, leading the Garnet to 140 victories, the most by any coach in program history. She is also all-time leader in badminton, with 286 victories during two stints as head coach.
As an administrator, Hess chaired the Department of Physical Education and Athletics for Women from 1965 to 1979, then served as the associate chair for the combined department of physical education and athletics from 1979 to 1990.
Her hard work and determination played an integral role in the growth of women's lacrosse and field hockey at the college level across the nation. Inducted into the Pennsylvania Lacrosse Hall of Fame in 2000 and the National Lacrosse Hall of Fame in 2002, Pete was a lacrosse umpire for more than 30 years (she umpired games well into her 80s) and served in a variety of leadership roles, including president and treasurer of the Philadelphia Women's Lacrosse Association.
Current women's lacrosse coach and former field hockey coach Karen Borbee acknowledges Hess's influence in women's athletics and in her own personal coaching philosophy. "Pete was an authentic pioneer for women in athletics. She showed me the right way to educate women through sport. She was an icon in the field hockey and lacrosse worlds and everyone knew and loved her for her kind words and friendly smile. It wasn't long ago that you would see Pete out on the field hockey field, officiating youth programs. Those girls had no idea that the reason they were able to play was because the older woman who was officiating their game had paved their way. Pete was happy to stay in the background and enjoy being a catalyst for the women and girls who followed."
Hess retired from the College in 1990. In her honor, the Eleanor Kay Hess Award is given to the sophomore woman who demonstrates a love of athletics, leadership, hard work, fairness, and objectivity.