Email This Page
List Gallery Shows Art of Orit Hofshi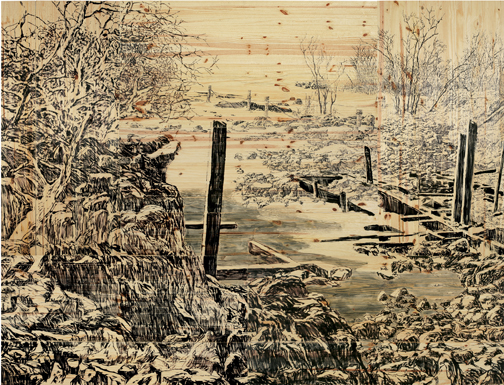 The art of Orit Hofshi—internationally known as a printmaker but whose work also includes paintings, inked and carved woodblocks, and tusche crayon rubbings—is bold, dramatic, and disturbing but simultaneously conciliatory and inspirational. Hofshi grew up in Israel in the kibbutz Matsuva, the daughter of Holocaust survivors who helped to found the kibbutz—one of Israel's first. Her childhood was shaped by conflicts over territory, ideology, and national boundaries.
Director of the College's List Gallery Andrea Packard '85, who has known Hofshi since 1986, when they were students at the Pennsylvania Academy of the Fine Arts, was instrumental in bringing the artist's exhibit Resilience to the gallery from Sept. 8 to Oct. 22. "Hofshi's haunting vistas of ruins and rugged landscapes respond to both the sublime forces of nature and the consequences of war," Packard writes in her essay "Realism and Resilience in the Art of Orit Hofshi," which appears in the catalog accompanying the exhibit. "Through her art, she seeks commonalities of experience that transcend nationalism and sectarianism. Addressing the prevalence of violence and dislocation, she asserts the need for reflection, persistence, and understanding."
Remnant, 2008 (above), one of the exhibited works, is an ink drawing on carved wood panels, 103 x 141.7 inches.