Email This Page
150 Years Ago:
Friends, We Have a Problem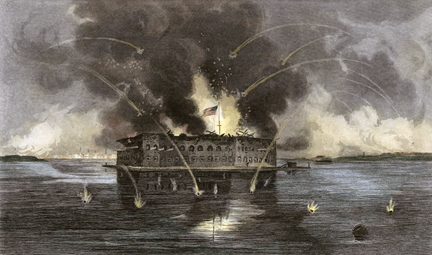 In 1861, the founders of Swarthmore had a plan—and they had a problem. The subscription campaign to raise money for the new school got off to a good start in January. Friends loved the idea.
Then came April. The country was at war. In May 1861, the Committee charged with raising subscriptions in Philadelphia Yearly Meeting reported that "Everywhere throughout the country business of all kinds not concerned in the prosecution of the war has suffered greatly, securities have fallen in value and not a few merchants and businessmen are already threatened with the loss of their all. As a consequence, every measure not pertaining to the public security or to the relief of the anticipated suffering has been for the present thrown into the shade. This Committee have therefore with the utmost reluctance postponed the important and interesting work committed to them with the urgent desire that the sorrow and difficulty, which at present environ us and which must claim our thoughts and interest for some time to come, may not wholly obliterate the deep concern for the advancement of [the] moral and intellectual amongst us; and may we not hope that many of those already enclosed in this scheme of a Friends Boarding School may yet aid in its successful establishment after the present unhappy difficulties in our country are at an end."
Fortunately for the founding of the College, this was a bump in the road rather than a full stop. Subscriptions continued to come in, and Friends continued to see the need for a Quaker college. By the end of 1862, the founders would be working even harder to realize their dream.