Email This Page
"All the Athletes Knew Her."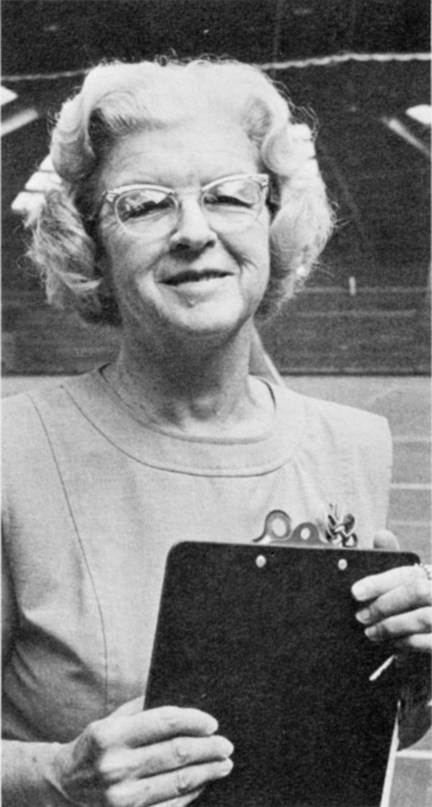 Elizabeth "Sis" Bassett passed away in September at age 96. She will be remembered by alumni from the 1940s to the 1970s for her work as secretary for the Men's Athletics Department—and for the key role she played as unofficial "team mom" for hundreds of Swarthmore athletes.
Bassett joined the staff in 1945 under Carl Dellmuth '31, director of men's athletics (and also alumni secretary). She retired in 1979, having also worked for Willis Stetson '33, Lewis Elverson, and David Smoyer. A 1978 Bulletin profile made it clear that "Sis" was far more than an administrative assistant who sat at a desk:
"She makes sure that everything is ready for the teams and coaches before each game, collects the rented vans used by the teams when traveling to games at other colleges, arranges for buses, keeps schedules, organizes training meals in Sharples, and makes sure meals are ready for teams when they are playing away games. In addition, she mends all the torn football jerseys and supplies her associates with coffee and cookies."
"All the athletes knew her," says Ernie Prudente, professor emeritus of physical education, who informed the College community that Bassett had passed away. There was no notice of her death in the newspapers, and services were private. Prudente recalled that Bassett, who resided for most of her life on Chester Road in Swarthmore before moving to Whitehorse Village in Newtown Square, Pa., had been an ambulance driver for the Red Cross during World War II. Bassett's sister Kathryn "Kate" Bassett was a member of the Class of 1935 and also a longtime member of the College staff. She passed away in 1986.
Sis Bassett told the Bulletin in 1978 that a steady stream of alumni were always dropping in at the field house for a chat. She was proud of her good relationships with "the intercollegiate boys." And they will surely miss her.