Email This Page
Now That's Intertainment
Television is so 20th century! The advent of Internet video has opened entirely new channels for send-up acts such as God's Pottery and the Gregory Brothers, each of which offers its own take on the music, media, and mores of our day.
..
Altar Egos
Wilson Hall '95 and Krister Johnson '95 spread the word as a religious comic singing duo.
by Sara Shay '92
Gideon Lamb is perched on a stool, wide-eyed and smiling, a guitar resting on his lap. His bright orange T-shirt reads "Virginity Rocks!" and his slicked-down bangs are an inch too short. To his left sits Jeremiah Smallchild, feet encased in white socks and leather sandals. He addresses the audience: "If you've brought your partici-pants, put 'em on!"
Gideon starts strumming the guitar and bobbing his head as Jeremiah launches into one of the pair's most popular songs, "The Pants Come Off When the Ring Goes On," an anthem about a nubile "Christian princess," her hot quarterback boyfriend, and their decision to wait until their wedding night to jump into bed.
Jeremiah and Gideon, also known as God's Pottery, are a Christian acoustic duo whose catchy songs are meant to teach the youth of America how to navigate the tricky waters of temptation. Their playlist includes "Jesus, I Need a Drink," "Brand New Start with Christ," and "Team Jesus."
But far, far offstage, Jeremiah is really Wilson Hall '95 and Gideon is Krister Johnson '95—information they don't let slip very often, and never while performing. As God's Pottery, they've toured the United States and performed abroad, and in summer 2008 they appeared on NBC's Last Comic Standing. This September, they published their first book, What Would God's Pottery Do? The Ultimate Guide to Surviving Your Teens and/or Being Successful!
Hall and Johnson inhabit their characters so thoroughly that audiences aren't always completely sure how much is an act. On their God's Pottery blog, reactions to their elimination from Last Comic Standing—and there were plenty—represented a mix of "haters" ("You were not even remotely funny."); Christians who either enjoy them ("We loved that you were able to bring God's truth to so many …") or find them insulting ("I, for one, am tired of people mocking my God for a laugh."); people who suspect that something's up ("Are you guys really Christian?"); and flat-out fans ("I am completely bummed out that you got eliminated tonight … especially when you killed it!!").
While they do not, in fact, subscribe to the beliefs that their alter egos so earnestly espouse, Johnson and Hall are not out to bash religion. "We have never had any sort of real agenda," says Johnson. "The truth is, we're trying to be funny and funny in a smart way…. A lot of evangelicals are big fans. Certainly there are people who are offended, but a lot of them feel that we are doing God's work even in spite of ourselves because we're talking about Jesus. Their attitude is, in whatever way and in whatever context you can get people thinking and talking about Jesus, that's a victory."
Despite their spot-on parody, neither was raised among the Jeremiahs and Gideons of the world, though Hall did go to church every Sunday. "It was and is a very liberal church," he says. "It wasn't a very strict Christian upbringing."
Johnson came at religion from a different angle. "I grew up with an informed respect for religion and the Bible, without any of the attendant beliefs," he says. At Swarthmore, he majored in religion and sociology/anthropology. "The reason I liked those two majors together was that in some ways I was interested in the dogmatic aspect of religion butting up against the realities of daily existence," he says. "That's kind of the interesting paradox that we're playing with and investigating. What makes a lot of these [Christian] bands ripe for satire is that they try to make these completely impractical ideas cool."
Now they've expanded on those impractical ideas to fill a self-help book. What Would God's Pottery Do? purports to offer faith-based insight on tough teen topics such as drugs and alcohol, peer pressure, caring for the planet, and "pubescence," all written from the perspective of Jeremiah and Gideon. For example, on avoiding drug users: "You can usually spot marijuana smokers by their jean jackets, maybe with a rock band scarf sewn onto the back panel. Marijuana smokers laugh a lot, but inside they are crying." On sexuality: "Penis: It's not a dirty word! However, it is a word that should never be spoken aloud." And on technology: "The Internet is not inherently 'good' or 'evil.' It is a tool that can be used for either purpose, like a gun, or the Koran." (Read God's Pottery's advice for Swarthmore students.)
About 10 years ago, Johnson and Hall, aspiring actors who had regular office jobs in New York, started exploring different characters and entertaining ideas. "Most of it was absolutely for our own amusement," says Johnson. "There were certain one-off character things we would do at these small comedy shows, and we started drifting toward the musical aspect of coming up with something funny. We started coming up with fake band names and fake band genres." Conservation Conversation, for example, was conceived as an eco-friendly two-man drumming circle, and 3way (pronounced "Freeway") was a raunchy hip-hop group with unprintable song titles.
They also created a pair of characters for comedy shows in New York who weren't Christian and weren't Jeremiah and Gideon "but were pretty unctuous in the same way," says Johnson.
"It felt like we had something," says Hall.
But what, exactly? That became clearer when they separately saw the same ad for a Christian music compendium late one night in spring 2003 and both came up with the idea of forming a Christian acoustic duo. They started writing song titles (such as "Christmas Is About the Presence"), but this time the perfect name for their group eluded them. It was a fellow comedian who suggested God's Pottery. "In my head I wanted something that was indicative enough and sounded enough like it was in the genre," says Johnson. "The truth is that these real Christian bands would never use the name God in their group names. I thought it was a good combination of letting people know but still enough in the gray area that it left it kind of intriguing."
Hall vacationed in Italy that summer, and after what he describes as a particularly satisfying dinner, he was moved to write opening lines to go with one of their titles, "The Pants Come Off…" "I had chords, lyrics, with two hand-bells," he says. "It was a very inspired moment. I remember writing in my notebook, 'This is our next show. This is how we make our money.'" Says Johnson: "A great combination of idealism and cynicism all wrapped up."
God's Pottery evolved significantly after Hall and Johnson met Olivia Wingate, a British talent agent based in New York, who spotted them in 2005 at an alternative comedy showcase in the East Village. She offered to become their manager. "They made an instant impression," she wrote in an e-mail message, "and I thought that they needed a larger exposure."
Wingate got them a gig recording their songs for an episode of the British television comedy series The World Stands Up. She also encouraged them to flesh out their material and their characters to sustain an hour-long act, which they took to the Edinburgh Festival Fringe, the world's largest arts festival, in the summer of 2006. Their originality scored points with the international audience, and they were nominated for the coveted Best Newcomer award.
Back home they caught the attention of a co-executive producer of Last Comic Standing, who invited them to audition for the show's 2008 season. They figured it was a joke. "We thought they wanted us to audition to make fun of us," says Hall. "We said it's a shame we'll never have a shot."
During their run on the show, Johnson and Hall remained in character whenever the cameras were rolling, which didn't always sit well with their more traditional stand-up competitors. "We were obviously kind of an oddity," says Johnson. "We got to play by a different set of rules, and although some were fine with it, some resented it. And I understand it. We got to ham it up whenever we wanted, and they were forced to play along or be edited out."
"We are a duo, so we're automatically different," says Hall. "People would say, 'It's not fair, I'm on my own.' And with the character aspect, we never really had to expose anything of ourselves."
They made it to the finals, though they were eliminated early. Johnson and Hall say their turn on Last Comic Standing was the biggest thing that has yet happened to them, but they find it much more satisfying to develop hour-long shows that are a piece of theater. "That sounds kind of precious," says Hall, "but it allows us to put together everything we've worked on…. On Last Comic people didn't get to see the full extent of what we do."
"In the shows, we have funny lines in songs that are punch lines, but it's really a slow burn, watching the relationship between the characters," says Johnson. On stage, Jeremiah has appointed himself Gideon's older brother or father figure, and Gideon is generally happy with this arrangement, though he will occasionally rebel and challenge Jeremiah's authority.
That relationship, rather than the content of the songs or the book, is what keeps God's Pottery from being a one-joke wonder. "If we didn't put effort into making the characters real people, it would be easy to dismiss the act as a gimmick taking easy shots at a large target," says Johnson. "And what we've discovered as the act and characters have evolved is that the dynamic between them and their personal peculiarities are much more interesting to us than their religious or cultural sensibilities."
Tuning Up the News
Watch out, Katie Couric. The Gregory Brothers—including Evan '01 and Andrew '04—make mash-up music from your news.
By Paul Wachter '97
Since its release in 1997, Auto-Tune, audio processing software that is used to correct pitch, has revolutionized the music industry. The tool's primary use—in studios and on stage—has been as a crutch, to easily and discreetly correct a singer's off-key notes. Quickly, though, artists began to recognize Auto-Tune's potential as an instrument in its own right. Cher's 1998 hit "Believe" widely introduced the distinctive electronica-inflicted Auto-Tunes warble—now a staple of many pop and hip-hop songs—to a wide audience.
Recently, the technique even has crept into evening news broadcasts and talk shows, adding a melodious timbre to the voices of Katie Couric and Sean Hannity, among others—although not in their work as originally broadcast. Rather, it's the tricky—and often hilarious—digital handiwork of the Gregory Brothers, a Brooklyn-based folk and soul quartet that includes Evan Gregory '01 and Andrew Gregory '04. Their video mash-ups, Auto-Tune the News, have become Internet sensations—and must be experienced to be completely understood.
(If you can't wait, you'll find the Auto-Tune series at www.youtube.com/user/schmoyoho. Take a look, then come back and read the rest of this article—or just keep reading and go online later.)
The Brothers' most popular skit, with more than two million page views and counting, begins with a clip from ABC's Sunday morning news show This Week. As Washington Post reporter Ruth Marcus opines about gay marriage, she's interrupted by Andrew and Michael Gregory (the young-est brother, who went to Appalachian State University). The brothers have spliced themselves into the round-table discussion. "Boring," they drone, until Michael snaps his fingers, pulls out an electric synthesizer and begins an Auto-Tuned duet with Marcus, whose voice has now been given a digitally modified singsong lilt:

Michael Gregory: You got to do it like this. Shorty—ready, set, go.
Ruth Marcus (singing): This is a pretty remarkable week on the gay marriage front. First of all, to have a state like Iowa —
Michael (interrupting): What you trying to say about Iowa?
Marcus: Not an East Coast state.
Michael: (holding up three fingers in a common hip-hop salute to the East Coast): East Coast!
Marcus (picking up the beat): Not a Left Coast state.
Michael: Left Coast! (Makes an L with his hand.)
Marcus: In a decision written by a Republican —
Michael: Shorty, now you're sounding so fine. / Give me your number and we can bump and grind. / Talking about politics online. / Leaving the club in the morning light…
The skit continues with other snappy duets, including one pairing Sean Hannity and an angry gorilla (played by a Gregory in a gorilla suit) and another with Andrew Gregory and Katie Couric harmonizing a chorus—"very thin ice/very thin ice"—as Couric reports on global warming. The Gregory Brothers' fourth member, Evan's wife Sarah, lends her stirring voice to other installments of the Auto-Tune the News series.
The videos succeed on two levels. They're carried musically by the Gregory Brothers' original compositions, witty lyrics, and precise vocal arrangements. And, as political parody, they skewer the increasing vapidity of both pop music and television news.
"The idea was Michael's. He came up with it during the presidential campaign," Evan told me recently over drinks in the Williamsburg neighborhood of Brooklyn. As Michael explained to The New York Observer in April, shortly after the videos went viral, "Some of the vacuous punditry that was going on, I found more funny than even watching, say, Jon Stewart. I thought it'd be fun to make a musical tribute."
"We helped with the music, and it evolved from there," Evan says. In recent months, the Internet success of Auto-Tune the News has led to television and radio appearances for the Gregory Brothers to discuss their work. "We've also had a few TV people approach us to see if we could do something for them," Evan says. "So far, they haven't made us any firm offers. It's more like they say they're open to any ideas we might have."
The Gregory brothers grew up in Radford, Va.—not far from Washington, D.C. Their parents, both college professors, "were musical; they played piano and guitar, but they weren't pros," says Andrew.
Evan, the oldest of the brothers, was a music major at Swarthmore and a pianist. "I wasn't involved in the band scene at all," he says. "I was more focused on the classical stuff, and that training was invaluable." He was, however, in the a cappella group Sixteen Feet, which Andrew also joined when he came to Swarthmore. In college, Andrew taught himself guitar and played in a two-man band alongside Joe Raciti '05.
When he graduated, Evan moved to Brooklyn and began working as a consultant for Accenture, a global management consulting, technology services, and outsourcing company. But he had an early flirtation with musical stardom when he took a road trip to Los Angeles and auditioned for American Idol. He made it before the judges and sang Otis Redding's "Sitting on the Dock of the Bay."
"Simon [Cowell] said I sang like Rick Astley, which was meant as a compliment —this was way before the 'Rick Rolled' phenomenon on YouTube," Evan says. "I was sent on to Hollywood but cut in the middle of the week, as the semifinalists were being selected. It was Idol's second season, which featured Ruben Studdard and Clay Aiken."
A few years later, Michael also auditioned for the show, consciously trying to make it onto the blooper roll—a compilation of the worst performances. He succeeded, and in a clip from Season 7, you can see Michael, dressed like a nerdy extra from an 80s geeks-versus-jocks film, earnestly belting out "I Wanna Love You" by the R&B singer Akon. The judges were aghast.
Ultimately, Evan's younger brothers joined him in Williamsburg and found work as SAT-prep tutors. But music is largely the focus of their lives, and each plays in several bands. In July, I saw The Gregory Brothers perform at a club in downtown Manhattan, headlining a show that also featured Sarah and the Stanleys, Sarah Gregory's band. Their music is very different from their Auto-Tune fare. Though there's the occasional comic verse, the band fits comfortably in the soul-folk ensemble tradition.
"Our Auto-Tune videos have generated some attention for the band, but I think it's viewed more as a separate thing, both by us and our fans," Evan says. "It's very hard to make a living as a band. There are 10,000 other bands out there, trying to make it. Right now, our Auto-Tune work is reaching a wider audience, which is fine."
Recently, the hip-hop artist Jay-Z released a song called "D.O.A. (Death of Auto-Tune)," in which he lashed out at fellow hip-hop artists who relied on the audio processor. "I just think in hip-hop, when a trend becomes a gimmick, it's time to move on," said the Brooklyn-born superstar, citing a Wendy's hamburger commercial that satirized the Auto-Tune epidemic.
Take it easy, Jay-Z. Auto-Tune likely is too convenient a tool to give up. But perhaps listeners will tire of its over-aggressive use. If so, the Gregory Brothers' musical ribbing may be remembered among the era's most notable accomplishments.
---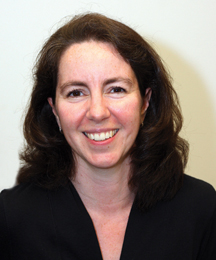 Sara Shay '92 is a freelance writer and editor in the Philadelphia area whose recent clients include MIT's
Technology Review,
the Center for Reproductive Rights, the Coalition for the International Criminal Court, and the parenting Web site BabyZone.com. She has a master's degree in journalism from Northwestern University. "Altar Egos" is her first article for the
Bulletin.
.
.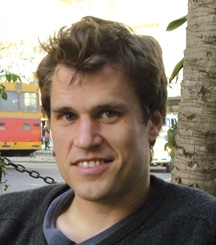 Paul Wachter is a writer in New York with a silky smooth voice in no need of Auto-Tuning.