By Sherri Kimmel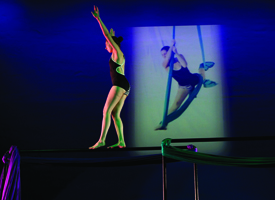 It's late April, and the Freer Ensemble Theater is dimly lit but very alive. Actors limber up onstage, doing the hokey pokey, while the whomp, whomp of live drumming down the hall offers ambient sound. Fernando Maldonado '13 sits, hands resting on his laptop keyboard, staring intently at a small, blank screen suspended above the stage. Beside him is Matt Saunders, assistant professor of design and adviser for Maldonado's independent study in integrated media design. Maldonado serves as projection designer for Meryl Sands '13's ensemble-created magical-realism piece, Unstuck. Saunders is her set designer and independent-study adviser. Three days before Unstuck's debut, Maldonado and Saunders are stumped by a failure in technology.
By Carol Brévart-Demm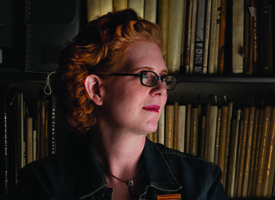 Swarthmore's Rare Book Room exudes all the mystery of a treasure chamber. It's really difficult to find,undefined behind a locked wooden door at the end of a short, dark hallway on the top floor of McCabe Library. You need permission to enter. Anne Garrison, the humanities and book-arts librarian and curator of the book-arts collection since 2004, is the genie who lets you in. Dimly lit, with few windows—to protect the fragile works from light damage—and smelling pleasantly of old paper, the Rare Book Room is a magical place filled with spellbinding books. Some are centuries old, others not so old. Some are in disguise or even shape-shifters.
Related Article
By Amy Stone '64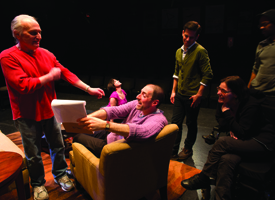 Breaking through barriers has been a way of life for Ike Schambelan '61 since his Swarthmore days as a theater-loving student who chose to live in a residence hall peopled by athletes. For the last three decades, he's continued to break down barriers—shaking up the New York theater status quo by giving actors and stage crew with disabilities the chance to shine Off-Broadway. Schambelan began Theater By The Blind in 1980 as "a gimmick to direct." Five years ago, he changed the company's name to Theater Breaking Through Boundaries (TBTB) and expanded its mission to include actors with disabilities other than visual impairment.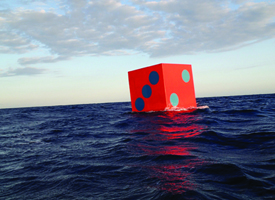 Quick! What do a glittery singer on the rise, a water-dice-devising artist, an ascending classical-music composer, a feature-film hit maker, and a genre-bending juggler have in common? A Swarthmore degree, of course. Known as an incubator for free and creative thinkers, the College has long provided a solid foundation for traditional artists and performers as well as those who are regarded as outliers. The following pages offer a sampling of those on the fringe and those working in a more traditional framework. Enjoy!
Related Articles