Email This Page
Splash! A Paralympic Record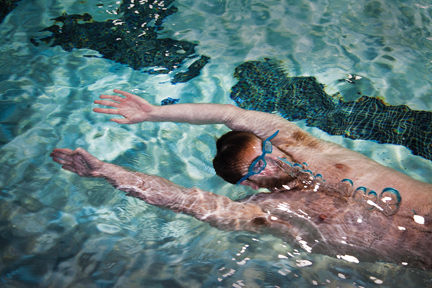 Swarthmore students receive many sorts of accolades, but not too many acquire national reputations as athletes.
Travis Pollen '12 is one of the few exceptions. An above-knee amputee, Pollen is a member of the Garnet men's swim team. Remarkably, using only the power of his muscular upper body and his one leg to push off the pool wall, Pollen, who swims sprint freestyle and backstroke, is competitive against many swimmers with all four limbs.
"Many swimmers don't kick anyway," he says.
Last February, at the annual Centennial Conference Men's Swimming Championships, Pollen broke the U.S. Paralympic record in the 100-yard freestyle in his age division and came very close to breaking the 50-yard record as well. These successes garnered him a place at the U.S. Paralympic Spring Swimming Nationals in Florida in the 50- and 100-meter events, where he won the 50-freestyle and took second place in the 100-freestyle races, competing against other partial-limb amputees.
Since breaking the national record at the Conference meet, Pollen, a physics major, says his life has become "somewhat of a whirlwind." He's been invited to give a motivational speech to students with learning challenges at a local high school, which he enjoyed so much he's thinking of motivational speaking as a potential career. He's also appeared in Sports Illustrated and on television in six separate airings of Comcast's SportsNet's 'Net Impact Philly as well as on NBC 10.
Modest and unassuming, Pollen was stunned by the media coverage after he set a new national record. "I had no idea it would be such a big deal," he said. "I thought maybe I'd be mentioned briefly in The Phoenix at the end of the article about Conference Championships; instead, I was on the cover, with a full-page spread," (which hangs on his dorm-room wall). "When the brief segment aired on the NBC News, I thought, 'It doesn't get any cooler than this'—that is, until I went national."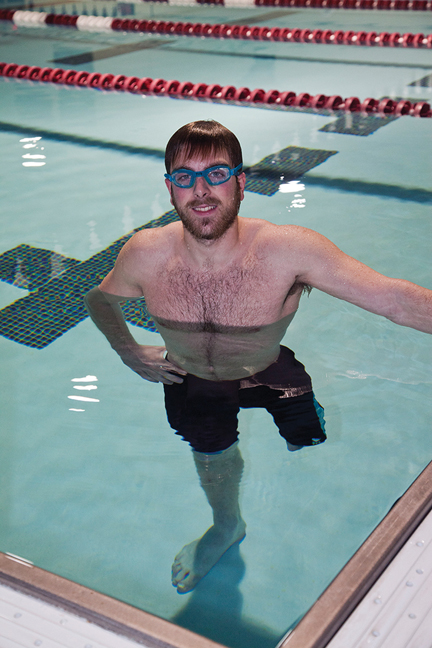 Pollen says that setting a national record already at the Conference meet boosted his confidence as he went forward to the national competition, enabling him to beat competitors from the Beijing Paralympics against whom he'd considered himself "hardly competitive" at a disabled meet just the year before. Now, I feel more like a seasoned athlete," he says.
Pollen's current plans include participation in December in the Canadian American Championships in Toronto and nationals in April in Minneapolis, where he's aiming for a spot on the national team that will go to the World Championships next summer. He plans to graduate from Swarthmore one semester early, to train full-time for the April 2012 Paralympic time trials. That won't happen, though, until he's had another shot at setting a couple more records at the 2011 Conference meet in February with his College friends and teammates—the competition where his swimming career first took off.
"Whether I make it to the Games or not," he says, "I feel so blessed to have been able to swim at Swarthmore and to have shared my success with all my teammates, coaches, and friends here."