Email This Page
Awards and Accolades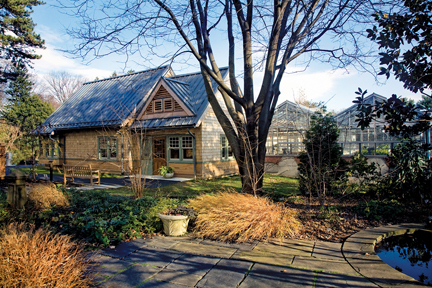 The Wister Education Center and Greenhouse of the Scott Arboretum, designed by Archer & Buchanan Architecture to replace an older facility, was designated a LEED gold-certified building by the U.S. Green Building Council. Used for plant propagation, plant display, and public educational outreach programs, it boasts a rainwater-harvesting cistern to irrigate surrounding gardens; a green roof; an H/AC system that borrows the campus's central chilled-water loop as a heat-exchange medium along with sunlight harvested using light tubes; local recycled and recyclable building materials; and recycling of 86 percent of construction waste. Much of the building's wood shingle cladding was cut from a stand of dawn redwood trees that were harvested from another construction project on campus. Part of the fall Swarthmore House and Garden tour, the building was featured in the spring 2010 Journal of Green Building; and, selected from more than 2,500 nominated projects, was named a "Green Building of America" award winner.
George Lakey, fellow at the Lang Center for Civic and Social Responsibility and visiting professor of peace and conflict studies, received the 2010 Peace Educator of the Year Award from the Peace and Justice Studies Association. Recognized for his "excellence in scholarship and dedication to peace education," Lakey has conducted more than 1,500 workshops on social change worldwide and led campaigns for social change at the neighborhood, city, state, national, and international levels.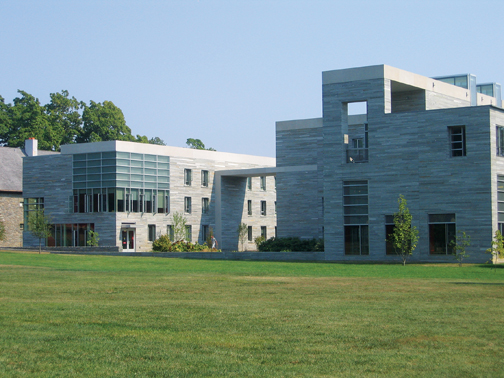 The David Kemp and Alice Paul dormitories (DKAP) were selected last summer as one of 18 winners in the American Institute of Architects' 2010 Housing Awards in recognition of their "exemplary design" in the special housing category—including half houses, monasteries, shelters for various uses, dormitories, and other houses with special purposes. According to the buildings' principal architects Bill Rawn and Cliff Gayley of William Rawn Associates, DKAP stood out for its environmental sustainability, for its distinct features that both complement and accentuate the aesthetics of the rest of the campus, and for its inclusion of details conducive to residential life, such as optimum corridor width and the dorm's location.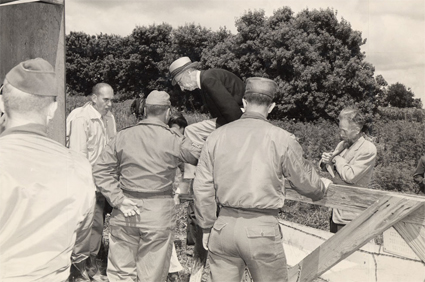 Famed peace activist A.J. Muste (in straw hat) protests above-ground nuclear testing during an action in 1959. The Swarthmore College Peace Collection was recently awarded a grant by the National Film Preservation Foundation to copy and preserve five films documenting mid–20th-century nonviolent movements. The films, which were created by the Fellowship of Reconciliation, the oldest religious pacifist organization in the United States, include footage of anti-nuclear demonstrations in 1959 and 1960.