Email This Page
Guided by Our Values, We Look Forward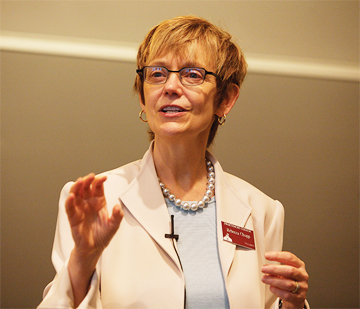 Civility. Respect and tolerance for difference. Consensus-based decision-making. Access. Sustainability. Much to my great delight, not a day has gone by since I joined the Swarthmore community that these values haven't risen to the fore in any number of settings both on and off campus. At student fireside chats. In seminars. At arts events. In meetings with alumni. Everywhere I go, I am reminded of one of the truly distinguishing characteristics of our community: our deep commitment to these values and to their application in our learning—both in and beyond the classroom—and in the judgments we make as an institution.
So it only seems fitting that as we begin our strategic planning exercise, we first delve more deeply into these values in order to establish a common understanding of how they will best serve us as we "think forward" about where we want to head as an institution.
Strategic planning allows us to check our health as a community and an institution, to investigate new trends in higher education, and to discern new forces within our curriculum, residential programs, and in the global environment—even as we think both boldly and carefully about what our students need. The goal of this effort is to ensure that the excellence of a Swarthmore education continues for the next generation of students. We want and need your help.
Although I don't know the answers to the many questions we are just beginning to examine, I am convinced that our decisions will—and must—be guided by our values. I ask you to weigh in: What are the enduring values that guide Swarthmore?
Over the course of the last several months, I have asked our managers, alumni, faculty, staff, and students this question. I have been heartened by the amazing consistency I hear about our core values. Let me share what seems to be an emerging consensus about the values that make Swarthmore special.
Academic Rigor and Creativity. We believe that academics deserve to be taken seriously and that students do not pass through our classrooms, laboratories, and gardens to get a vocational ticket punched or simply to enjoy the seminal passage to adulthood. We expect our academic program to be challenging; we want our students to think hard; and we are proud that our graduates report they are well prepared for graduate school, careers, and a lifetime of inquiry and innovation.
An Inclusive Community of Respect. We hold in highest regard our faculty-student intellectual connections, but we are well aware that students also learn from one another over dinner at Sharples, participating in the Peaslee Debate Society, exploring ideas in the residence halls, performing on one of the Lang stages, or acquiring lifelong skills in athletics and fitness programs. Alumni think of community when they think of Swarthmore—not a collection of like-minded, homogenous folks, but a community of individuals who care for and respect one another in an ongoing process of living and learning across and through differences. For our students, quirky is cool!
Civic Responsibility. Other schools may debate whether or not college students need to learn civic responsibility, to care for the earth, and to seek ethical engagement with the world. Not Swarthmore. So deep is our sense of responsibility for setting the world aright and anew that students come to us because of our commitments, our practices, our willingness to commit resources so that students, faculty, and staff may all learn the habits and processes of civic and social responsibility. The Eugene M. Lang Center for Civic and Social Responsibility serves as a vital hub for the engagement of our students, faculty, and staff with the broader community of which we are a part.
Quaker Values. I have already mentioned respect for individuals, community, and care for the world. Consensus decision-making, listening to others, speaking one's mind with care, generous giving, simple living, and the peaceful settlement of disputes permeate the metaphorical soil upon which we walk and suffuse the air that we breathe. I believe these deep values infuse our work and our lives, both on campus and when our graduates take them out into the world.
Sustainability. This is a value, I must note, that not everyone mentions. But for increasing numbers in our community, sustainability is a value to be cultivated because it combines our critical and creative thinking, our ethical responsibilities, the extension of our community around the world, and the Quaker values that will help us educate future generations of humanists and artists, scientists and social scientists, citizens and leaders, who will carry with them the capacity to ensure that all people and the Earth will flourish.
Because this is Swarthmore, a place where we explore many different ideas and forms of expression, I have heard many of these same values framed in slightly different ways: integrity, healthy skepticism, pursuit of truth, ethical bent to education, access and affordability, civil discourse, and the value of the arts, among others.
Please take a moment and post the three to five values you view as most essential to Swarthmore on our interactive strategic planning website where you may also read the ideas of other members of the community. You should, of course, feel free to agree or disagree with any of the ideas mentioned here—or to describe your sense of those values in your own words. These values will guide us as we sort through the facts and data, puzzle over the answers to many questions, plan our next steps, and set a path for our future together.
Please also share what you see as the challenges that Swarthmore and liberal arts education face and which opportunities—both great and small—we might pursue.
Sometime during this year, an alumni connection event near you will include a session on our strategic planning process, so mark your calendars when an announcement arrives. In the meantime, if you have any questions or suggestions, you are encouraged to e-mail our Strategic Planning Council at strategicplanning@swarthmore.edu