Email This Page
Work, Play—And Take a Few Deep Breaths
Mindful of the effect stress has on their lives, Swarthmoreans pursue the path to wellness
One evening last fall, two students made their way along the path from Wharton Hall to Sharples.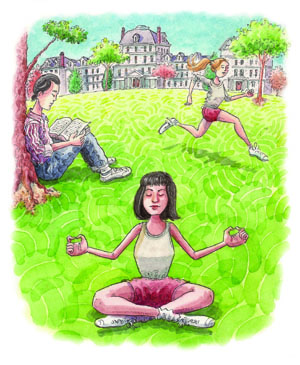 "Look, there's a hawk," one of them exclaimed, his face upturned, staring into the skeletal branches of the lofty ginkgo that dominates the hill above the fraternity lodges.
Following his friend's gaze, the second student looked up, located the bird. Their hefty book bags slithered to the ground, landing with an almost inaudible double thunk. Silently, the two young men observed the magnificent hawk silhouetted motionless on its perch, apparently resting, unperturbed by its audience. For a few moments, the students were transported, taking a break, quietly, like the bird. Then, maybe in response to the grumblings of their stomachs, they shouldered their backpacks and continued down the hill. First to dinner. And then, probably, to the library.
At a college where campus beauty and academic rigor hold top spots in national college rankings, such magical, transformative experiences seem too rare. Although many applicants to Swarthmore list the loveliness of the campus as one of the reasons they apply, once here, they tend to find little time to enjoy it. Instead, they hurry from classroom to lab to library and back, comforted by the feel of the books clutched against their chests like the kickboards some fear to ditch when taking Swarthmore's obligatory and dreaded swim test.
Wild animals, driven by instinct, know when to hunt, to eat, to rest. They maintain inner balance intuitively. Swarthmore students, in pursuit of perfection and academic deadlines, feeding on passion, and sometimes neglecting to rest, often don't. In a place where the life of the mind is lived so intensely, kindness to body and soul doesn't come easily. Many need prompting to seek it.
According to Dean of Students Liz Braun, the College's goal for wellness is a holistic one encompassing work, play, exercise, sleep, and nutrition. "There is a really strong institutional recognition," she says, adding that students need to devise their own programs for wellness, using a wide variety of options.
President Rebecca Chopp concurs with Braun that supporting wellness initiatives is a College priority. After all, as Chopp says, "The mind functions better if the body is fit." She defines wellness as "being a steward of one's body and mind and trying to live simply and with attentiveness, both physically and mentally."
For those who seek guidance in their wellness journey, help is at hand.
BEING WELL ON THE INSIDE
Enter Satya Nelms, a Wesleyan graduate, former doula (labor coach), and yoga and meditation instructor—and the College's first student wellness coordinator. Hired in August under the auspices of the Dean's Office, and working closely with Worth Health Center (WHC), where her office is located, Nelms has become a star among the campus community. Looking hardly older than a student herself, Nelms radiates an aura of calm. Just listening to the sound of her gentle voice makes visitors to her office feel relaxed. And she gives really good hugs—to everybody.
Hiring Nelms is "a dream come true" for Beth Kotarski, director of WHC and a nurse practitioner, who, shortly after her arrival at the College six years ago, identified the need for a wellness coordinator. Quoting from a College National Health Survey that lists sleep deprivation and stress management as the top-two wellness challenges among college students nationwide, Kotarski adds that the WHC, open 24 hours, six days a week, logs about 9,000 visits a year, a high number for a school of Swarthmore's size.
"Attending class is the most important thing for our students," says Kotarski. "They have a hard time justifying being sick. It's our job, along with the wellness coordinator's, to help students understand the importance of listening to their bodies, understanding illness, and promoting wellness."
David Ramirez, Swarthmore's director of counseling and psychological services, concurs: "Sleep is the No. 1 variable that should be the target for any wellness program. Everything else derives from that."
"The students are more reactive than proactive," Nelms adds. "I'd like them to come to me before they become overwhelmed and are not sleeping. If I can get students into a state of optimal health and well-being, then, when they traverse a period of higher stress, such as during finals, they'll manage it better."
One of Nelms' greatest challenges is persuading students that wellness is important.
"I ask them when they take time for self-reflection to do something just for themselves, and they look at me as if I have two heads," she says. "I suggest they use their longest walk across campus—from dorm to class, or gym, wherever—and try to be really present in that time, look around them, thinking about how their bodies feel, and taking a few deep breaths."
Many of the students don't have a baseline for what "normal" feels like, says Nelms. So she has them track their days, how they feel and function after minimal sleep or missing breakfast or lunch; record time spent on class work, study, extracurricular activities, and quiet time. Based on their responses, she devises alternatives for them to try, working towards an optimal plan for staying healthy, happy, and fully functional.
Marina Tucktuck '13, from Ramallah, Palestine, is one who took Nelms' advice after experiencing chronic stress that was affecting her ability to study and sleep. "Satya gave me some breathing exercises to do before I went to sleep and when I woke up, just to clear my mind and help me focus. It really helped," she says.
Nelms collaborates with deans and students to create an expansive program of activities aimed at relaxation, fun, and exercise. During her first semester on campus, she organized alcohol-free parlor parties and yoga and meditation sessions. Her 30 Days of Gratitude campaign prompted students to post personal reasons to be thankful on the Student Wellness website. A Tea of Thanks was catered by the student-run Paces cafe. A Fun Fall 5K Run attracted about 50 participants from the College and borough.
Perhaps Nelms' grandest coup so far, on a campus where so many students eschew sleep, is the introduction of monthly bedtime stories in Parrish Parlors. These have become so popular—attended by up to 40 students each session, some in slippers and jammies—that twice-monthly sessions are being considered. A slew of faculty and staff members signed up to read—books include Goodnight Moon, Frederick, Where the Wild Things Are, and The Giving Tree—with President Chopp closing the academic year with a story in May.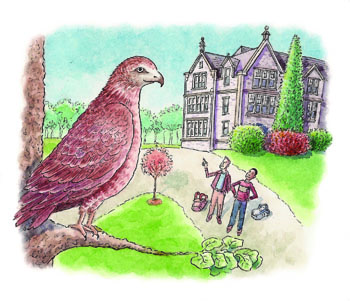 "Everyone loves bedtime stories," says Nelms. "It takes the students out of the academic into a more restful milieu, where they also enjoy calming drinks and healthy snacks."
Nelms also finds elegantly simple ways of inserting short-term, "feel-good" activities into everyday campus life. During the 30 Days of Gratitude, she hung small posters around the campus, one of which invited readers to "Take What You Need" and sported tear-off tags with words such as "passion," "beauty," "strength," and "health." The other poster, titled "What Can You Give?" encouraged students to tear off and share with friends tags showing words such as "understanding," "encouragement," "strength," and "hope."
Meanwhile, Nelms herself has been tagged by students with labels like "fantastic," and "incredible." Kotarski says, "We really hit the jackpot with Satya."
MENS SANA IN CORPORE SANO
While Nelms has introduced new activities, the College has a longstanding core tradition stressing its physical education requirement—upholding the mantra of mens sana in corpore sano.
According to Marian Ware Director of Athletics Adam Hertz, the College embraces the need to satisfy the student appetite for open space to pursue wellness and recreation activities. "Our PE curriculum struggles to meet the changing demands, as we have added and continue to add classes that better support the growing wellness focus of the campus," Hertz says.
These days, students can obtain PE credit by planning their own programs. For example, they can take a new walk-jog-run class, where, according to their abilities and preferences, some might choose to walk with the group, others train for a 5K, or still others focus on more serious running.
For many students, the mind-body balance is achieved through rigorous intellectual exercise in the classroom, countered by taxing physical exercise on the field, court, or in the pool. Says Hertz, "We have about a 22 percent participation rate for varsity sports. If we include club and intramural participation, that number jumps above 40 percent."
Due to the time and energy demands of team sports, student athletes have no choice but to be disciplined about managing their time, course work, team practices, and eating and sleeping habits. Achieving optimal performance in all areas is challenging.
Tony Lee '15, an engineering major, varsity swimmer, and club ice hockey player, says, "When students are having a hard time keeping up with academics, the immediate solution is to sacrifice their workouts; then they enter a vicious cycle of stress. Studies show that exercise is excellent for reducing stress and increasing productivity."
In the fall, advised by Nelms and operating under the charter of the student-run Ashtanga Yoga Club, Lee and two friends helped to expand club offerings by offering hot yoga as a regular off-campus activity. By staggering the times of sessions, the trio managed to provide transportation to nearby Media for the 150 participants who registered. "Hot yoga pushes you out of your comfort zone, kind of like a purging," says Lee. "The high temperature—104 degrees—drives all the toxins and stress from your body."
SO HOW ABOUT THE STAFF?
Many College staff and faculty members, although claiming not to be athletes, are role models for the rest of the campus and can frequently be seen on the tennis courts, in the fitness center, and in the pool. Liz Braun often starts the morning with a run. "It's a kind of physical meditation to clear my head and start the day," she says. "As I pass by the Rose Garden, I'm one of the few people who can literally stop to smell the roses on my way to and from work."
Some prefer more organized settings. Anyone passing by Upper Tarble after work on Mondays or Wednesdays will likely hear the pulsating beat of loud music that makes it hard for listeners to stand still. Those willing to climb the stairs to take a look will see Jocelyne Noveral, a biology lab instructor, leading about 50 bobbing figures in a rousing step-dance session. Starting out as PE classes that students could take for credit, aerobics classes are now also open to employees as part of a daily exercise-relaxation program, sponsored by a campus Wellness Group formed about 10 years ago by several staff and faculty members.
Noveral has taught fitness classes since she came to the College in 1995. Two of her "regulars" for years now have been Myrt Westphal, associate dean for residential life, and Kathleen Siwicki, professor of biology. "It's our responsibility to show an example to the students and encourage them to join in," Noveral says.
Although she recognizes it's sometimes hard to find the time, Noveral urges everyone to try exercise. "When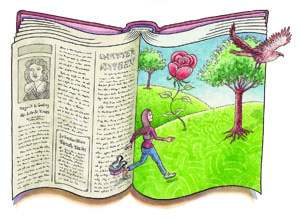 you start to feel sluggish, you should do something physical. Once you discover how good your body feels when you are active, you always want to find a way to move your body," she says.
While some staff members spend their lunch breaks striding purposefully around the campus or through the woods wearing comfortable walking clothes and shoes, others pack the Mullan Tennis and Fitness Center. In the early morning and evenings, faculty and staff members as well as students swarm to the facility that is often overcrowded. A campaign is under way to raise funds for an additional fitness facility, which will include reconfigured, renovated, and expanded existing facilities, providing ample space for new exercise machines, yoga and meditation rooms, and an on-site office for the wellness coordinator.
Furthermore, the 10-year-old wellness program that has offered yoga, aerobics classes, and lunchtime wellness lectures is being overhauled and expanded under the auspices of the human resources (HR) department, as director Pamela Prescod-Caesar and HR Project Specialist Terri Maguire, a member of the original Wellness Group, push to take the College's staff-wellness initiative up a notch or two. The currently informal Wellness Group will become a more formal Wellness Committee later this year.
The importance of wellness initiatives hit home last year, when a utilization review by representatives of Independence Blue Cross (IBX) revealed higher-than-average employee claims in the areas of hypertension, high cholesterol, obesity, and asthma. These are four of the top 10 conditions that can be controlled if precautionary measures are taken by at-risk individuals.
"People tend not to go for annual wellness checkups," says Prescod-Caesar, "and, as a result, when they do get sick and go to the doctor, they find that they're suffering from one or more of these illnesses on the list."
Prescod-Caesar aims to raise awareness of the dangers of such illnesses and the importance of checkups, especially since the College is a member of a consortium of 141 schools that work together to bargain for favorable rates with insurance brokers, which may result in lower premiums.
"When I came to Swarthmore [in early 2012], the consortium had just implemented criteria for wellness in all the schools," Prescod-Caesar explains. "One was a point system, with points awarded to each institution for preventative programs—10 points if you offered a smoking-cessation or Weight Watchers program, and so on. You need a minimum of 50 points to remain in the consortium and enjoy the privileges it offers."
So, in hot pursuit of a healthier community, points, and ultimately lower premiums, starting in November, Prescod-Caesar began inviting a nutritionist to campus one day a week to offer employees individual counseling. Allowed six visits a year, members can contact the nutritionist to book slots, which fill fast. "The hope is that they will address existing health issues or improve their vitality through healthy eating and activity," she says. Nutrition awareness will be complemented by participation in the lunchtime campus-trail–walking groups that are being planned for later this year.
THE TIME TO BREATHE DEEPLY
According to Braun, "The [HR] initiatives have raised the community consciousness of wellness. People are talking about it, and they're grappling with it more. Wellness need not steal a lot of time from a busy day. Sometimes, just stopping to take a couple of minutes to look around and breathe deeply will work a small wonder."
Just ask those two students, who paused spellbound to observe that majestic hawk.