13 Tips for Staying Well and Sane at Swarthmore
"I've been teaching a yoga class on campus for the last four years, and every week I set aside time for

yogaand make sure I do it. The academic work can be superstressful, and, even in class, your mind can wander all over the place. Yoga gives me a chance to recenter myself—think about where I've been and where I'm going. I'm also a member of the cross-country and track-and-field teams, and I work with the Good Food Project. I'm a vegetarian, and I eat very well at Sharples."
—Travis Mattingly '13, chemistry major,
Leonardtown, Md.
"I spend a lot of time at the Black Cultural Center, where I'm an intern and where we all encourage each other. A lot of the time, I think we create our own misery poker game, and although anyone can play, we should at some point stop and convince ourselves that it's not that bad, and we can handle it. Sometimes, I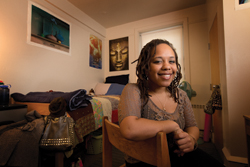 think you just have to take time to be silly.
"Since I was a first year, I've been known for having a very tranquil room. I have a little Zen corner and lots of color. I brought in a purple rug, some little pillows from Thailand, and some drapes that hung from the ceiling. When people wanted to take a break from homework, they came and hung out there."
—Alaina Brown '13, religion, black studies,
Fort Washington, Md.
"I attend on-campus concerts and dance parties. Dance parties are especially relaxing, because prior to the actual party, you get to meet with friends and hang out before going to the actual party. Meeting with friends and learning how their week went as well as talking about your own week provides a measure of stress relief. When I'm worried about something but have somebody to confide in, I usually feel less stressed."
—Stephen Dini '13, computer science, Harare, Zimbabwe
"I work out six days a week. I love it, and it helps me deal with stress. Also, I'm a firm believer in the power of friendship as an important part of wellness. Research indicates this as well."
— President Rebecca Chopp
"Get sunshine in your eyes, spend time outside, have fun, relax— whether you're doing well academically or not."
—Myrt Westphal, associate dean of student life and
tennis aficionada for 25 years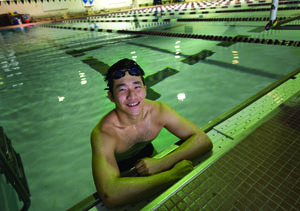 "Besides physical activities, one of my hobbies is going to Philly to hear touring musicians. I usually go with a few friends once or twice a semester, and for one night, I don't have to worry about upcoming deadlines."
—Tony Lee '15, engineering, Vancouver, B.C., Canada
"After my freshman year, I decided not to continue on the tennis team … Without the physical activity, I was stressed out and overly anxious about deadlines and assignments. Everything was intensified because there was no release. The gym offers a cathartic release from the stress of Swat life. Bring your anger, your anxiety, any stress in the book—the gym never judges."
—Dina Zingaro '13, honors religion and English literature double major, English literature minor, Randolph, N.J.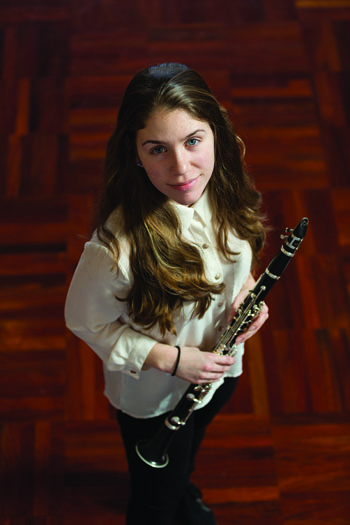 "I seek the advice of friends. I often find that panic and feelings of stress exaggerate my perception of a situation, and simply voicing my worries to someone often helps lessen the psychological burden. Also, exercising or practicing music helps to clear my mind. I attend wind-ensemble rehearsals once a week and practice the music on my own during the week. These breaks are particularly rewarding, as I'm forced to concentrate on nothing but the music. After practicing or rehearsing, I'm much more relaxed and content."
—Daniela Jaeger '13, psychobiology special major, Lopatcong, N.J.
"Make a feasible schedule of what you want to do. Make sure to sign up for it and tell a lot of people you're doing it. I fell off the wagon a bit one semester, skipping Sharples and my hour of reading, but I literally had so much I couldn't skip.
"I was happiest at the beginning of fall 2012, when I'd wake up at 5 to 6 a.m., eat breakfast when Sharples opened and take the path through the woods to get to the Science Center. I'd buy something to drink and head to Cornell Library to read scholarly journals for an hour before heading to my first classes."
—Stephanie Carrera Lozano '15, undeclared, Brownsville, Texas
"I believe in excellence, not perfection. For example, there are students who mentioned having classes that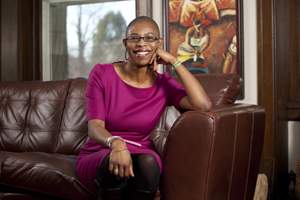 run very late in the evening. I am sure our students are being intellectually stimulated and are quite happy to engage with their peers and faculty members. I do sometimes wonder if there are other ways to demand excellent work without it being at the cost of sleep and therefore health. I think we should be a leader in slowing down the pace, knowing that slowing down will allow us to be more excellent. At least four times this year I'd like to have lunch sitting in the Rose Garden."
—Karlene Burrell-McRae, director of the Black Cultural Center,
dean of the junior class
"One of the first things I did when I came to Swarthmore was get involved with the Swarthmore Asian Organization (SAO). A part of me was missing the connection I felt to that community back home, which is really an immigrant Chinese community. Through the SAO, I started working with youth in Philadelphia's Chinatown, and being involved in something outside of Swarthmore that is in some ways connected to my own experiences makes me feel more grounded."
—Yin Guan '13, biology major, English literature minor, Madison, Wis.
"I stress mainly about academics. Another challenge for me is being away from home. I haven't seen my family in more than a year and a half now, so I'm very homesick. As a Richard Rubin Scholar studying biology, I was matched with a mentor, Jocelyne Noveral, a lab instructor in the biology department. She's amazing. I'm constantly in touch with her, and she's been a great support for me here. She always notices when I don't look well, and she approaches me to talk about what has been happening with me. She's a real mother figure to me and is always very encouraging. Also, I belly dance and do Balinese dance to shift my energy away from Swarthmore's stressful academics. I'm also an EMT with the Swarthmore [borough] fire company, which I really enjoy. Taking the role of a health-care provider takes my thoughts away from myself and focuses them on someone in need of help."
—Marina Tucktuck '13, biology major, peace and conflict studies minor, Ramallah, Palestine
"Weightlifting is essential for women—to maintain bone density. Lift anything. Flour bags, water bottles, veggie cans …"
—Jocelyne Noveral, biology lab instructor and aerobics teacher