Email This Page
The Art of Natural Building
Massey Burke '00 uses clay soil, straw, and sand to create small projects with large impact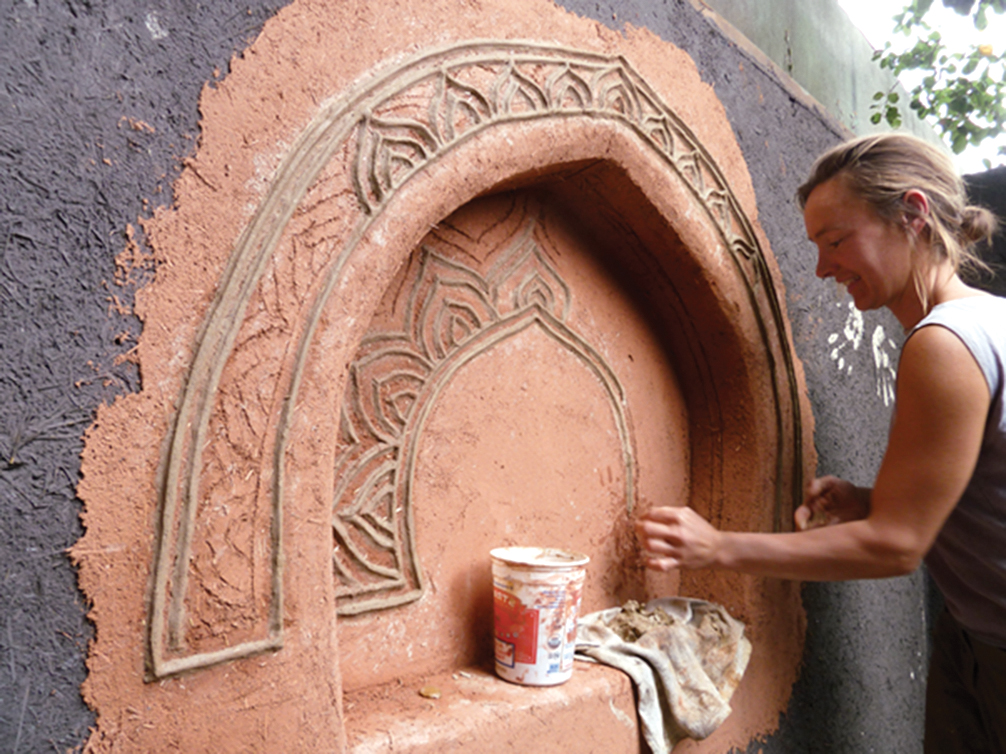 Building homes and park benches and other structures from clay soil, straw, and sand seems like child's play until Massey Burke '00, who has been immersed in teaching and practicing natural building techniques for seven years, explains her life's work and shares photographs of beautiful, painstakingly crafted projects. Then, this accessible, practical solution to many environmental challenges—and its enormous creative and artistic potential—becomes clear.
"Most Americans have never lived in anything truly hand-built," Burke says. "We are so accustomed to stick-frame structures it has come to seem normal. We don't realize that most of the world does not live this way, that in most other countries people build with whatever is at hand."
Following graduation with a major in ancient Greek, Burke studied at the American School of Classical Studies in Athens but realized that a scholarly life was not right for her. She needed to be outside, doing work that is environmentally relevant, hands-on, and creative; she never expected to find all these elements in one kind of work.
Then someone handed Burke a book on straw-bale construction. "The idea stayed with me," she says, and I didn't even know then that there was a whole field called natural building, of which straw-bale was only a part."
At the Solar Living Institute in northern California in 2003, constructing an ecoshanty introduced her to the art of natural building. After an apprenticeship in integrated natural building with Michael Smith and Darryl Berlin, two cofounders of the natural building movement, she has since learned by doing—"working on my own and others' projects, making lots of mistakes, and hobnobbing with colleagues."
In 2009, Burke and longtime friend and collaborator Sasha Rabin founded Vertical Clay, a building company and school. Their organization's mission is to create small projects with large impact, working primarily with clay soils, local biodegradable fibers, aggregate, and found and recycled materials. Aesthetics, setting, and building crews—from owners and builders to students and volunteers—influence their designs.
Burke's greatest satisfaction is the simple act of working clay soil, which, she says, "is the ultimate open-source biodegradable artistic medium." The three main materials—clay soil, sand, and straw—can be integrated in numerous ways to accomplish various design requirements.
Earthen walls weather slowly, don't burn, can't be eaten by insects, and can be reused. Windows and doors are set traditionally and interior walls can be finished with several layers of plaster—the finer the plaster the smoother the wall—and painted.
Burke's newest obsession is bamboo-reinforced cob (a mixture of clay and straw). "Bamboo has enormous tensile strength but is susceptible to weathering and bugs," she says, speaking like a structural engineer, "but cob preserves biodegradable fiber like bamboo and has a lot of compressive strength." The two combined also have considerable artistic potential, Burke says.
A third of Burke's time is devoted to teaching natural building. In one six-day workshop, students work on a structure and learn eight or nine different techniques.
The rest of the time, she is building. Burke and three friends are retrofitting a rundown property in the San Francisco Bay area, which they purchased in 2009. Using natural building techniques, water recycling and catchment, topsoil building, and urban food production, they have two goals in mind—to have a home and to demonstrate the relevance of natural building for urban areas. The main house has common living and guest areas, and the backyard has four small natural buildings—personal and office space for each woman. Burke calls hers a vault, but it's not the small, confined space the name implies. "Imagine an arch and stretch it out in all directions and that's a vault," Burke explains.
Another project is the Clarks Island [Calif.] Sustainability Initiative. Launched by a citizen group in a small town on the north shore of Clear Lake, the initiative will showcase a 30-foot adobe-and-cob structure, benches, and other structures demonstrating the beauty and viability of natural building for the rest of Lake County.
Burke's long-range plans are ambitious, geared to a world view that embraces combining old building techniques with modern improvements in ways best suited to the needs of individual populations. She hopes to introduce formal natural-building programs on West Coast campuses and, two decades from now, to be building and enabling community-built public works and appropriate housing—perhaps all over the world.
—Susan Cousins Breen