Email This Page
The Class of 2009's Perfect Day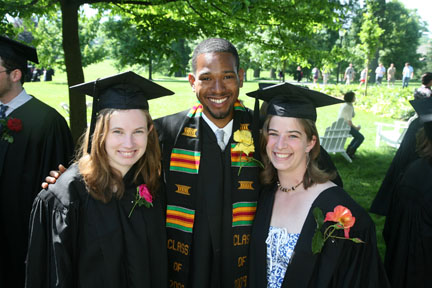 At 9 a.m., on May 31, the day of Swarthmore's 137th Commencement, the sky was a uniform gray. Relatives and friends of graduates, waiting in line by the Field House for the golf-cart "taxi service" to the Scott Amphitheater, looked up anxiously. At the first few drops of rain, umbrellas, held at the ready, shot up to protect the fancy dresses, smart suits, and other graduation garb. Loaded golf carts ran busily back and forth, carrying the excited visitors who were determined not to let weather deter them from the race to the amphitheater—and that special seat with the best view of the stage where their offspring would pass from Swarthmore to the world beyond. So busy were they that almost nobody noticed the skinny sliver of blue lurking on the western horizon, as if in the wings, waiting for its moment. Edging eastward, the sliver became a band, expanding, preening, puffing out, jostling the clouds, knocking them this way and that, bursting onto the scene as an azure ceiling, adorned by a warming sun, high above the crowd—the beginning of a a perfect day.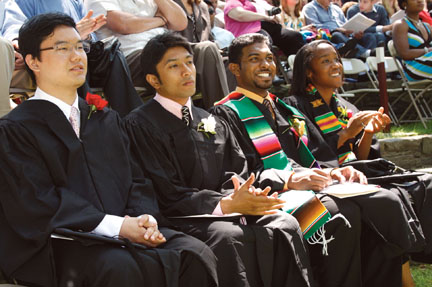 To a soaring trumpet solo of Paul McCartney's "Let It Be"—arranged by Associate Professor of Music John Alston—the robed procession curled its way into an amphitheater so full that some audience members stood pressed into the shrubs, with mountain laurel or rhododendron blossoms caressing their hair. Some high-spirited faculty members wore not only their academic dress but an array of headgear that competed in creativity with the graduates' adorned mortarboards. Roses were brilliant against dark gowns. Faces shone.
This year, business was not quite as usual. This Commencement ceremony was the last for President Alfred H. Bloom, (watch: speech) a member of the College community for 36 years, 18 of them as its president. He was also one of three recipients of an honorary degree, along with Mary Schmidt Campbell '69 (watch: speech) and James Hormel '55 (watch: speech). As he gave his final Commencement address, his usually mellow voice occasionally became just a little husky.
Jubilation could be heard beyond the railway station, as degrees were conferred and proud relatives and friends cheered on the 384 graduates, of whom 364 received bachelor of arts, 30 bachelor of science, and 10 dual degrees.
Christina Tin Yan Yeung, an engineering major, was the final senior to walk across the stage, marking the end of the ceremony. Caps were tossed high into the trees to loud applause. Then, the recessional—Lennon and McCartney's "Got to Get You into My Life," another Alston arrangement—serenaded the thronging graduates as they moved out onto Parrish Lawn to meet their futures.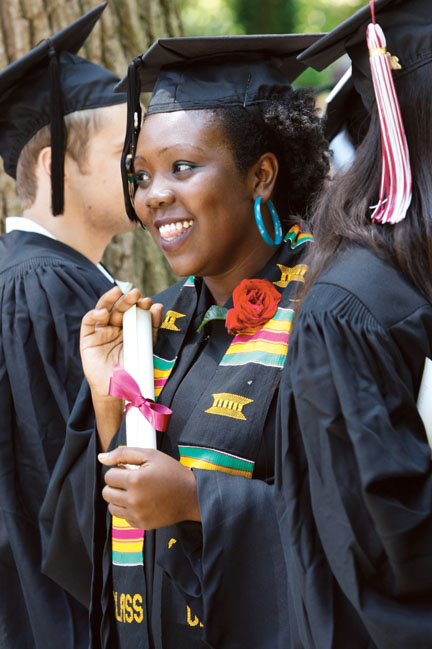 Ripujeet "Sonny" Sidhu (watch: speech) was the senior speaker. One day earlier, Vice President for Community Relations and Executive Assistant to the President Maurice Eldridge '61 (listen: speech) had delivered the Baccalaureate Address, and Associate Professor of Spanish Aurora Camacho de Schmidt (listen: speech) had spoken at Last Collection.
For more on Commencement and
Baccalaureate 2009, including text
and videos of all speeches, visit
www.swarthmore.edu/commencement