Email This Page
Dynamic new website debuts this spring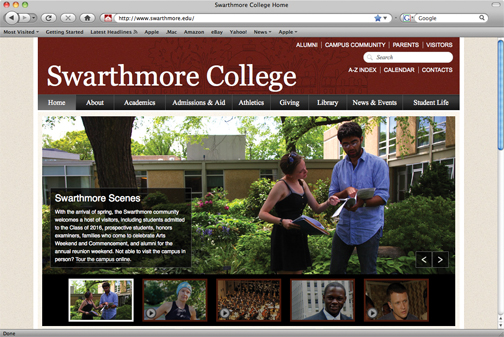 In late March, the College launched a dynamic new website (www.swarthmore.edu). Larger and more dramatic visual imagery and improved site navigation are among the ways in which the new site eclipses the former one, which had been in place for six years. The site was also developed with attentiveness to compliance with the Americans with Disabilities Act.
Motivated by the explosive increase in multimedia and social media on the Web as well as revolutionary changes in the use of handheld and tablet devices, the website update represents the first phase of a more extensive redesign project. It includes a reorganization of the homepage and primary subsites, in particular the About, Academics, Admissions and Aid, Giving, News and Events, and Student Life pages; an A–Z index; the Alumni, Parents, and Visitors dashboards; and Spanish have all been redesigned.
With a contemporary graphic design and content developed during the last 18 months by the in-house Web staff, the new site incorporates visual elements and multimedia that reflect the campus's energy. Future changes include additional, redesigned academic and administrative sites as well as enhanced viewing for mobile phone and tablet devices.
According to Nancy Nicely, vice president for communications, extensive community input from alumni, current and prospective students, faculty, and staff, informed this re-imagining of the Swarthmore site. From our community members we learned that we needed to capture a better sense of place and also how to best organize our content," she says. "Our community members also affirmed how deeply they value true and authentic storytelling about the individuals in our community, and about Swarthmore as an institution. These qualities need to be hallmarks of the new site."