The Students of Jonathan Franzen
Christopher Castellani '94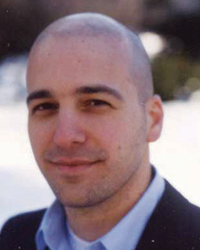 "No good story could exist without conflict and desire, Jonathan used to say, and I still use that rubric when I examine my writing," says Christopher Castellani, author of two novels, A Kiss from Maddalena (2003) and The Saint of Lost Things (2005).
"We sensed he was struggling, living fairly close to the bone. But that was by choice. He'd carved out as much room as was possible for his writing, and I admired him for it."
In 2007, Castellani returned to Swarthmore to teach a fiction workshop. "It was the very same class in the very same classroom."

­­­­Emily Chenoweth '94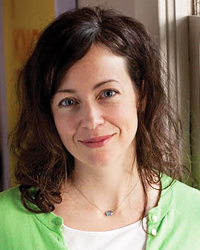 "I was a big reader by the time I came to college, but writing hadn't occurred to me," says Emily Chenoweth, who published her first novel, Hello Goodbye, in 2009, chronicling a mother dying of cancer as her daughter comes into adulthood.
"I was in the English department and saw a sign for Franzen's class, but it turned out submissions were due that day at 6 p.m. So I went back to my room and wrote a story in a few hours and submitted it with a note saying as much. He let me in."
"Jonathan was a great teacher. He was encouraging, but he could also be stern. He wasn't afraid of calling people out." She also recalls that Franzen was a stickler for 12-point Courier font.
Since Hello Goodbye, Chenoweth has published three novels pseudonymously for Alloy Entertainment, which produces young-adult literature such as The Sisterhood of the Traveling Pants and Gossip Girl. She has also ghostwritten a young-adult novel for another publisher and is working on a fourth for Alloy. "That's my day job to pay the bills," Chenoweth says.
Like many other writers, Chenoweth, who received an M.F.A. from Columbia University, also teaches. "I'm teaching a workshop at Portland State," she says. "Of the 20 students in the class, I'd say that one almost certainly will be published. But I wouldn't discourage any of them from trying to make a go ­of it."



Megan Cunningham '95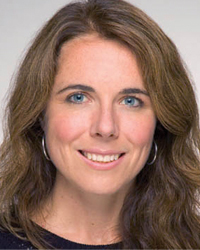 "I applied as a freshman, but didn't get in," says Megan Cunningham, founder of and CEO of Magnet Media, a production company based in Manhattan. "Jonathan called me and was very kind. He encouraged me to apply again. When he returned in 1994, I applied and was accepted into the workshop. The acceptance rate of the workshops was so competitive, and I was so moved that he was thoughtful enough to remember my freshman ambitions that I felt like I had been invited to qualify for the Olympics."
The writers Franzen exposed the class to—Don DeLillo and David Foster Wallace—"were ones I didn't come across in my English classes, where it was mainly the classics," Cunningham says. "Reading more contemporary, midlist writers [not big names commercially but of high quality from a literary perspective], and constantly referencing them during our discussions, made us feel as though we were part of a larger community
of writers."
"Jon was brutally honest, but he was constructive," says Cunningham, whose book of interviews The Art of the Documentary: Ten Conversations with Leading Directors, Cinematographers, Editors, and Producers was published by New Riders Press in 2005. "I remember one tip that's stuck with me. He said that you shouldn't have any specific, unhealthy rituals when you write. You shouldn't smoke while you write, for example. Because then, if you try to quit smoking, you'll find it increasingly challenging to write."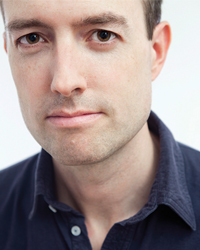 Adam Haslett '92
"Jon's greatest strength as a teacher was the seriousness he brought to the task of writing, to the idea of a life devoted to writing, and for that I've always been thankful because he treated me as a fellow writer, which allowed me to view myself as one."
"1952" was picked by Franzen's friend David Foster Wallace as winner of the workshop's story contest. "Dave read that evening from what would later be published as Infinite Jest," Haslett recalls. "It was a high compliment to get the prize from him—he told me afterwards I had what they couldn't teach, words I didn't soon forget. There's no doubt that I owe some of my early confidence as a writer to Jon and the events of that semester back in '92."


Ilana Seidel Horn '93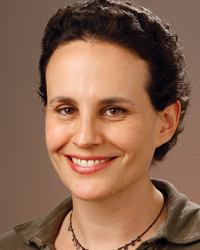 When Ilana Seidel Horn came to the College, she was a classic Swarthmore student—"not knowing what to major in," Horn says. She was put off by the emphasis on postmodernism in the English department and ended up a math major but nonetheless applied for Franzen's fiction workshop. "Most were humanities majors, but I think Jonathan and I connected because he majored in German and also took some physics, I believe. We shared a certain nerdiness."
She also vividly remembers an encounter with David Foster Wallace, when he visited the campus to judge the workshop's fiction contest. "He clobbered me at ping pong in Tarble." Pre-graduation, she also house-sat for Franzen's plants.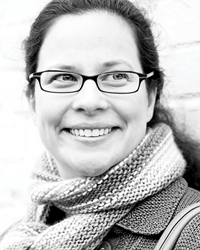 Kathleen Lawton-Trask '96
"Overall, the thing I remember most about Jonathan these days is his generosity," writes Kathleen Lawton-Trask, who teaches English at Episcopal High School in Washington, D.C., and writes book reviews for Publishers Weekly. "Like many teachers, he was generous with his time and his encouragement. But he was also generous with his experience. He wasn't afraid to tell us about how the writing life worried him, nor about how worthwhile he found it. For that realistic portrait of a writer's life, I am enormously grateful to him."



Jeffrey Severs '96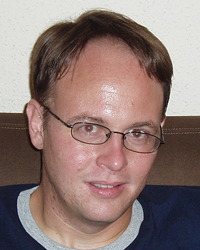 "Jonathan was a very generous responder," says Jeffrey Severs, assistant professor of English literature at the University of British Columbia and self-described Pynchonian. "We each handed in pages every week, and he responded with lots of questions and comments. I remember his red-ink check marks. He'd draw a 3-D check mark for really good stuff."
A year after the workshop, Severs wrote Franzen seeking advice. Franzen replied with a "great, long letter that I really think of as an important contribution to my literary/intellectual development," Severs recalls in an e-mail. "I remember well a few lines from it in which he said the undergrad thesis idea I'd described—something having to do with race and pop culture and paranoia (I was really into Pynchon at the time)—sounded safe and small-minded. He said that it seemed likely enough to earn me a Ph.D. somewhere but that I ought to be asking bigger questions.
"His suggestion was to compare Gravity's Rainbow to [Charles Dickens'] Bleak House (one of his favorites, I know—it was all over the vibe of The Twenty-Seventh City) in terms of coincidence and plotting. And, for a semester, I dutifully tried to compare Pynchon and Dickens. [I] sat reading Bleak House in Tarble and Palmer for many an hour. Finally, I figured out I'd only be able to really work on Pynchon.…"