Email This Page
Write Out Loud For All to See
By a simple public act of compassion, Ruth Sergel '84 spurred a whole city to action.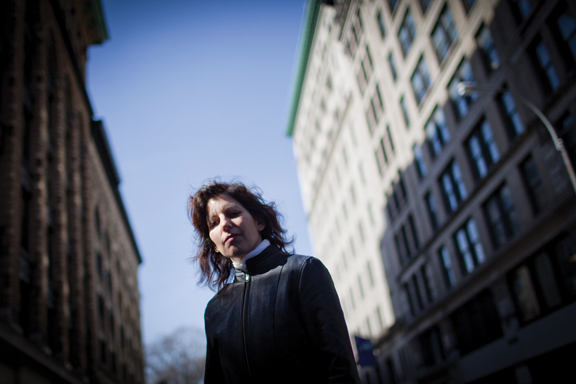 Nineteen-year old factory worker Beckie Neubauer could have had no idea that she would draw her last breath on March 25, 1911, when fire consumed the Triangle Shirtwaist Factory in Lower East Side, New York City. That day, 146 workers—mostly young, female immigrants—burned alive or jumped to their deaths as firemen scrambled to reach the blazing floor.
A hundred years later, Beckie is memorialized in an intricate, pink-and-blue sidewalk chalking, showing her age, address, and death date—adorned with flowers, birds, and hearts—all drawn with a careful, caring hand.
It is by chalking that Ruth Sergel (www.streetpictures.org) honors the lives of Beckie and all the other victims of New York City's deadliest workplace tragedy before the Sept. 11, 2001, attacks.
Sergel, a Lower East Side resident and native to the area now known as Tribeca, grew up with stories of the fire, but it was only after reading the book Triangle: The Fire That Changed America that she discovered how many of the victims had once lived close to her home on East Third Street.
"I've always been interested in how cold, impersonal facts like an address can evoke the most emotional response," Sergel says. So on the anniversary of the fire in 2004, Sergel and her friends chalked victims' names, ages, and addresses in front of their former homes all across downtown Manhattan. Since then, this simple act of remembrance has grown into a burgeoning public art project named "Chalk!"
"Chalk!" has caught on with everyone—mothers, daughters, teachers, schoolchildren, and even the occasional descendant of a Triangle victim. "Once you chalk a building," Sergel says. "you identify this building with a life and a death."
Dispelling the misconception that big cities such as New York are anonymous and impersonal, "Chalk!" reveals what has been there all along: a "compassionate" community with a conscience and a long memory.
Sergel discovered that people were already "intensely passionate" about the Triangle Shirtwaist Fire; "Chalk!" simply provided the outlet.
History also played a role. The fire occurred after the 1909 "Uprising of the 20,000," when young, immigrant shirtwaist workers went on strike against inhumane working conditions until, says Sergel, the "city turned its back on them."
"It was an easily preventable tragedy," she continues. "It's heartbreaking that these young strikers were brave enough to come to the United States and work long hours to make life better for themselves and their families. But nobody cared enough to put sprinklers—readily available at the time—in the building."
The fire sparked outrage from the national labor movement, manifested through strikes and sit-ins and the emergence of a new political will for change. Politicians previously indifferent to these issues took them on, improving factory working conditions, including fire safety regulations. But Sergel believes that these "old forms" of dissent—although not necessarily ineffective—need reform. Her passion is to help recreate this old stamina for change by providing opportunities through projects such as "Chalk!"
"People hunger for constructive civic engagement," Sergel says. "Going from thoughts and ideas to action is a muscle that must be exercised."
To Sergel's delight, people continue to flex their civic muscles yearly. Downtown New Yorkers participate in chalking. Community organizers in other cities such as Los Angeles, San Francisco, Chicago, and Washington, D.C., have already appropriated the project to remember similar tragedies in their communities.
Before starting "Chalk," Sergel was involved in a people's video and oral history project called "Voices of 9.11." In a private video booth, witnesses from New York; Pennsylvania; Washington, D.C.; and the Pentagon recounted their memories, creating a complex narrative and filling gaps in the communal memory.
"If one forgot a detail in their testimonial, someone else would fill it in," Sergel says.
Although the actual parallels between 9/11 and the factory fire are few, the cause of death in both cases has an eerie similarity and the act of witnessing and the feeling of helplessness are similar. "Seeing these people coming out of the windows—and the little that we could do at that point—was horrible," Sergel says.
It is a sense of community empowerment and strength in solidarity that unifies both projects.
"We can feel very isolated in our political and social beliefs. You learn to censor yourself," she says. "But when you're participating in a project like 'Chalk,' you're busting open that taboo. You're in a very public act, on a city street, writing out loud for everyone to see. Then you realize other people are doing the same thing.
"If you make a work of art with other people about something you're trying to understand, it's very powerful—a tiny part of a much larger engagement that people need."