Email This Page
"Lincoln Was a Hero—and Robert Pattinson is Ugly"
In social studies class at Sophia Academy, Tatiana Cozzarelli '08 teaches girls from diverse backgrounds to make connections.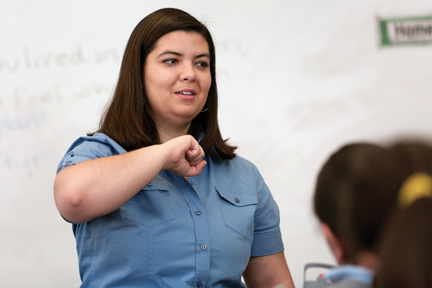 My seventh-grade students walk into an unfamiliar school, where we have been invited to hear visiting author Julia Alvarez. The girls are highly excited at the prospect of meeting the famed Dominican-American writer, but it's the host school that quickly draws their attention. They have never seen anything like it. They are astounded at how big it is, surprised by unexpected amenities—a big cafeteria, band instruments!—and completely in love with the library. "I want to go here!" they whisper not so quietly. We settle in to see the presentation by Alvarez. My students are mesmerized. I peek over to my left and see one, Harielys, the proudest Dominican I know. She's trying to be on her best behavior, but, as Alvarez speaks, I see her nodding her head wildly, giggling to herself, and making the hand sign we use for "me too!" I am struck by the unfairness of the educational system but also by how lucky my students are and how lucky I am to be with them.
This visit last school year illustrates one of my strongest feelings about working with my students—while there are systemic disparities in our nation's educational system, my school seeks to provide students with as many opportunities as possible. I teach social studies to girls from low-income families at Sophia Academy, a small, private middle school in Providence, R.I. About 60 girls, grades five to eight, attend. There is one teacher for each subject—math, language arts, science, and social studies (that's me!). Now in my third year at Sophia, I find the experience exhausting—but immensely rewarding.
Sophia has a strong, intentional focus on social justice, which makes it a perfect fit for me. My education classes at Swarthmore gave me a deeper understanding of the injustice of the American educational system and the awareness that teachers could be social-justice advocates and social-change agents. Reading Paolo Freire's Pedagogy of the Oppressed gave me a clear picture of how the American educational system, historically, actually ensured that oppressed people remained oppressed. Taking education seminars such as Professor of Education Lisa Smulyan's Sociology of Education showed me how education could be a weapon. My involvement with Intercultural Center groups—Enlace, COLORS (for queer people of color), and the Swarthmore Queer Union—taught me even more about privilege and oppression.
Learning did not stop at the classroom door.
My Swarthmore experience directly affects my teaching. My students know that sometimes our "heroes" were not so heroic (like Columbus) and that often people disagree about what makes a hero (like Lincoln). In every case, they learn not to trust every "truth" that society, or even a textbook, tells them.
I also aim to create a learning community where students share ideas and learn from each other as well as from me. I want them to feel ownership of the information I teach them and share with others. I want them to find connections between the historic events and the world they see today. I ask them to engage with multiple sources, to decide how each work is biased, and to use the facts to assemble a narrative of history with which they agree.
My students often find this work exciting. Last week, while on recess duty, I overheard the following conversation between two seventh-graders:
Kimani: "Lincoln was NOT a hero!" (at the top of her lungs)
Alaisja: "YES HE WAS! HE FREED THE SLAVES!"
Kimani: "HE JUST WANTED TO SAVE THE UNION! HE DIDN'T CARE ABOUT SLAVES!"
Alaisja: LINCOLN WAS A HERO . . . and Robert Pattinson is ugly!
Kimani: (Lets out a yelp and pretends to faint on the floor.)
For those of you who don't spend your time with teenagers, Robert Pattinson plays the vampire Edward in the Twilight movies. This recess exchange shows the youthful enthusiasm with which my students engage topics, the way their teen minds vacillate between complex subjects and youthful crushes. And it shows that they are excited about what they are learning and able to take what they learn into a social context.
In addition to shaping good learners, at Sophia Academy we help our students become confident young women who can think critically and deconstruct the messages society is sending them about what it means to be a young female. We want our middle-schoolers to learn about the pressures placed on girls in our society, and we want our students to become allies. Kiara, a seventh-grader, says, "Until I came to Sophia, I always wanted some Prince Charming to come be my boyfriend and save me. Now I know that those are just stories we hear as kids and that we can save ourselves."
We also strive to make our students leaders in their communities, capable of standing up for what they believe in. Recently, I took two winners of an essay competition to see the film Miss Representation at another school. There, we met several other students who had accompanied their parents to see the film, described as "An Inconvenient Truth of sexism in the media." My students were moved to tears by the film and insisted that I show it to all seventh- and eighth-graders.
Janai, a seventh-grader, wrote: "I wanted to see the movie to see how women are portrayed in the media and how that affects kids like me. … I also want to share the message with my little brother. The messages affect boys too, and so I want to teach my brother not to see women like that." Janai, like many of our students, understands the importance of the social curriculum she gets at Sophia Academy and can clearly articulate how she will spread that message to others.
We measure the progress of our students by the quality of their ideas, their emerging reading and writing skills, their ability to think critically—and yes, by the use of conventional standardized tests. Although standardized tests should never be the sole measure of a student's progress or of a school's achievement, they are one method of tracking progress. At Sophia, we have worked to teach students how to take standardized tests—a skill they will need to get into college. This year, our eighth-grade class rose to 100-percent proficiency in reading and 92 percent in writing. The statewide proficiencies for "economically disadvantaged students" in Rhode Island are 64 percent in reading and 48 percent in writing. It feels good to have such high numbers in a school that spends relatively little time on standardized-test drills but much time on reading and writing.
My work at Sophia Academy is exhausting but incredibly rewarding. As the only social studies faculty member, I teach all the classes in that subject from fifth to eighth grade. I am able to see my students' thinking develop, and I get to help mold them into critical thinkers. It is beautiful to witness them becoming thinkers, leaders, and agents for social change.
---
Tatiana Cozzarelli '08 graduated from Swarthmore with a special major in sociology and anthropology & educational studies. From her women's studies courses and classes such as Introduction to Asian American Literature and Latin American Women's Testimonial Literature, she encountered histories and stories that resonated with her experiences and those of her peers and friends who come from diverse backgrounds and walks of life.