Email This Page
From the President
The Character of Our Conversations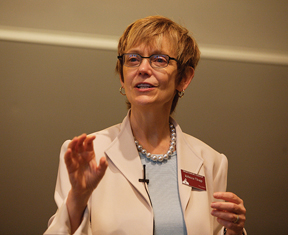 Menander, the Greek dramatist, once said, "The character of a man is known from his conversations."
It is also the case, I think, that the character of a college is often reflected in its conversations. So, let me describe, briefly, the conversations we are having in our strategic planning process and then share with you my sense of a few emerging, commonly recurring themes.
The Alumni Council has hosted Connection events around the country in order to elicit alumni perspectives on the core values of the College, our strengths, and the opportunities and challenges we will confront in the future. I have traveled to cities in Asia, to London, and throughout the United States to engage in dialogue with alumni, parents, and friends of the College about strategic planning. Each of these stimulating events has been filled with rich conversations on issues such as the distinctiveness of our Honors Program, the importance of science literacy, the role of athletics in preparing our students, and the desire to preserve our need-blind admissions process and the strength of our financial aid policies, among many others.
Since we formally kicked off the planning process last fall, our website (www.swarthmore.edu/strategicplanning) has received more than 150 blog postings from alumni, parents, students, staff, and faculty. The volume alone is impressive, but the quality of the content is even more so. On campus, faculty members have had numerous conversations in meetings and at ongoing weekly lunches. Members of our staff have discussed strategic planning in their divisional meetings and as participants in our working groups. Students are engaging in fireside chats, and Dean of Students Elizabeth Braun and I are hosting open-table sessions with them over lunch in Sharples Dining Hall.
Our strategic planning conversations have been characterized by a diversity of opinions, ideas, and suggestions on how best to continue our mission in the future, building upon our considerable strengths and value-infused traditions. While we are still in the William James "let a thousand flowers bloom" phase, we are listening attentively, gathering all the insights and perspectives we can, and identifying common themes and opportunities as well as challenges. I'd like to highlight three of the common themes I see emerging amidst the thousand flowers.
The first of these is the changing nature of teaching and learning. The pre-eminent value that has emerged across all of our conversations is that we should not, under any circumstances, compromise the excellence and rigor of our academic program. It has also become clear that 20th-century structures do not provide adequately for all of our 21st-century forms of knowledge. Knowledge in the 20th century was organized, in large part, into distinct disciplines, and the concentration of thought within each led to enormous advances. But in the 21st century, we realize that just as we must continue to mine knowledge within each of these disciplines, we also need to work across them in order to advance knowledge in new and meaningful ways and to effectively address contemporary problems. The rate of change in knowledge formation has dramatically accelerated in terms of consumption, production, performance and expression, techniques for experimentation, investigation and inquiry—and in sheer volume. Collaboration and teamwork, problem-based inquiry, innovation and entrepreneurship in nearly all fields, and the blending of teaching and research are referenced frequently in our
conversations.
Given this changing context, how do we best support our faculty and students as they explore the new landscape of knowing, teaching, and learning? Although this landscape will continue to include the 20th-century quest to fully explore the depth of the disciplines, it must also include new strategies for pushing out the frontiers of knowledge. Students and faculty will continue to work together in the traditional spaces of the classroom, the lab, and the studio but also increasingly in community-based learning settings in Chester and China, summer research programs at Penn and in Poland, internships in entrepreneurship in San Francisco and Singapore, field-based research in New Guinea and the Amazon, and arts programs in Ghana and Ireland. We must think now about how problem-based learning will affect the way we organize our time and courses, our disciplines and resources.
Another recurring theme shared among alumni, students, staff, and faculty members alike is the need to attend to the well-being of individuals, of our community, and of the world. Students desire more spaces where they can work together and connect with one another in small groups, but they also want a space for the whole community to gather. Some students have expressed interest in re-imagining and re-instituting Collection in order to be together as a diverse, inclusive, and engaged community, adding to the existing ways the community already gathers in smaller groups and affinity alliances. There is a deep sense that the College must enhance support of the physical and mental health of individuals—especially students—and promote wellness, resiliency, and balance. Nutrition, meditation, athletics and fitness, the arts, spirituality, gardening, positive psychology, and practical wisdom are all topics being raised under the canopy of well-being. We are also looking outward—discussing our ongoing commitment to the well-being of the earth and other communities around the world. We are in deep discussion about how our Quaker values and our commitment to sustainability, and to the development of engaged, civic-minded, and visible leadership of individuals and of ourselves as an institution can most effectively contribute to the common good.
A third theme is our community's desire to be connected throughout the world. Although Swarthmore's essence is rooted in our beautiful campus, ours is a worldwide intellectual community that likes to exchange ideas, perspectives, experiences, hopes, and concerns, no matter where alumni find themselves after graduation. There is a deep longing for and a need to find new ways to engage what we might call Swarthmore's global knowledge network. Might we use technology to offer webinars on critical topics of the day among our alumni? Can alumni interview our students via Skype or other forms of technology to help them strengthen their communication skills? We need to understand and engage members of our larger community as responsible leaders and thinkers in all parts of the world as well as on campus. Can we become an institution that convenes faculty, students, alumni, staff, and visiting scholars to address the most pressing issues of the day? Will the Town Center West project—including a new inn with small conference capacity—allow us to host members of our knowledge network in substantive ways?
These three common themes are dominant among the many emerging from our conversations. I urge you to consider these ideas and to share your own on the website at www.swarthmore.edu/strategicplanning or via e-mail to strategicplanning@swarthmore.edu.
I believe that if Menander could join us in our planning conversations, he would judge our character to be robust, critical, creative, inclusive, intense, rigorous, and thoroughly enjoyable as we discuss together the future of Swarthmore College.