Multicultural
Colors
Dedicated to fostering community among queer students of color. more
Dead Yiddish Poets Society
A group that seriously studies the Yiddish language while enjoying the culture that brought us Mel Brooks, Woody Allen, and Larry David. We look at Yiddish cinema, newspapers, and books as we tackle a linguistically interesting language with many ties to European and American history. We also hold weekly Yiddish language lessons.
Deshi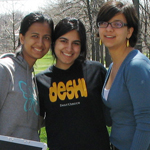 Deshi is an organization for students of all backgrounds who are interested in promoting increased awareness of the political, cultural, and social issues pertaining to South Asia, South Asians, and South Asian Americans. Deshi sponsors cultural events on campus such as speakers (poets, activists, film writers), garbas, an annual culture show, while also providing a space in which South Asian students and those interested in the region can interact in a social environment. This includes organizing on-campus social events, dining out, and attending cultural programs. Open weekly meetings are held Monday nights at 9:30 p.m. in the Intercultural Center.
Enlace
Swarthmore's organization for Hispanic, Latino, and South American students. Closed meetings are held Tuesdays at 10 p.m. in the Intercultural Center.
Friends of Taiwan
Friends of Taiwan is a group that seeks to provide both a social and cultural outlet for students on campus who are Taiwanese and/or interested in Taiwan. We participate and host a variety of events including group dinners, conferences, and discussions.
Han
Members of the Swarthmore College Korean Alliance are devoted primarily to nurturing community and participating in shared culture. Open meetings are held Thursdays at 7:30 p.m. in the Intercultural Center.
International Club
The International Club's goal is to bring together the international community at the College. The club creates a platform for the exchange of cultures and the discussion of issues. more
Middle Eastern Cultural Society
The Middle Eastern Cultural Society (MECS) is an open group, which aims to provide students interested in the cultural aspects of the Middle East with a forum for exploration and discussion; to bring together the Middle Eastern (including North African) community on campus; and to promote awareness of Middle Eastern culture on campus. MECS holds biweekly meetings during which discussions, community building, and event planning take place. MECS events include, but are not limited to, movie screenings, lectures, cultural performances, cultural workshops, and culturally-relevant off-campus trips.
Contact: Dina Sharhan (dsharha1) or Katherine Ernst (kernst1)
Multi
Multi is dedicated to providing a safe environment for people of multiple heritages in the Swarthmore community, whether they are of various class, cultural, ethnic, racial, or religious backgrounds. The group aims to facilitate awareness on campus of issues affecting these individuals by bringing speakers to campus, hosting campus-wide discussions, and advocating for relevant government policy. In addition, Multi holds social activities for its members such as movie showings and campus-wide parties. Open meetings are held Thursdays at 5:30 p.m. in Sharples.
Contact: Zein Nakhoda (wnakhod1) or Robert Manduca (rmanduc1)
Native American Student Association (NASA)
NASA is a group open to all students dedicated to exploring the many faces of Native America and its context within mainstream society. NASA serves primarily as a support group for Native students, but is open to all individuals interested in Native American issues.
Queer Peer Counselors
Swarthmore Queer Peer Counselors aim to support all of those interested in, and/or dealing with issues relating to the queer lifestyle. No question is trivial: queer, questioning, and straight students are invited to meet with counselors to discuss issues ranging from coming out to aiding -- and advocating for -- queer friends and roommates. The QPCs serve as both a hall-based and campus wide resource, working alongside Psychological Services, the Intercultural Center, and the general Peer Counseling group.
Queer Straight Alliance (QSA)
QSA seeks to create a space for queer and straight people to come together to address queer issues on campus and in the world. QSA is not a support group. Rather, by creating dialogue on topics relating to sexual orientation and gender, the group hopes to improve student awareness of queer issues and encourage students to explore their perspectives and views of them. The group also pursues specific activist projects that it feels will best address and change unjust and unequal positions, visibility, and treatment of queer people of all races, nationalities, abilities, and genders at Swarthmore, in the surrounding community, the nation, and the world.
Students of Caribbean Ancestry (SOCA)
SOCA works to present a clear conception of the Caribbean to the entire student body and also supports students of Caribbean ancestry at Swarthmore. Through curriculum initiatives, SOCA hopes to heighten Caribbean awareness and fill in the gaps in Caribbean studies. SOCA also works with the Admissions Office on helping to make Swarthmore more known in the Caribbean. more
Swarthmore African American Student Society (SASS)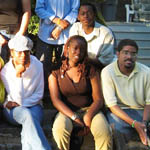 SASS intends to provide support for its members primarily through political and community-building activities. The group's major goals are to increase the number of Black students, faculty, and staff members; infuse a greater Black perspective into the curriculum; to improve the quality of life for the Black community; to advocate for the advancement of the Black community outside of Swarthmore; and maintain a strong, supportive Black community. more
Swarthmore African Students Association (SASA)
SASA is dedicated to the cultural enrichment of the campus through education on issues concerning Africa, and the varying cultures within Africa. It is an open organization that serves as a support group for African students on campus. But with its openness also comes a responsibility to educate our members on issues within what has been called the "dark continent." We have various events throughout the year, from dinners to film festivals, but it all culminates in the spring with Africa Week. During Africa Week, we invite speakers to campus to address significant issues impacting Africa, and we finish the week with a large cultural show involving skits, dances, games, and a fashion show. We meet in Sharples for dinner in Room 5 every Thursday at 5:30. Everyone is always welcome. more
Swarthmore Asian Organization (SAO)
SAO is a social, educational, political, and cultural group open to Swarthmore students who self-identify as an Asian (East Asian, South Asian, South East Asian), Asian-American, or Pacific Islander. SAO is committed to providing a place for Asian Pacific Islander Americans (APIAs) to find community and support, an educational and cultural setting to explore, share, and celebrate experiences and perspectives as APIAs, and a channel for political action, social awareness, and cultural programming for the larger campus community. SAO programming ranges from faculty lectures and teahouses to special performances and parties. Programming and services include Tuesday meetings held in the Intercultural Center at 9 p.m., the IC-SAO Alumni Network and Mentoring Program, the SAO "Big Brother, Big Sister" Mentoring Program, group trips to conferences, Sharples dinner nights, and study breaks. more
Contact: Angela Meng (ameng2)