Community Service
Chester Neighborhood Bike Works
Chester Neighborhood Bike Works is a student-run bike program which provides the surrounding areas with discount bikes and repair services. CNBW also operates the Earn-a-Bike after-school program, which allows children to earn a free bike while learning the essentials of bike safety and maintenance. Volunteers also receive free bike training and may earn their own free bike through volunteering.
Contact: Jeff Cao (zcao1)
Club Despertar
Club Despertar is a bilingual tutoring program serving English-as-a-second-language students in a largely Mexican-American elementary school in Kennett Square, Pa.
Dare to Soar
Dare to Soar is the longest running tutoring program on Swarthmore's campus. Servicing more than 150 students of the Chester-Upland school district, Dare to Soar provides after-school homework help, cultural enrichment activities, and mentoring to the students it serves. Our ultimate goal is to close the achievement gap one child at a time by encouraging Chester youth to set high goals, gain self-esteem, and celebrate their history and culture.
Contact: Dianna Williams (dwillia1)
Expanding Your Horizons at Swarthmore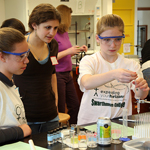 Expanding Your Horizons is a nationwide program run by the Math/ScienceNetwork to encourage young women to persist in studying math and science and to introduce them to new topics and female role models in those fields. more
Learning for Life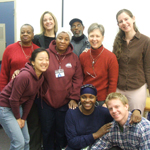 Learning for Life is a lifelong learning program which seeks to unite the College community by placing students and staff members of environmental services, dining services, and facilities into learning partnerships. Each partnership meets one to three hours per week to engage in a learning project that satisfies the learning goals of both members. Previous partnerships have worked on everything from Web design and basic computer skills to poetry and photography to cooking and fitness training. more
Contact: learningforlife1@gmail.com
Lions Club
As a service group, the Lions Club provides a variety of valuable services to the visually impaired community, some of which include reading and filling out forms, reading newsletters and mail, scanning & brailling, and many other services that clients cannot easily obtain. In addition to volunteering, the Lions Club hosts a few events every semester such as shopping trips and picnics that help clients and students get to know each other in a fun setting.
NOLArize
NOLArize is a student-led initiative to assist and uplift the New Orleans community through direct community service and awareness-raising projects. We have strong partnerships with community leaders in New Orleans and the Lang Center [link], both of which have been instrumental in our growth as an organization and helping us make a tangible difference in New Orleans' community centers. NOLArize hosts several fun and informative events throughout the school year, including New Orleans Week (filled with delicious New Orleans cuisine samplings, lectures, discussions, and culminating in a huge benefit concert with student bands and performers), and welcomes all of the Swarthmore community to join our efforts. We are all about New Orleans; rebuilding, restructuring and helping its residents RIZE again! For more information, please visit our website at http://www.nolarize.com/.
Contact: nolarize@gmail.com
Rotaract
The Swarthmore College Rotary Club creates opportunities for interaction between students and nearby communities, emphasizing each other's diversity as well as common concerns. Goals include addressing the physical and social needs of local, national, and international communities through service projects.
Saturdays of Service
Saturdays of Service is a student-run volunteer organization that coordinates one-time service projects in a variety of areas. Projects include Habitat for Humanity builds, community clean-ups, bookpacking at Books Through Bars, and participation in the Villanova Special Olympics Festival. All of the projects are come-as-you-can, so students can be as involved as their schedules allow.
Serving Homeless Individuals in Pennsylvania (SHIP)
S.H.I.P. is a student-run organization established over 10 years ago to help homeless individuals in Philadelphia. We send three or four students into the city every Saturday and Sunday mornings to provide homeless individuals with food (that students prepare on Friday nights), coffee, blankets, and clothes donated to us by the College community.
Swarthmore Fire & Protective Association (SFPA)
The SFPA is Swarthmore Borough's volunteer fire department. Volunteers from both Swarthmore College and the Borough serve local communities by providing 911 fire assistance and emergency medical services. Members are sponsored through fire training and Emergency Medical Technician certification, respond to fires as calls come in, and serve hours on call for the ambulance corps. The SFPA is also involved in civic events in the community, including Memorial Day and 4th of July parades and Christmas tree sales in December. more
Contact: Omer Ikizler (hikizle1)
TOPSoccer
TopSoccer is a Lang Center-sponsored initiative that works with community youth with special needs. Once a week, Swarthmore volunteers play soccer games (which are directed by one of our great coaches) with an athlete for a little over an hour. It is our hope that students and their "buddies" develop positive, collaborative relationships throughout the year.
Contact: Jake Ban (jban1) or Gina Grubb (ggrubb1)