Athletics
Earthworms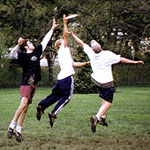 The Men's Ultimate Frisbee Club Team has the primary goal of providing an organized group to play Ultimate Frisbee on campus and competes against other college and club teams throughout the United States. While the team strives for victory when playing other teams and in that respect reflects the goals of other varsity sports on campus, it also opens its arms to all students interested in playing Ultimate Frisbee regardless of ability.
Equestrian Club
The Swarthmore Equestrian Association coordinates and subsidizes horseback riding lessons for Swarthmore students at a local barn. We also provide transportation. Riders of all experience levels are welcome.
Contact: Natalie Campen (ncampen1), Rachel Killackey (rkillac1), Nancy Kim (nkim1)
Men's Rugby
Men's Rugby invites participation to all men on campus, irrespective of ability and previous experience. Practices and matches are held in both the spring and fall season. The season is set by the East Pennsylvania Rugby Union in the fall and by the match secretary in the spring.
Men's Volleyball
Men's Volleyball engages in local and regional competitions. The club season takes place during the spring semester each academic year.
Motherpuckers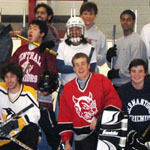 Motherpuckers is Swarthmore's student-run recreational ice hockey program. Every Thursday night at 9:40 and Sunday night at 9:20 from mid-October through mid-April, students meet at the Rose Garden for a short van ride to the Springfield Ice Rink for an hour and a half of non-competitive hockey. Puckers is organized by line according to skill: A-line for advanced skaters, B-line for beginners, C-line for comedy, and D-line for disaster. We have all the equipment you need, including free skate rental, but you're welcome to bring anything of your own. Motherpuckers is one of the campus' oldest and most popular groups and an average of 40 to 50 students, women and men alike, take part each session. No skill is necessary and an hour and a half of skating makes an excellent study break even on the busiest of weeks. more
Swarthmore Fencing Team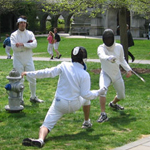 The Swarthmore Fencing Club is a full-fledged club sport that is dedicated to providing both an introduction to the sport of fencing to the entire student body and competitive opportunities for fencers with experience. The Fencing Club trains under head coach Marshal Davis, former captain of the University of Florida's sabre squad and former head coach of Temple Univerversity mens' club team, and his wife, assistant coach and experienced fencer, Helen Kaplan. Each year the Club begins by providing basic training in either foil, sabre, or epee for new members while experienced members continue building on their training from previous years. Members' training is supplemented by participation in a wide variety of local and national tournaments, as the club competes in the Southern-Atlantic Conference of the Nation Collegiate Club Fencing Association. These tournaments include the Temple Open, Southern-Atlantic Conference championship, Club Nationals, West Coast Invitational, and NIWFA amongst others. The club is able to fully equip fencers of any weapon for practice and tournaments and currently has two full electric strips, which are set to be added to in the future. Additionally, a wide variety of other opportunities are available for members as well, including twice yearly training clinics with the renown fencer and head coach of the University of Florida fencing team, Bruce Capin. The club is open to new members of all skill levels and encourages participation at whatever level possible for each student. more
Swarthmore Martial Arts Club
The Swarthmore Martial Arts Club (SMAC) is a chartered group which seeks to further the training and dissemination of martial arts in the Swarthmore community. SMAC offers free classes in the traditional Korean striking art of Taekwondo, holds regular training sessions, stages demonstrations, attends tournaments, provides training equipment, and subsidizes costs associated with martial arts training for its members, among its many services. Martial arts are a great way to learn self-defense, stay in shape, and have fun, so come join us! All levels of experience welcome.
Contact: Phil Chodrow (pchodro1)
Warmothers
Our team provides an opportunity for Swarthmore women to play Ultimate Frisbee, a competitive intercollegiate club sport whose popularity is currently very high and still growing. This is a positive experience for women who want to play on an athletic team, but who do not want to commit to the time and energy demands of a varsity sport. more
Women's Rugby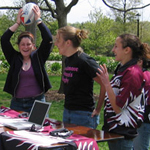 Rugby is a sport played around the world. There are a variety of positions on the pitch, so it's a sport for all women regardless of athletic ability. Come out and discover the joy of rugby! more
Contact: Janet Zarate (jzarate1) or Niki Machac (nmachac1)