Arts, Dance & Music
Ballroom & Swing Club
The Swarthmore Ballroom & Swing Club meets one evening a week for lessons with professional instructors from Philadelphia. The club also takes trips as a group to social dancing events in Philadelphia on Thursday, Friday, and Saturday nights. Types of dancing taught include lindy hop, Charleston, and blues. All students are welcome to attend lessons as often as they wish or are able to, and PE credit is awarded for regular attendance.
Cantatrix
Cantatrix is Swarthmore's only early music a cappella group. They perform a range of pieces from medieval to (relatively) modern, both secular and sacred. Originally for treble voices only, Cantatrix was resurrected as a co-ed group in 2003. Auditions are held at the beginning of each semester. more
Capoeira
Swat Capoeira meets weekly to practice capoeira, a unique Brazilian art form that fuses dance, music, gymnastics, self-defense, and the Portuguese language. Instructors come to Swarthmore from ASCAB, a Philadelphia-based organization. We welcome all levels of experience and offer P.E. credit.
Contact: Simone Fried (sfried1)
Chamber Music Orchestra
Including string quartets, piano trios, drumming ensembles, and vocal chamber groups. more
Chaverim
Chaverim is a Tri-College, co-ed a cappella group with members from Swarthmore, Haverford, and Bryn Mawr Colleges. We sing songs from many countries, including traditional folk songs, rock and popular music, and original compositions. Our purpose is to bring music from many cultures and traditions to all three colleges, to interact with diverse cultural and musical groups at Swarthmore, Haverford and Bryn Mawr, and, most importantly, to sing. Chaverim is a unique group in that it fosters interaction among the three colleges and shares world musical culture with the tri-college community. more
Chorus
The Swarthmore College Chorus rehearses once a week and performs once or twice each semester, typically accompanied by the College's Chamber Orchestra. Auditions for new members are held at the beginning of the fall semester and sometimes in the spring as well. Solo parts are awarded through competitive auditions later in the semester. more
Dance Forum
Dance Forum seeks to foster a sense of community among the various dance and movement groups on campus, encouraging open exchange, communication, and collaboration. Dance Forum supports students' dance interests, in part by being the only monetary resource on campus for small, individual dance projects. In the future, Dance Forum will be a gateway into the wider dance community, serving as a resource through which students will be able to access grant and internship information, access to Philadelphia and New York performances, and off-campus workshops and master classes.
Drama Board
Drama Board is the committee responsible for organizing and guiding student theater productions on campus. Its purpose is to encourage theater on campus and quality in theater through production coordination and oversight, and through the use of funds allocated by the Student Budget Committee. more
Essence of Soul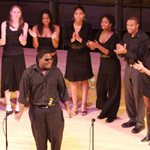 Essence of Soul is an a cappella group dedicated to students who enjoy arranging, singing, and performing music from the African Diaspora.
Film Society
The Film Society exists to provide a forum for Swarthmore students to watch quality artistic films that they otherwise might not see. The Film Society showcases the best in new and revival independent and world cinema. We hope to bring about appreciation for the power and complexity of cinematic art and history.
Films of Fury
Films of Fury sponsors screenings of the classics of Hong Kong cinema. Films shown expose the community to a range of genres including kung fu, gangster, horror, and comedy. The group also sponsors occasional forays into Japanese and Hong Kong-influenced independent films. The aim of these events is primarily entertainment, but they also provide exposure to the origins of many film techniques adopted by Hollywood.
Folk Dance Club
The Folk Dance Club holds biweekly classes in English Country Dancing, Scottish Country Dancing, and Contra Dance. Classes aren't just for newcomers; they're fun, social dances where you can learn everything from the basics to finesse. All classes have live music, played by student and community musicians with a variety of instruments. We also hold several extra events each semester, including on-campus contras, waltz workshops, ceilidhs, music workshops, and the annual English-Scottish Ball, a student-run formal ball which draws students, community members, and alums. In addition, there are frequent outings to dance events off-campus, including balls, folk festivals, workshops, and dances. We also have Longsword and Morris teams, which learn and perform traditional display dances. more
Gamelan Semara Santi
The Philadelphia area's only percussion orchestra devoted entirely to performance of traditional and modern compositions from Bali, Indonesia. Musicians and dancers are Swarthmore students, faculty and staff members, and friends of the extended College community. more
Gospel Choir
The Gospel Choir is involved in several events on campus, including an annual Kwanzaa Dinner and Black History Month events. Additionally, we perform two main concerts each year and participate in a joint concert with Swarthmore's Alumni Gospel Choir. more
Grapevine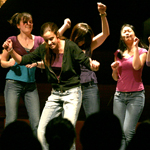 Grapevine is Swarthmore's only all-female a cappella group, formed in 1986. We have a mixed repertoire, singing rock, pop, gospel, jazz, and everything in between. The vast majority of our music is arranged by Grapevine members. We meet for at least six hours a week, and plan regular trips to other campuses, as well as hosting a cappella groups from other schools. We also perform each semester in Mephisto's Lounge or Alice Paul Lounge, sing in the Jamboree each semester, and hold open sings in Clothier Bell Tower. Auditions are held once a year and are open to any interested women. more
Jazz Ensemble
Rehearsals take place Thursday evenings 7-10 p.m. in Lang Concert Hall. Placement auditions are held in the first weeks of the semester.
Kitao Gallery
The Kitao Gallery is a student-run art gallery featuring student work. Any student, not just art majors, can share their art. Applications for shows can be found on our board in Parrish (near the credit union). We generally hold about five shows each semester. We also sponsor various art-making events ranging from life drawing sessions to art jams. more
Contact: Nicole Singer (nsinger1) or kitaogallery@gmail.com
Mixed Company
Mixed Company is Swarthmore's first co-ed a cappella group on campus. All members are given the opportunity to write and arrange music. Our goals include furthering ourselves musically, as well as bringing our love of music both to students at Swarthmore and to others off-campus. more
Olde Club
Olde Club serves as an all-campus space for student-run events such as banquets, concerts, parties, and plays. On a regular basis, Olde Club books concerts made up of diverse and qualified independent musicians as well as those a part of the College community. The purpose of the concert series is to highlight independent music and promote a vibrant music scene on campus. Olde Club is also home to the Sound Machine room, which is open to the Swarthmore College Community. This rehearsal space contains a wide variety of sound equipment and is available for regularly rehearsing bands as well as informal pick-up sessions. Interested parties should contact oldeclub@swarthmore.edu.
Opera Club
The Opera club was created to expose otherwise culturally-aware Swarthmore students to opera and foster an appreciation for the artform. The primary activities are attending five operatic performances hosted by the Opera Company of Philadelphia. Our goal is to bring the opera to the greater student body as affordably as we can manage.
Orchestra
Rehearsals are once a week and performances take place once each semester. more
Oscar & Emily
Oscar & Emily is Swarthmore's only all-jazz a cappella group. Oscar & Emily participates in Jamboree and maintains discretion in hosting its own concerts (both on- and off-campus) throughout the semester.
Photography Club
The main purpose of the Photography Club is to give students interested in photography access to facilities and subsidized supplies for darkroom work. The Photography Club is unique in fulfilling this function, as there are no adequate darkroom facilities for students to use unless they are currently enrolled in the College photography class. The club serves the great demand for a working space where both experienced and inexperienced photographers can pursue photography.
Pun/ctum
Recently founded in 2007, Pun/ctum is Swarthmore College's one and only photography magazine. Both print and online editions provide a platform for students of Swarthmore's past, present, and future to present their perspectives through still images. For online editions and updates, check out www.pun-ctum.com
Rattech
Rattech controls the sound systems intended for party use on campus, which include the Paces system and a mobile unit. The mobile unit may be reserved for private parties, but SAC parties will receive priority, and there is a $60 fee for private use. E-mail rattech@swarthmore.edu to reserve either system.
Rhythm-N-Motion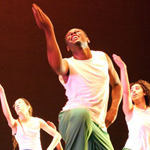 Rhythm-N-Motion dance company is a community of passionate dancers whose souls are in tune with the rhythms of the African Diaspora. Our aim is to increase campus awareness of contemporary genres of dance within the African Diaspora such as hip-hop, jazz, and dancehall.
Sixteen Feet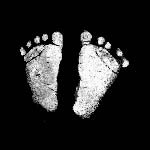 Sixteen Feet is Swarthmore's original a cappella singing group and remains its only all-male group. Over the past 25 years, the Feet have released nine studio albums and have sung everywhere from Rockefeller Center to the streets of Paris. They can be heard performing regularly on campus, at other colleges, and at private events. The group honors longstanding tradition by performing barefoot in blue jeans and plaid shirts. Repertoire ranges from classic doo-wop and barbershop harmony to contemporary pop. Auditions are held every fall. More information is available at http://sixteenfeet.com/.
Contact: James Birney (jbirney1) or Ben Starr (bstarr1)
Sound Machine
The Sound Machine room in Olde Club is home to a wide variety of sound equipment, and open to all students for practicing and jamming. It is open for regularly rehearsing bands or informal pick-up sessions. Interested students should email oldeclub@swarthmore.edu.
Sudaiko
Sudaiko practices a modern take on the traditional Japanese art of taiko, a combination of drumming and dance. We learn pieces from around the world as well as composing our own. Practices are usually twice a week; membership is open to all interested students at the beginning of each semester.
Terpsichore
Terpsichore is a student-run dance group that is committed to giving students of all experience levels the opportunity to choreograph, dance, and perform. Never danced before? No problem. Each semester, we host an exposition at which choreographers (always students) present their ideas and people sign up to dance in whatever pieces seem interesting to them. There are no auditions. Choreographers set their own rehearsal schedules, and at the end of each semester we present a high-quality performance on the LPAC mainstage (Pearson-Hall Theatre, Lang Performing Arts Center) to a packed house! We always have a great mix of styles: everything from swing to modern to hip-hop to ballet to jazz, with music from Britney Spears to Medeski, Martin, and Wood to Herbie Hancock to Bach.
Wind Ensemble
Rehearsals take place Tuesday evenings from 7-9:30 p.m. in Lang Concert Hall. more