Academic & Pre-Professional
Amos J. Peaslee Debate Society
The Amos J. Peaslee Debate Society seeks to recruit and train students in the arts of argumentation, public speaking, and rhetoric as applied to parliamentary debate. more
Apple Pie
Apple Pie is a philosophy discussion group that aims to provide a friendly and low key environment where students can engage with each other on a variety of philosophical issues.
College Bowl
The Swarthmore College Bowl team represents the school at competitions from UPenn to the University of Michigan to compete in academic buzzer competitions similar to "It's Academic," "HighQ," "High School Bowl," or "Jeopardy!," but with harder questions and better players. In particular, we compete on the invitational circuit and at other sectionals and nationals. The team also hosts a fall tournament for freshmen and sophomores, a spring invitational, and an annual intramural tournament for the Swarthmore community. If your idea of fun is to race to answer the most questions about Genghis Khan or quantum physics, then College Bowl is for you. We have no try-outs, make no cuts, and give everyone a chance to take part.
Crum Creek Monitoring Project
Our purpose is to monitor the overall health of the Crum Creek watershed in the area and immediately surrounding Swarthmore's campus. Members visit assigned sites to perform chemical tests as prescribed by the Environmental Protection Agency, as well as participate in seasonal surveys of invertebrate populations inhabiting the Crum to assess water quality. Continued monitoring is essential in order to minimize the impact the College has on the ecosystem. more
Forum for Free Speech (FFS)
Forum for Free Speech funds spoken-word events on campus. These may include talks and symposia, as well as some components of workshops, and may be hosted by any of the various student groups on campus, including FFS itself. FFS is committed to supporting diverse voices and perspectives; detailed information on how to apply for funding.
Institute of Electrical and Electronics Engineers (IEEE)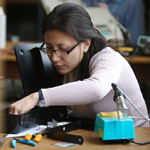 The IEEE is the largest technical society in the world, complete with its own Swarthmore Student Branch. Our branch has won the Philadelphia Section MicroMouse maze robot competition every year since its inception. Activities include job workshops and various technical lectures, as well as student-organized lectures on campus and volunteer activities such as Appliance Day (left), when we try to fix people's appliances for free. more
Maimonides Leaders Fellowship
An educational initiative dedicated to giving Jewish students an increased appreciation of Judaism's ancient wisdom. Discussions feature topics including Judaism as understood through oral and written traditions, the interaction of the physical and spiritual realms, the Jewish conception of the afterlife, prayer, individual/collective responsibility, suffering, and the understanding of leadership. Fascinating guest speakers add richness, depth, and modern insight to the program.
Mock Trial
The Swarthmore Mock Trial Association competes in the national circuit sponsored by the AMTA. Students take on roles as attorneys and witnesses, competing as both the plantiff/prosecution and defense. Case preparation takes place during the fall semester; regionals and nationals are held in the spring. Prior mock trial experience is preferred but not required. Actors and pre-law students are welcomed.
National Society of Black Engineers (NSBE)
One of NSBE's 250 chapters is located at Swarthmore. Its mission is to increase the number of culturally responsible Black engineers (and non-engineers) who excel academically, succeed professionally, and positively impact the community. more
Russian Club
The Swarthmore Russian Club is a group of students with an interest in Russian and/or Eastern European language and culture. We like to talk, scream, and laugh in Russian and have weekly dinner meetings for exactly that purpose. The Club includes both native speakers and students of Russian language. We invite speakers, watch movies, enjoy Russian cuisine, and throw the best parties on campus.
Society of Women Engineers
The Swarthmore Chapter of Society of Women Engineers, is a networking group for Women Engineers within Swarthmore College as well as the national organization. This group annually performs Girl Scout days, where they design activities to encourage and teach young girls about the various opportunities within the engineering world. The group also organizes tours of different industries, and provides experiences that enhance an engineering education.
Swarthmore Business Association (SBA)
SBA brings alumni who have gone into business to campus to share their experiences and help students network.  At weekly meetings, we discuss current issues in the business world and share experiences from summer intern and externships. SBA also participates in the Lax Conference, as well as other panels.
Swarthmore College Computer Society (SCCS)
SCCS is a student-run group providing computing services, tools, toys, and information to the College community. We have a computer lab and video room in Tarble basement, offer email and web accounts to users and student groups, and periodically host workshops on various topics in technology and computers. more
Swarthmore Freethought
Swarthmore Freethought is a group for the promotion of reason, science, and critical thinking on campus and in the general public. Movements that generally fall under the umbrella of freethinking include secular humanism, scientific skepticism, atheism, and agnosticism. We host campus-wide discussions, hold screenings, and other events that promote our cause. Freethought is an open group to anyone who wants to hear a wide range of viewpoints and discuss key issues.
Contact: Vy Vo (vvo1) or swat.freethought@gmail.com
Swarthmore Women in Astronomy & Physics (SWAP)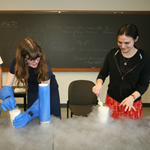 SWAP provides mentoring, discussion forums, colloquia, and fun events to encourage physics students (male and female alike) to socialize, form supportive connections between different classes, learn about support offered by faculty, and discover what it may be like to study science beyond Swarthmore. The organization sponsors a peer mentorship program that pairs majors with students trying physics and schedules social events such as liquid nitrogen ice cream parties (left) and meetings for students to converse informally with professors. It also invites successful female scientists to give colloquia and chat with students, and develops connections with professors and students at Bryn Mawr College and the University of Pennsylvania. more
"Ten Commandments" Leadership and Learning Fellowship
A not-for-credit course on the Ten Commandments in Jewish philosophy, ethics, and law. The course is taught by Rabbi Eli Gurevitz, with guest lecturers including philosophy professor Richard Schuldenfrei, associate professor and director of the Beit Midrash program Helen Plotkin, a Villanova Law School professor, and a Haverford philosophy professor. The Ten Commandments Fellowship is an eight-week course about an hour and a half long. Every week will consist of a discussion of one of the Ten Commandments and how it relates to our lives today. Students of all faiths are welcome, no experience required.
Village Education Project
The Village Education Project is a Project Pericles-sponsored non-profit that helps send children in Ecuador to high school. In addition to raising money and resources to cover the total cost of each student's education, VEP sends college-aged volunteers to Ecuador in the summer to tutor our students for the upcoming school year. This year, VEP hopes to improve upon its summer curriculum, recruit a larger and more qualified group of summer volunteers, hire a summer director, perfect the new website, and raise money and awareness for global education initiatives.
Contact: Jake Ban (jban1)