HD Classrooms
Many of our classrooms have been upgraded to display high definition graphics at 720p. In these classrooms, you will now be able to play multi-region Blu-ray discs as well as multi-region DVD's.  You will also be able to present from your laptop in a wide-screen format.
In most classrooms we have added an HDMI input.  An HDMI cable should be present at the teaching station or AV cabinet.  If your laptop has an HDMI output, you should be able to plug directly into our system. If you have DisplayPort or Mini-DisplayPort, you will will have to adapt to HDMI. Media Services has a small supply of these adapters in stock available for checkout.
For Mac Users: In PowerPoint, select Page Setup from the File menu.

For Windows Users: In Powerpoint, select the Design Tab, then Page Set up.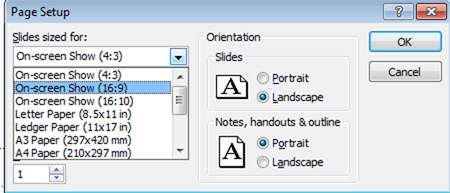 An additional feature of going with a Digital Input is that our classrooms are HDCP compliant. This means that you will be able to play copy protected media from your own computer that was encoded with HDCP encryption. You will not be able to play HDCP content when connected through VGA.
Our VGA cables are not going away anytime soon. Your legacy VGA devices will likely be able to project most of the new resolutions currently available. Please see the list of supported resolutions below. When and if you need assistance connecting your devices, please feel free to contact Media Services directly at x6201 or avbox@swarthmore.edu.
Supported Resolutions (Display Control Panel):
1024x768 (4:3)
1280x800
1280x720
720p
Computer display ports and what they look like

| DVI | HDMI | Display Port | Mini Display Port | Legacy VGA |
| --- | --- | --- | --- | --- |
| | | | | |