Swarthmore Project
Time and Space for Dance

Video from: Smoke, Lilies and Jade Arts Initiative with Zane Booker, SP Residency, Sept. 2009
Even in the best of times, funding for the creation of new works of art is limited; yet there is a growing acknowledgment that the arts are central to community life. Resources are in place at Swarthmore College to support new works of dance and to help sustain the role of dance in community dialogue.
Swarthmore College offers the college's outstanding dance facilities to two Philadelphia area choreographers and between three and four dancers per choreographer for two weeks each summer for the purpose of creating new dance material. The college provides:
Two large, air-conditioned dance studios in the modern Eugene M. and Theresa Lang Performing Arts Center, featuring basket weave floors, windows, mirrors, and access to audio and video equipment.

An honorarium is provided for each participant, as well as a transportation allowance per participant to the College, located twelve miles southwest of Philadelphia.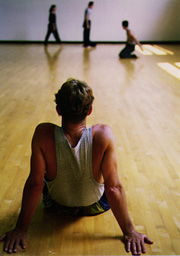 In exchange, the college expects the choreographer and dancers to return during the following academic year to present an informal performance which includes the summer's work, to conduct a workshop for Swarthmore College students, and to allow the dance program to keep a master copy of the performance for College archives. No additional fee will be paid for this return visit, but the costs of transportation and meals will be provided by the college.
Applications are welcome from Philadelphia area choreographers who have been nominated by a member of the Swarthmore Dance Faculty, and should include:
A one page summary of the proposed project
A DVD or digital link of previous work by the choreographer (15 minutes maximum)
A description of the method and range of materials to be presented to the students
A resume
Three current letters of reference
A press kit
Please send a SASE if return of materials is requested.
Choreographers selected will be notified by May 1. Address inquiries to:
The Swarthmore Project: Time and Space for Dance
Department of Music and Dance
Swarthmore College
500 College Ave
Swarthmore, PA 19081-1397
For more information about Swarthmore Project guests and workshops, check out our
Swarthmore Project GUEST ARTISTS (Past and Present) page.