College Logo
The Swarthmore College logo is copyrighted and a registered trademark. Use is authorized only in official College business or academic documents and presentations produced by College community members. Please follow the guidelines for logo usage in the Publication Design Guide [pdf].
A version of the logo in JPG format is available (click on the thumbnail for high resolution).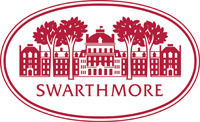 For print publications, use of an EPS or TIFF file is recommended. In order to acquire an EPS or TIFF logo, you must access Lightbox, Swarthmore's digital asset library. If you do not have a Lightbox account, and you are a member of the College community, click here to request a 14-day guest account. After you have logged in to Lightbox, scroll down to section 8, "Resources" and select "Logos" to view the images available for download.
For questions about logo usage, contact pstern1@swarthmore.edu. For additional assistance with Lightbox, contact slin2@swarthmore.edu.